One Way to Help North Korea: Send Supplies in a Bottle
While North Korea's rapidly advancing nuclear and missile programs have put the world on its heels, the country is astonishingly poor, and some people want to help regular citizens in any way they can. Aid groups attempting to get care packages into the closed-off country have turned to the age-old method of putting things in a bottle and setting them out to sea.
Over the years, North Korea has been struck by restrictive United Nations economic sanctions, targeted because of their numerous missile launches. The restrictions and North Korea's cloistering from the outside world have made getting aid into the country difficult.
A South Korean humanitarian group this week trekked up to Ganghwa Island near the heavily guarded border, or DMZ, to release aid packages in bottles to be taken to North Korea by ocean current, according to Voice of America. The sealed bottles carried things like U.S. currency, rice and medicine. A noted defector, Jung Kwang Il, who met with President Donald Trump earlier this year, included in one of the bottles a copy of the executive's bombastic United Nations speech in which he threated North Korea last year.
"So the message that we are sending to them is that the U.S. President knows that you are living in these harsh conditions," Jung told the federally-funded broadcaster.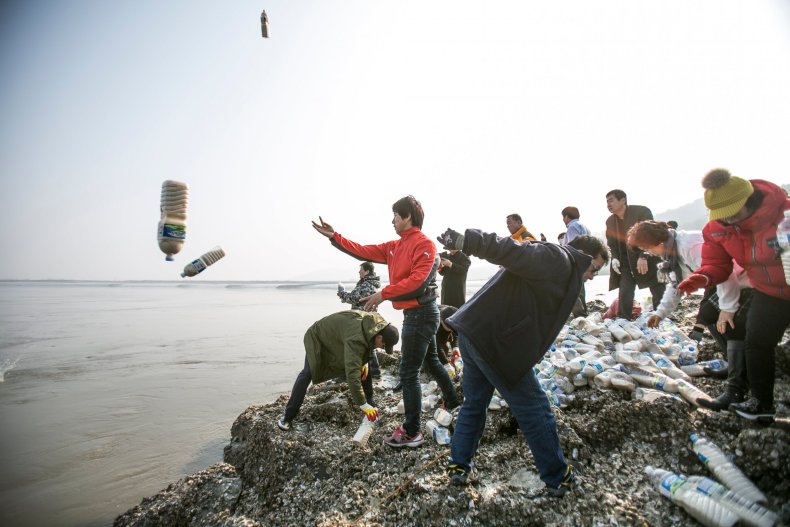 Another well-known defector who took up the bottle service, Kim Yong Hwa, told NK News last year that he tried using balloons in the past, but that the practice was expensive.
"I want to deliver hope to the areas where people are oppressed and have the most difficulties," he told the website.
U.N. aid to North Korea has shrunk by around 90 percent since the turn of the century, despite a 2014 U.N. report that noted "horrific and sustained human rights violations" in the country. A number of aid organizations have also stopped supporting aid efforts, fearing they were helping prop up a crooked regime.
As North Korea enters a detente with the world after Kim Jonh Un's recent overtures to his neighbors and the U.S., perhaps aid groups will return to help the country and aid-in-a-bottle may become unnecessary.