North Korea Warns American 'War Exercise' Will Violate Trump's Vow to Kim, Put Nuclear Talks 'On the Verge of Extinction'
North Korea has fiercely condemned planned joint U.S.-South Korean military drills, arguing that the scheduled war games threaten finely-balanced denuclearization talks and betray America's "imperialist" instincts.
On Wednesday, a statement carried by the North's Korean Central News Agency described the planned drills—a scaled-back exercise in place of the annual Vigilant Ace air maneuvers—as a declaration of confrontation with Pyongyang, the Yonhap News Agency reported.
U.S. and North Korean negotiators are currently stuck at an impasse on denuclearization, which President Donald Trump and dictator Kim Jong Un agreed to pursue at their historic 2018 summit in Singapore.
For all the president's grand promises and high profile meetings between the two leaders, little of note has been achieved. A second bilateral Trump-Kim summit collapsed with no deal, and earlier this month the latest round of talks between representatives in Stockholm, Sweden, ended without success.
Newsweek subscription offers >
Frustrated with the lack of progress, Kim has set an end-of-year deadline for the U.S. to present a new way forward.
The statement aired on KCNA noted that to stage the planned war games "at a sensitive time such as now" shows "the true nature of the U.S., an imperialist nation that destroys global peace and safety and considers military strength as a solution to all problems."
Newsweek subscription offers >
The North's said that holding the drill so soon after the Stockholm failure "cannot be but understood as a declaration of confrontation against our nation."
Joint U.S.-South Korean military exercises have long been of grave concern to Pyongyang. The North sees such activities as planning for a future invasion of the hermit state, and has consistently cited such drills as an excuse for its weapons research programs and belligerent behavior.
At the Singapore summit, Kim scored a priceless win when Trump committed to freezing all joint exercises in pursuit of a deal on denuclearization. The president's decision shocked both South Korea and the U.S. military, neither of which were consulted on the commitment.
The Vigilant Ace exercise was first held in 2015. It was canceled last year so as not to interfere with ongoing denuclearization talks. In previous years the event involved hundreds of South Korean and U.S. aircraft. The size of this year's smaller drill is not yet clear.
But Pyongyang suggested this year's scaled-back maneuvers were Vigilant Ace in all but name. "No person in the world thinks the invasive nature of a war exercise changes just because the name of the exercise change," the statement said.
On Thursday, senior foreign ministry official Kwon Jong Gun underscored Pyongyang's anger at the drill, suggesting it would equate to "throwing a wet blanket over the spark" of negotiations, which he warned are "on the verge of extinction," the Associated Press reported.
Kwon said the North "will never remain an onlooker" to "the reckless military moves" conducted by the U.S. and South Korea.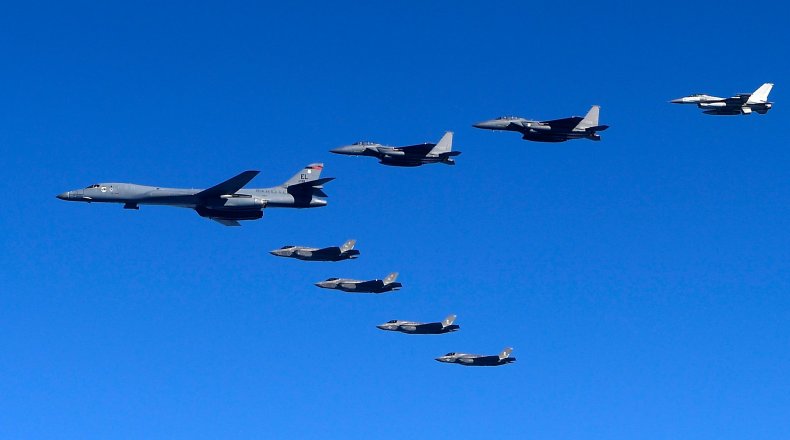 North Korea Warns American 'War Exercise' Will Violate Trump's Vow to Kim, Put Nuclear Talks 'On the Verge of Extinction' | News