North Korea Attack Threat 'Has Not Changed,' Says Japan as It Boosts Missile Defenses
Japan still regards North Korea as a potential threat and will not reverse plans to acquire two new ballistic missile defense systems, Tokyo has said.
The country's Minister of Defense, Itsunori Onodera, announced Japan would not be turning its back on the acquisition of Aegis Ashore ballistic missile defense systems after arranging to meet local government officials who felt that tensions with Pyongyang have reduced significantly last week.
North Korea has twice test-fired missiles into Japanese waters, and once threatened Japan with "nuclear clouds."
"We recognize that the threat posed by North has not changed," Onodera said, according to the Stars and Stripes newspaper. "We are advancing plans for Aegis Ashore out of the thought that it will contribute to the defense of Japan."
Governors Tsugumasa Muraoka and Norihisa Satake, of Yamaguchi and Akita prefectures respectively, appeared to suggest Tokyo should reconsider the military acquisition following a pledge from North Korean leader Kim Jong Un to shut down nuclear testing facilities.
The Japanese government named the two prefectures as likely sites to host elements of the prospective new missile defense systems last month, Japan Times reported. Local concerns center around the radiation that the system's radar could emit and the prospect of the prefectures becoming a target of enemy fire in a hypothetical conflict.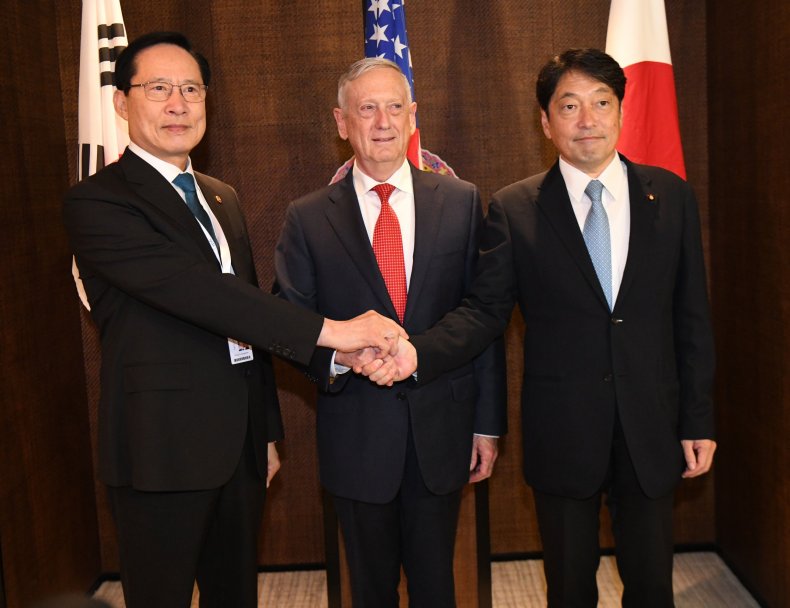 According to Onodera, the Aegis Ashore has a use to Japan beyond defending against nuclear threats as it would also stop cruise missiles loaded with conventional warheads.
The Aegis relies on the U.S. Navy to run, using several ships including the U.S.S. Milius, U.S.S. Benfold and U.S.S. Barry, homeported in Japan's Yokosuka city in Kanagawa Prefecture.
Related: God is "stupid" in the Bible, says Philippines' President Rodrigo Duterte
Onodera has said he would personally travel to the regions and address local concerns, without sacrificing the program. "We do not think that they will be convinced with explanations over just once or twice, so we aim to provide detailed explanations repeatedly," he said after meeting with Governor Muraoka.
Despite Kim's agreement with U.S. President Donald Trump earlier this month to denuclearize the Korean peninsula, prominent monitoring group 38 North published satellite images this week suggesting that Pyongyang could be upgrading its nuclear testing facilities.
The images are dated to June 21, which is after the summit with Trump. However, the Unification Ministry has not yet confirmed the report.