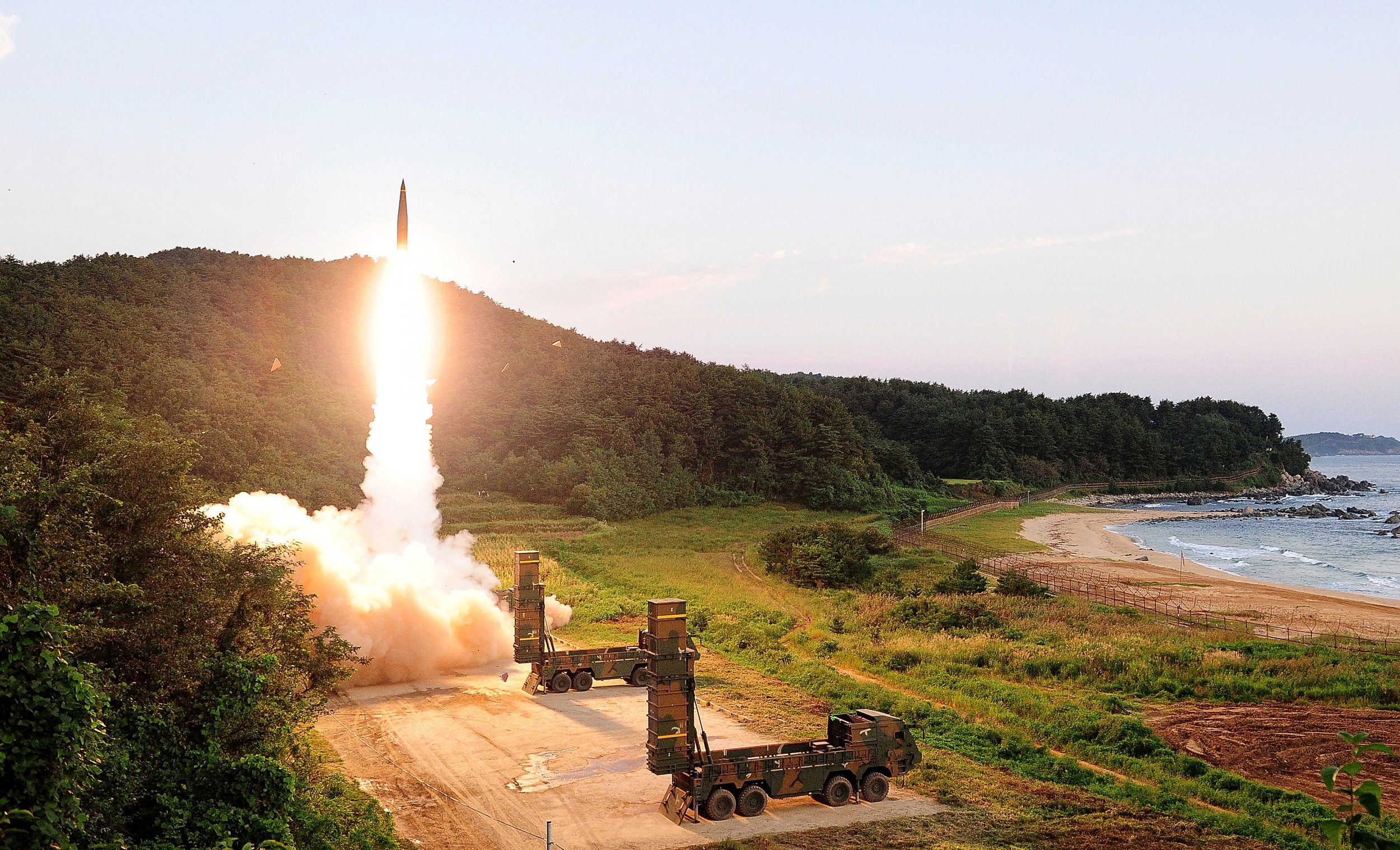 North Korea has condemned the U.S.'s expanding military influence over South Korea and has accused its southern rival of stirring up a potential nuclear conflict in the tense region.
North Korea's state-run media published a series of articles Tuesday criticizing recent decisions made by South Korea, a key U.S. ally with which Pyongyang has technically remained at war since the 1950s. As North Korea rapidly develops and tests its nuclear and ballistic missile technology in defiance of U.N. sanctions, the U.S. has become increasingly involved in the region in an attempt to get North Korean leader Kim Jong Un to abandon his arsenal. The U.S. and South Korea have practiced bombing North Korea, and the reclusive, communist state has fired back with harsh words for its foes.
Related: What war with North Korea looked like in the 1950s and why it matters now
"The puppet military of South Korea is hyping the establishment of 'conception of executing an offensive war on the Korean Peninsula,'" a commentary by the official Korean Central News Agency read.
"This is no more than an outcry and stupidity of losers stunned by the DPRK's nuclear force bolstered in quality and quantity," it added, using an acronym for North Korea's official name: the Democratic People's Republic of Korea.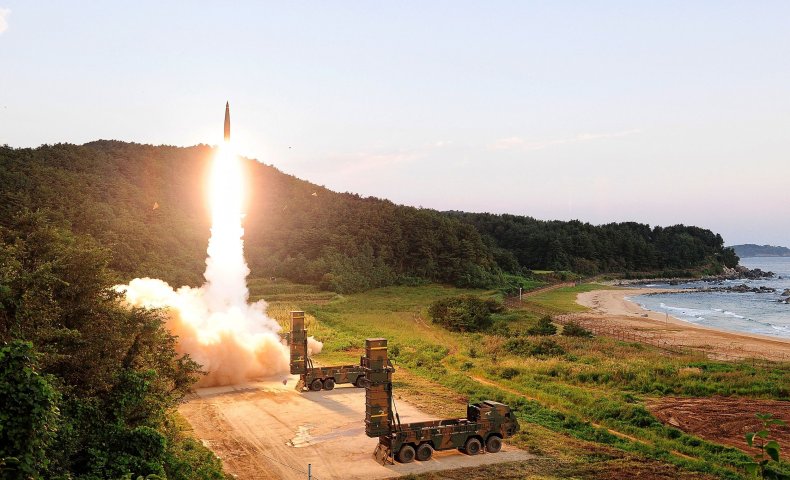 North Korea further said the idea of South Korea discussing an "offensive operation" provoked "side-splitting laughter" because Pyongyang felt Seoul was merely taking orders from Washington. President Donald Trump has taken a hard-line stance against his North Korean rival, and North Korea has blamed him for fanning the flames of war on the Korean Peninsula. Trump has maintained that military action against Kim's government is a serious option.
On Monday, Trump appeared to green-light the historic sale of billions of dollars of weapons to South Korea, in response to North Korea's sixth nuclear weapons test on Sunday. In another commentary published Tuesday, North Korea's government-controlled newspaper Minju Joson wrote that South Korea's stated goal of settling the nuclear crisis "is little short of treachery that will bring a horrible nuclear disaster to South Korea by fanning up the war frenzy of Trump group."
Another state-run newspaper, Rodong Sinmun, echoed Minju Joson Tuesday in warning South Korea that its failure to distance itself from the U.S. and de-escalate the standoff would result in South Korean President Moon Jae-in meeting a fate similar to that of his predecessor, Park Geun-hye. Park was found guilty of corruption and was impeached and arrested earlier this year, in a turn of events that North Korea has capitalized on in an attempt to demonstrate its own superiority.
Tuesday's Rodong Sinmun piece specifically attacked South Korea's decision to reach out to another critical U.S. regional ally, Japan.
"They should be mindful that if they volunteer to play a guide of Japan's reinvasion, praising it as 'a friendly nation,' failing to draw a lesson from the fate of Park Geun Hye, they will not be able to escape from curses and denunciation of all Koreans but meet a miserable ruin," the commentary read.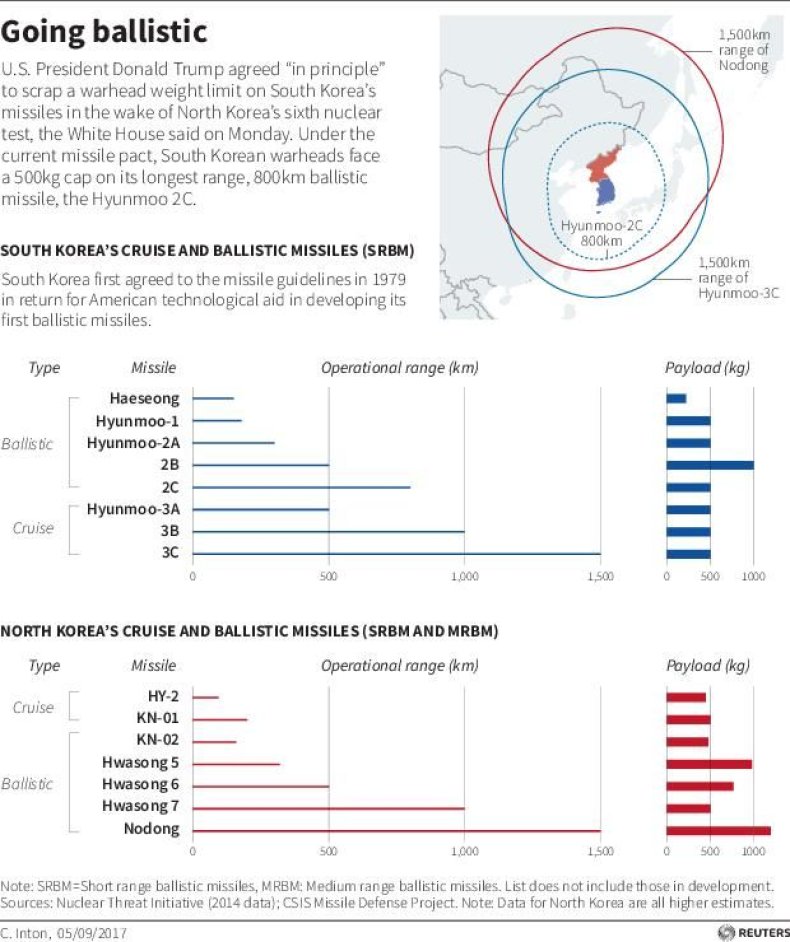 While North Korea's dispute with its southern neighbor stems from the post-World War II feud between the U.S. and the Soviet Union that spurred the Cold War, its enmity toward Japan runs deeper. From 1910 until the collapse of the Japanese empire in 1945, Japan effectively controlled the Korean Peninsula. Allegations of sexual slavery, forced labor and camps dedicated to human experiments under Japanese rule have molded North Korea's current views toward Japan. It sees Japan as both an extension of U.S. military power and a historically hostile imperialist force.
Since replacing his late father as leader of North Korea in 2011, Kim has accelerated the country's defense development. Like his father and grandfather before him, Kim has been accused of egregious human rights abuses, especially by the West, but maintains that possessing nuclear weapons is key to preserving his country's sovereignty and protecting it from invasion.