North Korea Blasts Trump Nuclear Strategy, Says, 'Those Fond of Fire Are Bound to Perish in Flames'
North Korea has officially responded to President Donald Trump's Nuclear Posture Review, warning that such a strategy could spark a devastating war at a time of relative calm on the Korean Peninsula.
The Trump administration released its first review on February 2, a plan that included provisions to develop smaller, tactical nuclear warheads that experts said make them more likely to see combat, as well as potential nuclear responses to non-nuclear attacks. The official news agency of North Korea, which has been the subject of harsh international sanctions due to its own nuclear weapons program, criticized the report Tuesday, calling it "little short of 'preemptive nuclear attack order' and 'nuclear war instruction.'"
Related: Who is Kim Jong Un's sister? Kim Yo Jong is becoming North Korea's most powerful woman
"The U.S. has to always bear in mind that its assertion that one cannot exist after using nuclear weapons is apt for its own empire going reckless, being carried away by nuclear ambition," the Korean Central News Agency (KCNA) wrote in a commentary. "DPRK values peace but will never beg for it and will resolutely counter any act of harassing peace and stability on the Korean Peninsula.
"Those fond of fire are bound to perish in flames and the more attachment to the nukes of tyranny the U.S. has, the more dangerous the security and future of the 'only superpower' will be," it added.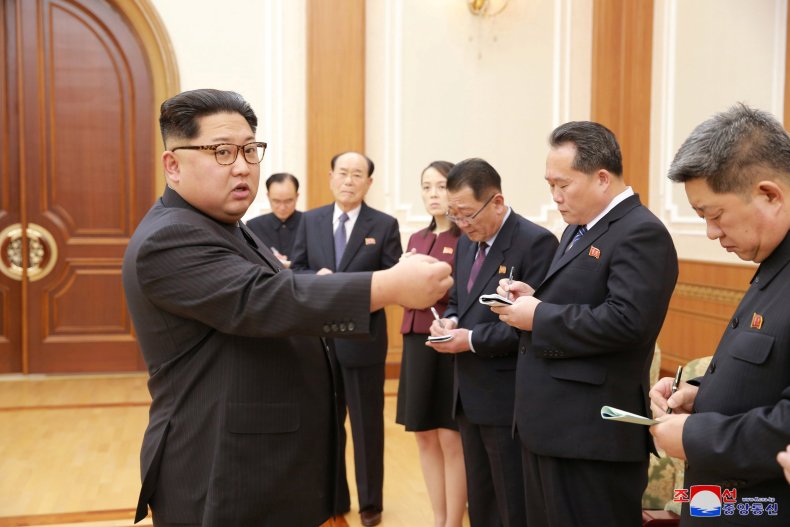 After about a month of careful negotiations, North Korea joined South Korea at the 2018 Winter Olympic Games in Pyeongchang, uniting the warring rivals at a time when a tense nuclear standoff between Kim Jong Un and Trump was becoming increasingly personal. Kim has softened his tone against South Korea since reaching out in a New Year's speech, but he has refused to give up his nuclear weapons as a precondition for peace.
Trump has tried to force Kim to abandon his weapons of mass destruction through intense economic sanctions and military pressure, but he has not ruled out using violence to disarm the North Korean leader. China and Russia have also appealed to both men, attempting to negotiate a "double freeze" or "freeze for freeze" approach to suspend both North Korean weapons testing and U.S. military drills. The U.S. has rejected this solution, saying it has not worked in the past.
Meanwhile, Kim welcomed home on Monday a historic high-level North Korean Olympic delegation that included his younger sister, Kim Yo Jong, who has become the first member of the ruling Kim dynasty to enter South Korea. In a separate piece, KCNA quoted the leader as saying, "It is important to continue making good results by further livening up the warm climate of reconciliation and dialogue created by the strong desire and common will of the north and the south with the Winter Olympics as a momentum."
Only a day later, KCNA fired off at the Nuclear Posture Review. Korean Workers' Party Central Committee newspaper Rodong Sinmun also warned the U.S. to change course because "once the DPRK starts its decisive military strike, the mainland of the U.S., as well as its military bases in the Pacific area of operations, will never be safe."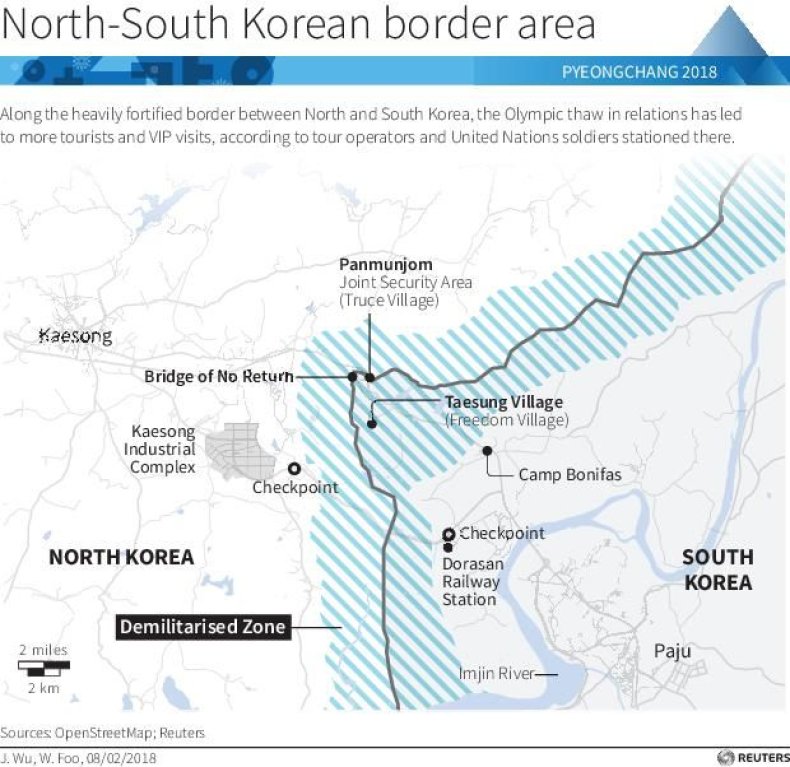 The U.S. conducted history's first and last wartime atomic bombing against the Japanese cities of Hiroshima and Nagasaki in August 1945. The attack killed hundreds of thousands, but it has been, along with an impending Soviet invasion of Japan, credited with expediting the end of World War II. The U.S. and Soviet Union then divided the once-Japan-occupied Korean Peninsula and created opposing governments that ultimately went to war in the early 1950s.
An armistice was signed with no clear victory in 1953, leaving both nations technically at war and Communist-backed North Korea especially reeling from a devastating conflict in which it was alleged that both sides, including the U.S., committed war crimes. The conflict has served as the basis for decades of anti-U.S. sentiment in North Korea's tightly controlled state media, as well as the development of nuclear weapons in hopes of deterring a future U.S. invasion or intervention, such as those that have targeted other nations in the Middle East and beyond.