North Korea's Kim Jong Un 'Bombs' U.S. Navy in New State Propaganda Video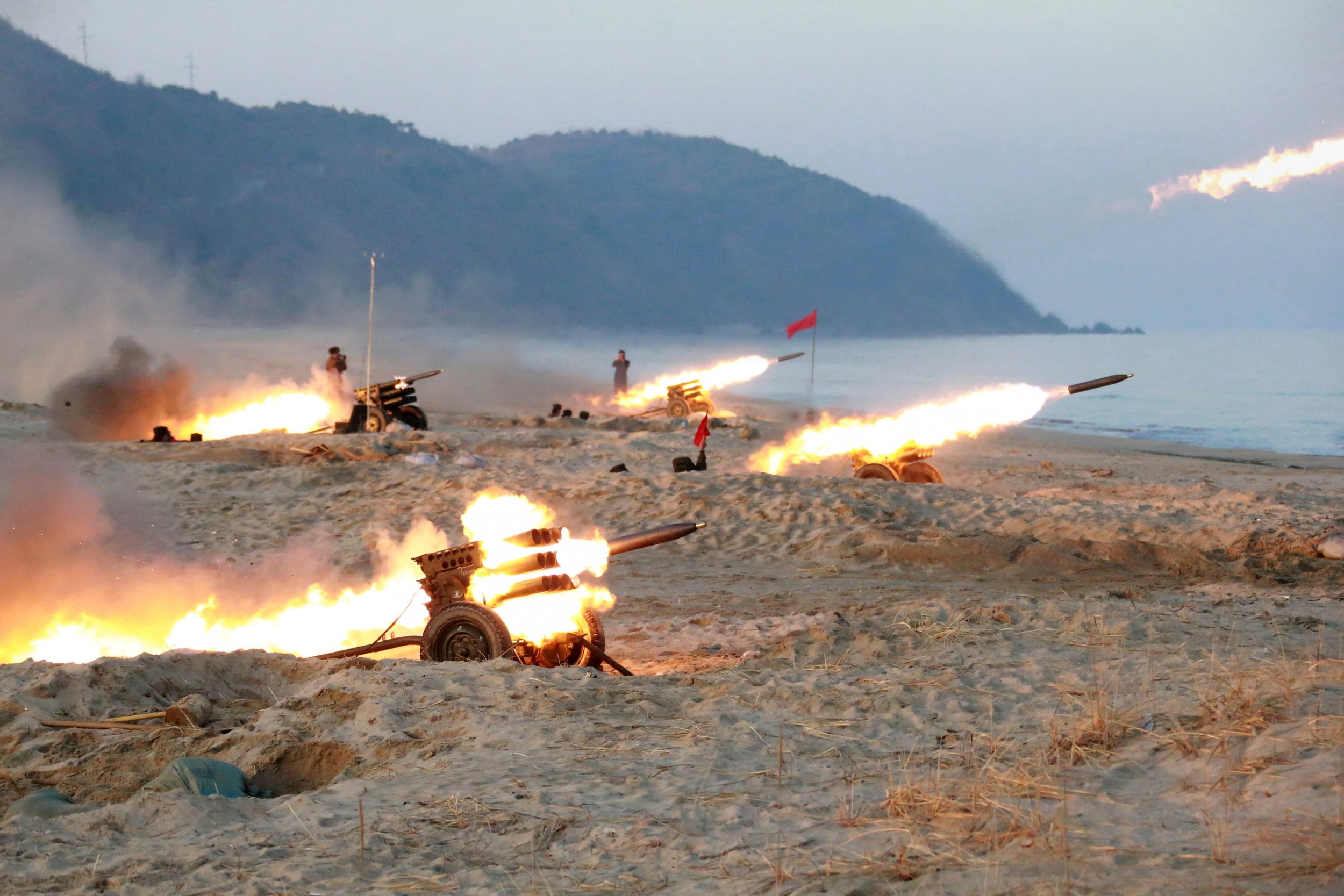 North Korea's state-run media released a composite video Saturday that appeared to depict a military strike on a U.S. Navy aircraft carrier, as the nuclear-armed nation reacted to joint U.S.-South Korean military exercises in the region.
The nearly three-minute-long video was published to YouTube by Pyongyang's official Uriminzokkiri website and included a series of images set to military music and a female narration. The short film used pictures of the U.S. and South Korea's annual "Foal Eagle" military drills which have long angered North Korea and began again earlier this month. Pyongyang's government-owned media has routinely threatened to take action if North Korea felt its sovereignty had been compromised by the massive rehearsal operations, which take place miles from North Korean territory.
A little over a minute into the video, digital crosshairs were imposed on an image of the USS Carl Vinson, currently involved in the Foal Eagle exercises, with rendered flames and explosive sound effects. Another concocted visual appeared to show a B-51 bomber meeting a similar fate moments later. The accompanying narration vowed that a knife would be stabbed into the throat of the vessel, while a hail of fire would cause the bomber to fall from the sky, according to South Korea's Yonhap News Agency.
The website responsible for the video has previously been the subject of international criticism, according to The Japan Times. In 2013, Uriminzokkiri released a clip showing a young North Korean man dreaming of space travel as missiles rained on New York and Washington. Last March, another propaganda channel vowed a pre-emptive nuclear strike on Washington if North Korea felt threatened and depicted what such a strike might look like.
Earlier this month, North Korea launched a barrage of missiles near Japan, causing major concerns for the U.S. ally. Pyongyang's behavior and its pursuit of nuclear missiles have been the subject of talks between Secretary of State Rex Tillerson and Asia-Pacific nations South Korea, Japan and China in the past week. Tillerson told world leaders that "a different approach" was needed in dealing with North Korea and its leader Kim Jon Un, who became the third member of his family to take power after his father's death in 2011. Tillerson said that a military option was "on the table," though not preferred.