North Korea's Nuclear Threat Isn't Really Trump's Fault: How Bush, Clinton and Obama Contributed to Conflict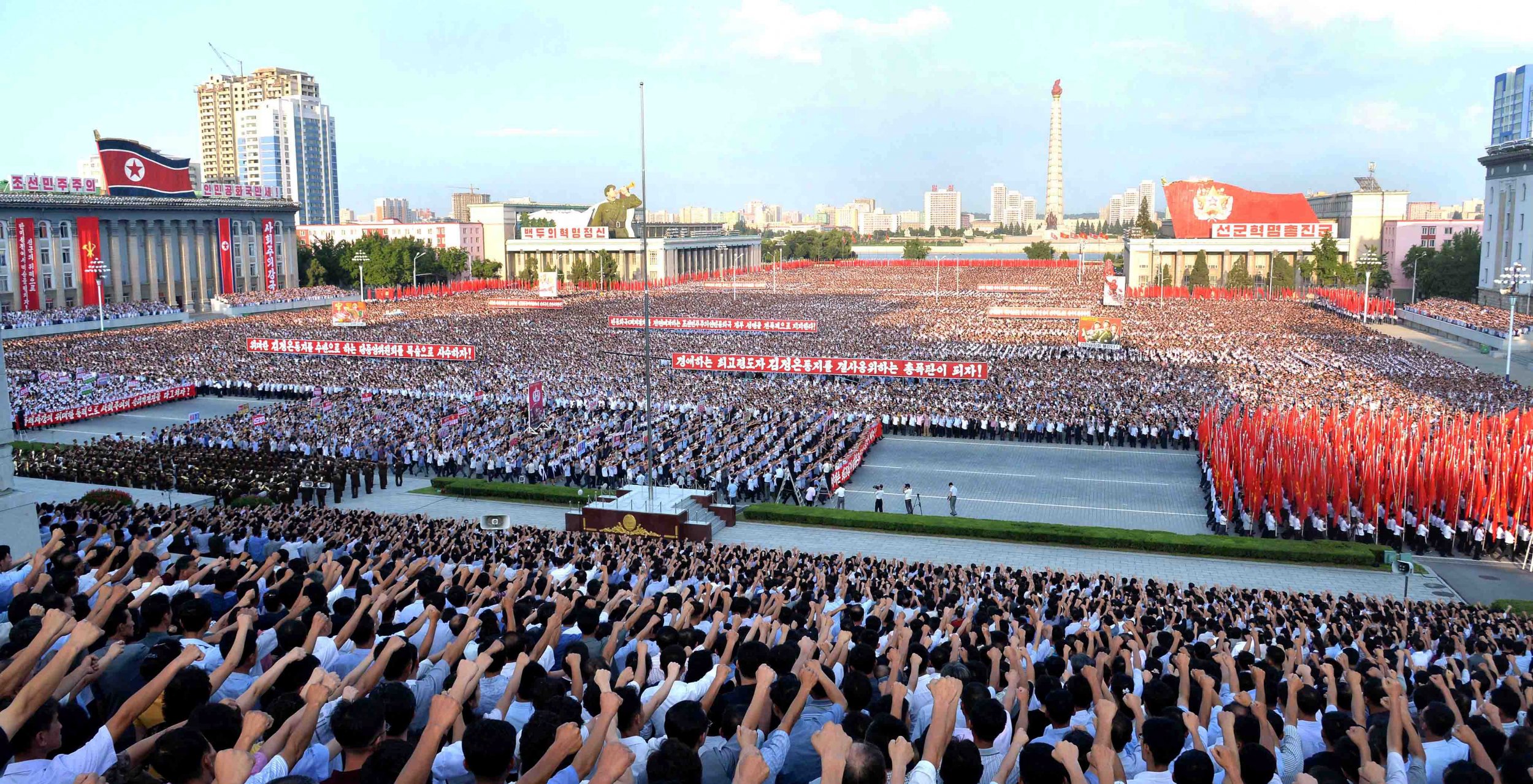 President Donald Trump's chosen words and terse manner as he delivered his threatening message Tuesday to North Korea and its leader Kim Jong Un has led to significant backlash, as many worry that the president's rhetoric brings the U.S. closer to war on the Korean Peninsula.
But Trump, who throughout his public and now political life has been well known to go off-script, most certainly was not the first U.S. president to use such hyperbolic language or threats toward the North or its leader at the time.
Indeed, Trump inherited the global threat that is North Korea not only from his immediate predecessor, Barack Obama, but also from Presidents George W. Bush and Bill Clinton. And the truth is the country's last three commanders in chief have all used various forms of diplomacy, strong language and even direct communication with North Korean leaders only to end up making little to no progress.
"For all the differences in the three different administrations, it's kind of interesting to see how they all end up at the same place and maybe that will happen with these guys too," Thomas H. Lee, professor of International Law at Fordham University and a former Naval intelligence officer, told Newsweek.
Trump's deployment of words such as "fire and fury" and "power" obviously appear ominous and were largely backed up by Secretary of State Rex Tillerson and Defense Secretary James Mattis. The former said Americans should be able to sleep well at night while the latter insisted that the U.S. could thwart any enemy.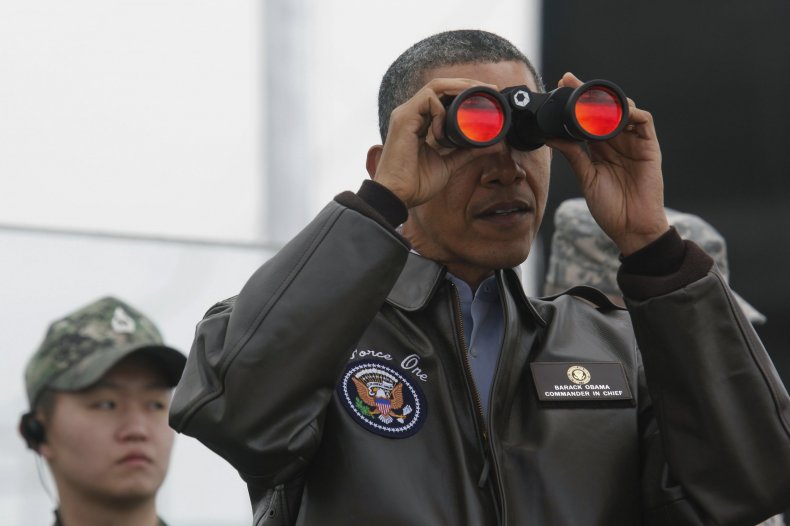 Lee said that because of Trump's "somewhat unhinged, off the cuff rhetoric," North Korea, China and Russia actually believe a military strike on the North is possible, which in turn led the two other superpowers to agree to the most recent United Nations' sanctions against Kim Jong Un's regime. That's a kind of power or leverage Obama's administration didn't necessarily possess or effectively convey.
And yet both Obama and Bush had choice words for Kim and his father, Kim Jong Il, within the last 15 years. Obama at first took a "conciliatory" route, according to Lee, with the North but ultimately returned to sanctions and tough talk.
In April 2014, Obama stated, while visiting South Korea, that the U.S. "will not hesitate to use our military might" when it came to defending allies. This came around the time the North, which just a few years prior had transitioned from Kim Jong Il to Kim Jong Un, was on the verge of a fourth nuclear test, The Guardian reported.
Much like the Trump administration and the United Nations Security Council recently did, one of Obama's last acts to curtail the North from testing and firing off rockets was the same strategy that other leaders have followed: sanctions. In November, the U.N. council unanimously passed economic sanctions on the North's coal exports. The same council passed more and new sanctions Saturday, also unanimously.
But as Foreign Policy indicated, Obama's last measure did not "inspire much optimism that Kim Jong Un will submit to multiple U.N. demands to destroy the regime's existing nuclear weapons and scrap its program to build more." All told, the North would conduct four underground nuclear tests while Obama was in office. He stuck to diplomacy.
Obama did, however, order the Pentagon to increase cyber attacks on the North in an effort to thwart their tests about three years ago, The New York Times reported in March, and he did warn Trump that the North would "likely be the most urgent problem he would confront."
The approaches taken by Obama and now Trump do appear to be a mix of attempts made by Bush, though the 43rd president did try another more personal one. At first, Bush bundled the North into his "axis of evil," along with Iraq and Iran, during his 2002 State of the Union address, which Lee pointed out actually surprised the North Koreans.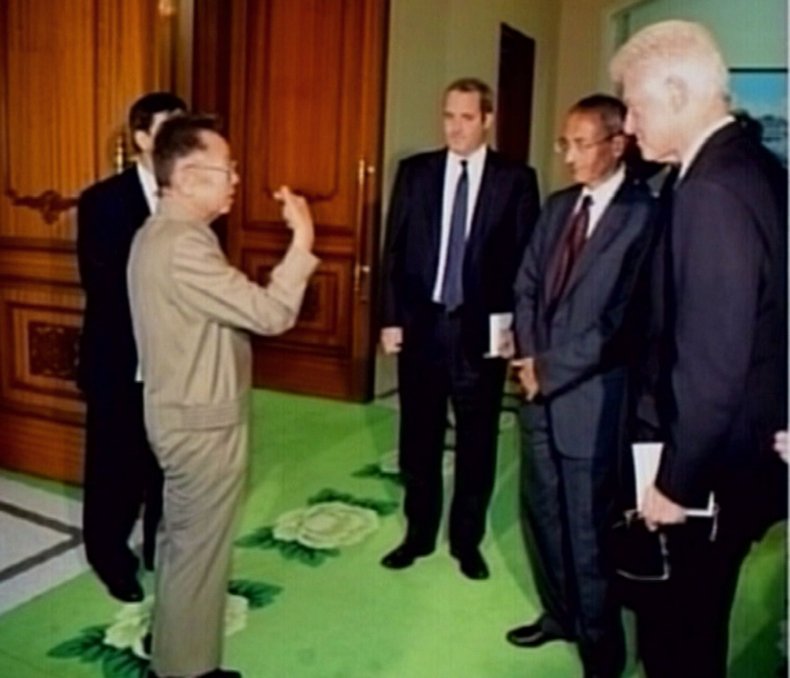 Later that year, the North kicked out International Atomic Energy Agency inspectors, and in January 2003 announced it was pulling out of the nuclear nonproliferation treaty, which the North had agreed to in December 1985. The Bush administration, as well as Japan, South Korea, China and Russia, eventually got the North to agree to and start holding six-party talks in August 2003 that eventually led to an agreement to cease nuclear testing in 2007. In exchange, the North would receive 950,000 metric tons of fuel oil or economic aid worth the same.
And as Bush was preparing to leave the White House, he even wrote a personal letter to then-leader Kim Jong Il, hoping that the deal would stay in place. Still, in 2009, the North launched a rocket and the agreement fell apart.
Like Bush, Clinton too came close to halting the North's nuclear programs in 1994. In October of that year, about three months after Kim Sung Il died and Kim Jong Il had yet to formally take power, Clinton managed to strike a deal that would give the North oil and promised financing worth $4 billion—with the South, Japan, Russia, Germany and the U.S. each chipping in—to build light-water nuclear reactors that would be constructed in a way to make difficult converting waste into bomb materials.
But, just weeks later, Republicans historically overtook the Congress in the 1994 elections and would not fork over the appropriations to make Clinton's deal happen, incensing the North.
Later, Clinton even toyed with the idea of being the first sitting president to travel to North Korea after Bush had been elected, Lee said.
"He ultimately decided not to because he thought North Korea being one of the big foreign policy problems, he didn't want to handcuff the new incoming president into a particular course of action," Lee said. "Making a major step like that with North Korea was something for the new president."