North Korea Can Attack U.S. Mainland With Missile, Top American General Warns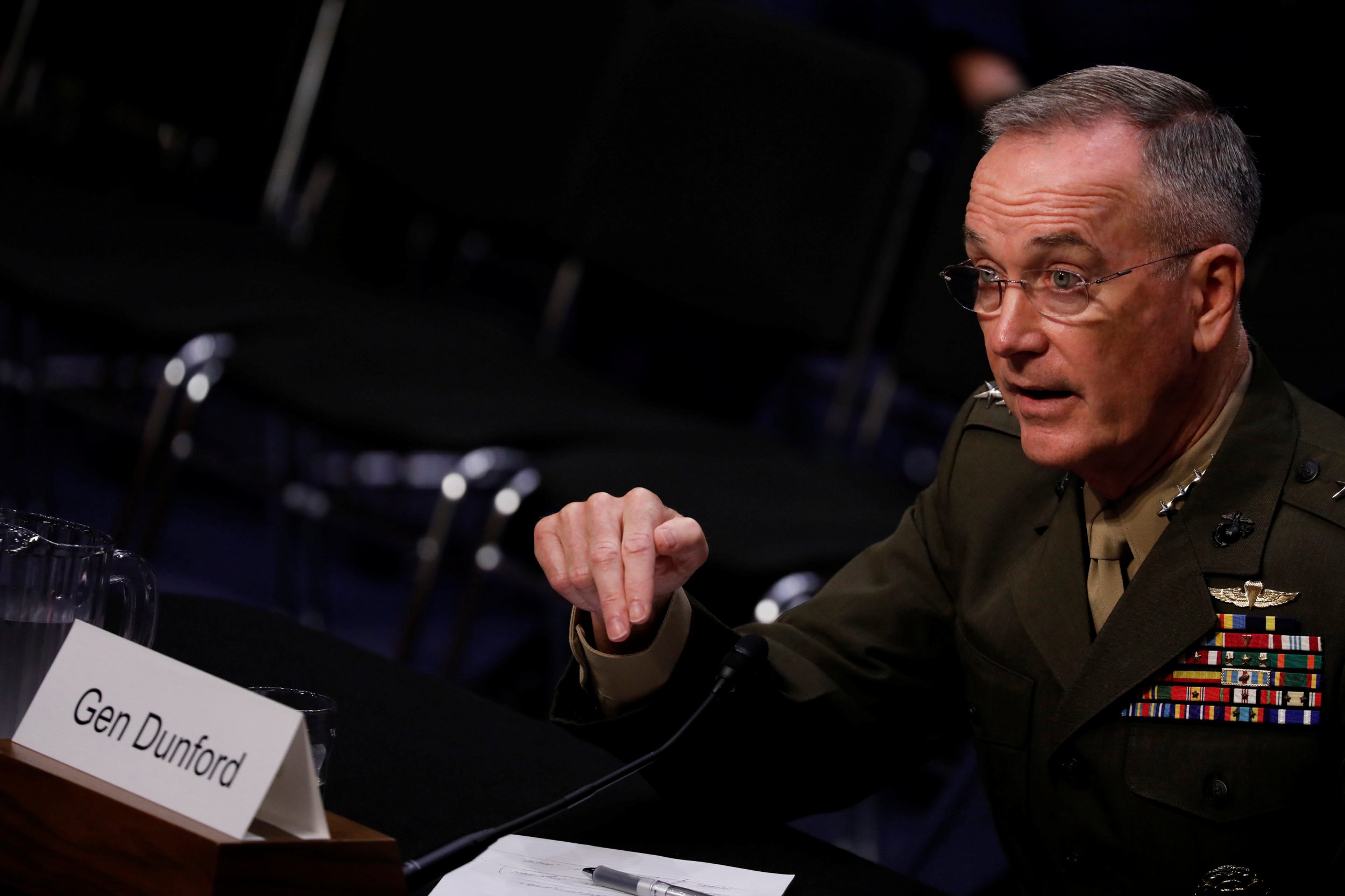 North Korea has advanced its missile development program to the point where it could strike the U.S. mainland with an intercontinental ballistic missile (ICBM), a top U.S. general has confirmed.
The chairman of the Joint Chiefs of Staff, General Joseph Dunford, made the claim as he appeared before the Senate Armed Services Committee on Tuesday as part of his reappointment process.
Among the questions Dunford faced about the state of the U.S. armed forces and global threats, Senator Deb Fischer asked for an assessment of the ballistic threat Pyongyang presents to the homeland, following its multiple recent ICBM tests.
"We should assume today North Korea has that capability and has the will to use that capability," Dunford replied. North Korea has yet to fully test elements of the ICBM, such as re-entry technology and the ability to stabilize a missile in flight, but Dunford said those are "engineering solutions that will be developed over time."
After two tests in July, missile experts largely agree North Korean missiles can reach the U.S. mainland, but questions remain over whether the threat affects only the West Coast or includes the East Coast.
Dunford is one of the most senior Pentagon officials to have confirmed that the U.S. should assume that the mainland could be hit, essentially confirming that President Donald Trump has failed in preventing North Korea from developing a nuclear weapon capable of reaching the U.S.
During the hearing, Dunford said North Korea presented the most immediate threat to U.S. security, though he said the U.S. military has not seen "a change in posture of North Korean forces" despite recent inflammatory rhetoric from the country's leader, Kim Jong Un; his foreign minister, Ri Yong Ho; and Trump.
He recommended continuing investment in the U.S. ballistic defense capability to keep pace with the North Korean threat as it evolves. Republican Senator Tom Cotton suggested that the military look as "aggressively" as possible at deploying drones to intercept North Korean missiles.
Dunford said the military was doing "a lot of work" on boost-phase intercept systems but currently does not have that capability, and he suggested a confidential briefing be held on the matter to further discuss the issue. "[It'd] be a hell of a thing if we could put an [unmanned aerial vehicle] up over the North Korean peninsula and shoot down any missile as it was taking off," Cotton said.