North Korea Cancels Anti-U.S. Rallies in Latest Sign That Trump and Kim Jong Un Are Getting Along
North Korea has apparently chosen not to host its annual mass rally marking the end of a formative conflict with South Korea and its top partner the U.S., as President Donald Trump and North Korean supreme leader Kim Jong Un pursue unprecedented diplomatic ties between their nations.
Every June 25, North Korea remembers the beginning of the Korean War in 1950, known as the Day of Struggle Against U.S. Imperialism. The event sets off a month of patriotic displays that conclude with the Day of Victory in the Great Fatherland Liberation War, a holiday commemorating the signing of an armistice that put an end to three bloody years of fighting between communist North Korea and U.S.-backed South Korea on July 27, 1953. Reports of U.S. war crimes and indiscriminate bombing of Korean cities throughout the conflict has been the basis of North Korean propaganda targeting the U.S. for more than six decades.
While no North Korean officials have publicly discussed whether or not the country planned to organize any events as the date approached, the Associated Press's staff in Pyongyang confirmed Monday that the long-running display of fervent nationalism and anti-imperialism would not be held this year.
The move would be the latest in a series of rare North Korean gestures that both Trump and Kim have said were aimed at denuclearizing the Korean Peninsula and establishing peace that has eluded the region since the Korean War, which next month's national holiday was designed to memorialize.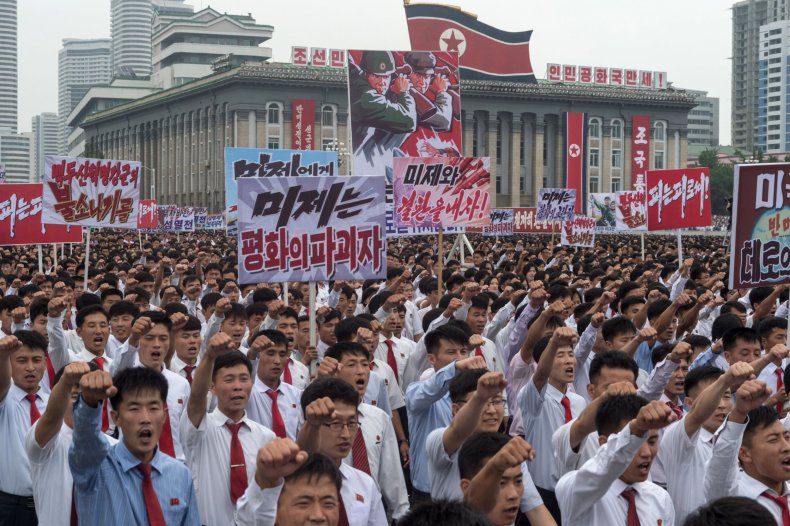 Despite threatening to annihilate one another throughout 2017, Trump and Kim have since forged a fragile, historic relationship that produced the first-ever meeting between a sitting U.S. president and a North Korean supreme leader earlier this month. Prior to that, Kim had already paved the way for better relations with his rival neighbor by meeting South Korean President Moon Jae-in twice—and shored up a strained, decades-old alliance with China by visiting there on two occasions as well.
Kim has since met Chinese President Xi Jinping a third time, further evidence that the young, nuclear-armed ruler was looking to improve his international diplomatic standing in the face of widespread accusations of human rights abuses. The U.S. and North Korea have also taken concrete steps to show that they were getting along better, even if they did not always readily admit it.
Related: Donald Trump Could End Korean War If Kim Jong Un Gives Up Nuclear Weapons
In the lead-up to the Trump-Kim summit, the U.S. held back nuclear assets from annual military exercises simulating another inter-Korean conflict in April. The Pentagon maintained that the joint U.S.-South Korea drills would not be changed, but even a massive invasion maneuver was canceled, officially due to poor weather. At the end of the month, Kim declared a freeze to all nuclear and longer-range ballistic missile tests, and in early May, released three U.S. prisoners.
While threats issued by the more hawkish factions of the Trump administration nearly derailed the summit just as North Korea demolished its only known nuclear testing site, another wave of top-level diplomacy brought the process back on track. The U.S. even produced an official coin commemorating the Trump-Kim summit, and earlier this week it was reported that North Korea had begun removing anti-U.S. souvenirs from gift shops near the heavily fortified Demilitarized Zone (DMZ) that separates the two Koreas, as well as in the major cities of Pyongyang and Kaesong.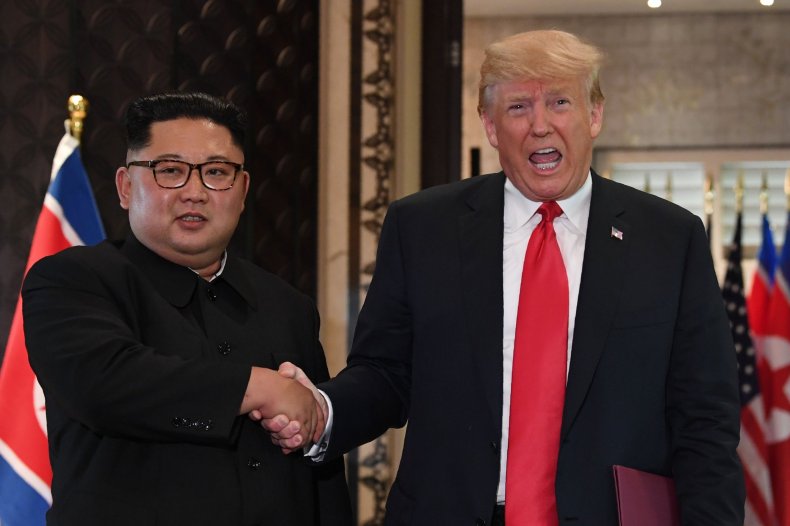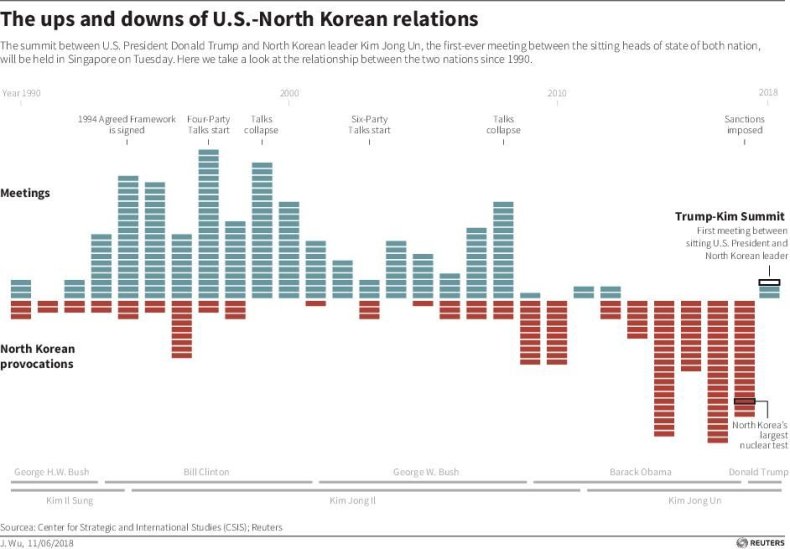 As Cold War–era foes Washington and Pyongyang inch toward normalizing relations, they have also discussed officially ending the what has technically remained an ongoing war between the two Koreas. Secretary of State Mike Pompeo revealed last week that in exchange for North Korea abandoning nuclear weapons, "the president has committed to making sure we alter the armistice agreement and provide the security assurances Chairman Kim needs."
Both sides remain cautious, however, and Trump vowed not to remove sanctions until "total denuclearization" was achieved. He extended on Friday an already decadelong state of national emergency over North Korea's nuclear threat. Trump has also kept in effect a ban issued by the State Department in September on U.S. citizens traveling to North Korea.
While U.S. nationals remain barred, Chinese tourism to North Korea "increased dramatically" this month, according to industry officials cited by Seoul-based U.S. outlet NK News, which also noted an unusual lack of anti-U.S. coverage in state media surrounding Monday's anniversary of the beginning of the Korean War. Japanese newspaper Mainichi Simbun reported that more Japanese tourists were also likely to visit the country that only last year launched numerous missiles over their nation.