North Korea Celebrates Fourth of July 2018 with Peace, Last Year It Launched ICBM 'Gift' for 'American Bastards'
North Korea launched its first intercontinental ballistic missile (ICBM) on the Fourth of July 2017, praising it as "a gift for the American bastards." This year, however, the traditional U.S. foe has opted to recognize the holiday more positively, in light of a historical warming of relations between the two nations.
The official Korean Central News Agency today published an article in memory of the signing of the July 4 South-North Joint Communiqué in 1972. The document was the first to be signed by Communist-backed North Korea and Western-backed South Korea since they were split by the Soviet Union and the U.S. after World War II and went to war in the early 1950s.
In the joint statement, then-North Korean supreme leader Kim Il Sung and South Korean KCIA Director Lee Hu-rak laid out three principles for the eventual reunification of the two Koreas: independence, peace and national unity. North Korea's state-run media marked the occasion this year with overwhelming praise.
Ruling Korean Workers' Party official newspaper Rodong Sinmun called it "a great national historic event that dispelled the dark clouds of division and confrontation and gave all the fellow countrymen optimism and hope for national reunification." North Korea's cabinet mouthpiece Minju Joson described "a great victory of the independent and peaceful reunification policy set forth by the President and an epoch-making event that provided a basic cornerstone of inter-Korean ties and the national reunification movement."
The tone was likely reflective of current events on the Korean Peninsula, which is experiencing a rare calm as Kim Il Sung's grandson and current supreme leader, Kim Jong Un, navigates uncharted territory in his direct dealings with a sitting U.S. president.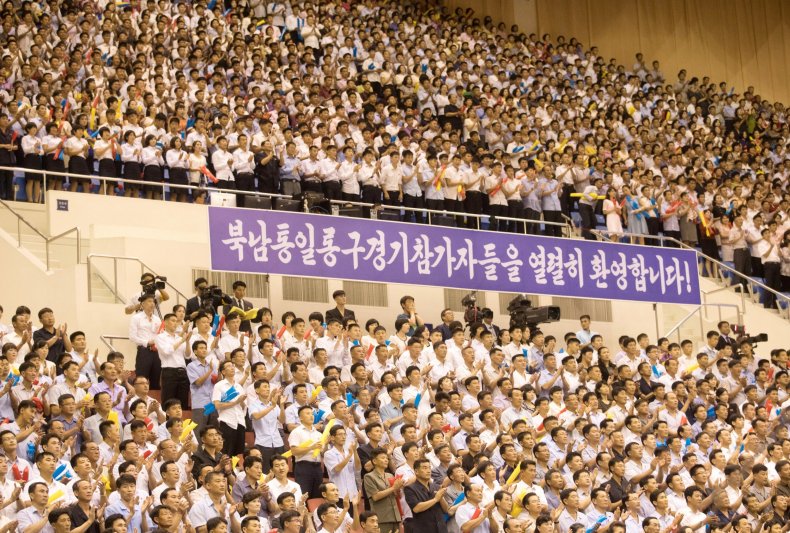 Kim Jong Un has very much modeled himself after his grandfather, the most iconic of all three generations of the Kim dynasty to rule the elusive, authoritarian state. Kim Il Sung fought Japanese occupation under both Communist Chinese and Soviet Red Army banners before becoming the first leader of North Korea in 1948. He ruled for nearly half a century and died in 1994, handing power to his son Kim Jong Il, who also made Fourth of July plans.
As international agreements regarding North Korea's nuclear and missile programs collapsed in 2006, Kim Jong Il ordered the the launch of up to seven missiles, including a long-range Taepodong-2 that reportedly failed, in the early hours of July 5—still July 4 across the continental U.S. The test took place just as the U.S. launched Space Shuttle Discovery on its second "Return to Flight" mission to the International Space Station, as Inverse highlighted. In October of that year, North Korea tested its first nuclear weapon, further outraging the U.S. and other world powers.
Related: North Korea's Kim Jong Un Wants to 'Completely Eliminate Manual Labor'
Kim Jong Il tested his second nuclear weapon in May 2009, prompting a new round of condemnation and sanctions from the United Nations Security Council the following month. On July 4, 2009, North Korean launched another seven missiles in response to the U.N. Security Council resolution 1874, which the country called "a declaration of war." Kim Jong Il died in 2011 and handed the reins of the country to his youngest son, Kim Jong Un, who despite his age and relative inexperience has achieved technological and diplomatic milestones.
As North Korea-U.S. tensions began to reheat in the first months of President Donald Trump's administration, Kim Jong Un accelerated the country's missile tests and then launched its debut ICBM on July 4. He tested a second later that month, conducted the country's sixth and most powerful nuclear bomb test in September andn in November launched a third ICBM that flew nearly 11 times higher than the International Space Station.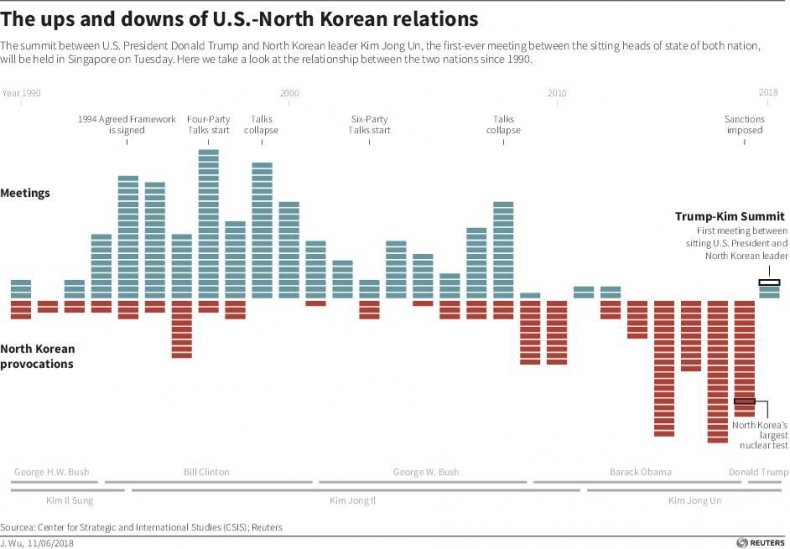 Yet this year has been characterized by a strategic diplomacy that has promised to both denuclearize the Korean peninsula and bring an end to nearly seven decades of conflict there. Kim Jong Un reached out to South Korea in a New Year's speech that sparked a inter-Korean dialogue and ultimately saw the North Korean ruler become the first in his position to cross into South Korea, where he met South Korean President Moon Jae-in in April and pledged to officially end the Korean War. He again met with Moon on the North Korean side of the border in May and has traveled three times to Beijing to meet Chinese President Xi Jinping.
In his most highly anticipated summit, Kim Jong Un met Trump in Singapore on June 11. In exchange for North Korea abandoning the nuclear weapons it has developed to deter any potential invasion, the Trump administration has vowed to provide Kim Jong Un with security assurances and eventually lift sanctions. While significant differences remain and reports have disputed the progress of North Korea's destruction of nuclear and missile sites, both sides appear publicly committed to the arrangement.
Relations between North Korea and South Korea have significantly improved, too. On Wednesday, North Korea's Committee for the Peaceful Reunification of the Country Chairman Ri Son Gwon and South Korean Unification Minister Cho Myoung-gyon attended a basketball game between North-South teams named "Peace" and "Prosperity" in the North Korean capital Pyongyang to commemorate the July 4 South-North Joint Communiqué in 1972.