North Korea Celebrates Missile Launch With Interpretive Tap Dance And Rocket Songs
North Korea celebrated the launch of its newly developed intercontinental ballistic missile test—which some experts say has the capacity to reach Alaska and the Pacific Northwest—with an art performance that depicted the release of rocket Hwasong-14.
The Sunday spectacle was described by KCNA, North Korea's state news service, as an event "enjoyed [by] respected leader Kim Jong Un" and high-ranking party officials. Kim's personal entourage and senior military personnel mingled with the country's national defense scientists who contributed to the missile launch.
Musical items included such "colorful numbers" as "Glory to Our Great Party," "The Glorious Motherland," some light relief in the form of "March of Rocket Artillery of the Republic" and a tap dancing troupe whose routine was performed to a song called "Toast to Victors."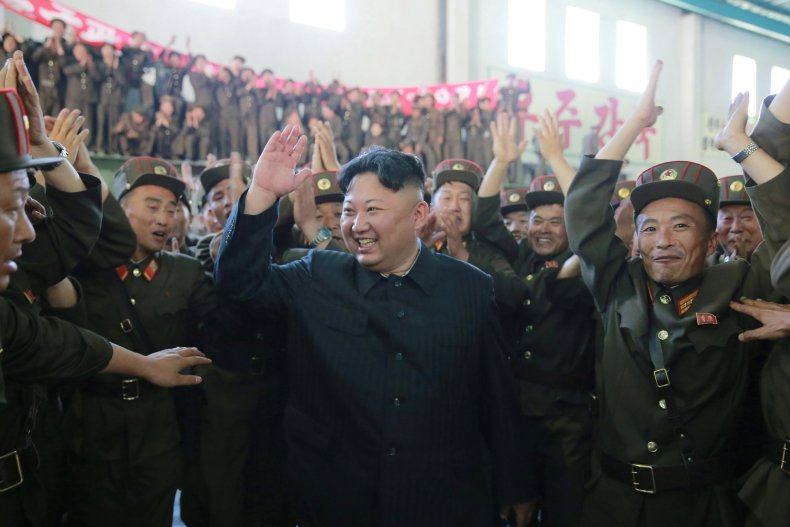 Each performer praised Kim Jong Un for his leadership and direction. The North Korean state news service approvingly related that the entertainment showed the leader "devoting himself to accomplishing the great cause of President Kim Il Sung [North Korea's founder]" by "building a nuclear force."
Images of Kim Jong Un on the stage background were met by thunderous applause, the news service reported. But the loudest clapping was reserved for the finale number "Glory to General Kim Jong Un."
North Korea confirmed the missile launch on state television last week, announcing that Hwasong-14 reached an altitude of 1731 miles and traveled 600 miles before hitting the sea July 3. It was the eleventh missile North Korea launched this year.
Donald Trump, referring to Kim Jong Un, tweeted Tuesday morning: "Does this man have anything better to do with his life?"