North Korea, China Increase Nuclear Arsenals as U.S., Russia Decrease Their Stockpiles, Report Shows
As the U.S. and Russia have decreased their stockpiles of nuclear weapons, North Korea and China have been working to expand their supplies of the weapons of mass destruction, a new report has shown.
The Stockholm International Peace Research Institute (SIPRI) warned that "the outlook for arms control is bleak." It showed that Russia, the U.S. and France have downsized their number of nuclear weapons while six other nations have increased their supplies. Meanwhile, Russia and the U.S. remain the clear global leaders in terms of the number of nuclear weapons they possess.
"Russia and the USA have extensive and expensive programs under way to replace and modernize their nuclear warheads, missile and aircraft delivery systems, and nuclear weapon production facilities," the report, released Monday, said.
The report noted that "China is in the middle of a significant modernization of its nuclear arsenal" and that North Korea "continues to prioritize its military nuclear program as a central element of its national security strategy."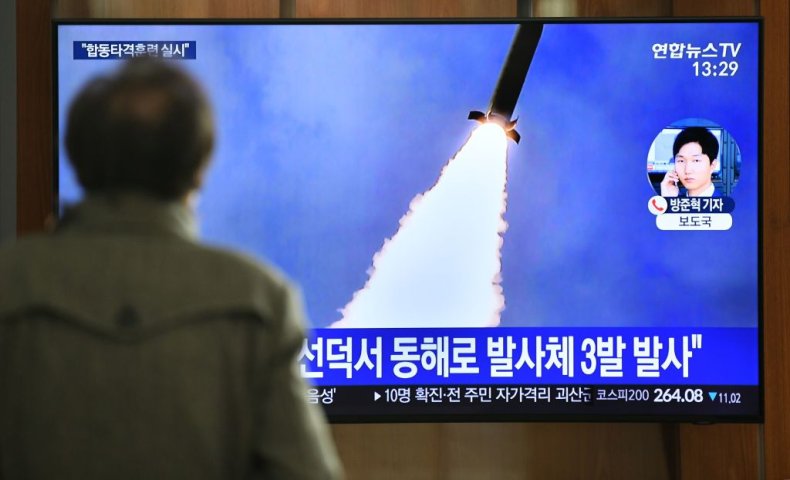 Newsweek reached out to the State Department for comment on the SIPRI report but did not hear back before publication.
North Korea increased its nuclear weapons from an estimated 20 to 30 in 2019 to 30 to 40 now, according to the report. China also saw its number of weapons jump, from 290 last year to 320 today. Israel, Pakistan, India and the United Kingdom have had marginal growths in their nuclear stockpiles since 2019.
Meanwhile, the U.S. and Russia have decreased the size of their arsenals, although they remain the dominant nuclear powers in the world. Last year, Russia, which possesses the most nuclear weapons of any nation, had 6,500 weapons, compared with 6,375 today. The U.S. had 6,185 weapons in 2019, but that number is now down by 400, with 5,800 reported. France saw its much smaller nuclear arsenal decline from 300 weapons to 290 over the past year.
Shannon Kile, director of SIPRI's Nuclear Disarmament, Arms Control and Non-proliferation Program, cautioned in the report that a breakdown in ties between Russia and the U.S. could lead to a new nuclear arms race.
"The loss of key channels of communication between Russia and the USA that were intended to promote transparency and prevent misperceptions about their respective nuclear force postures and capabilities could potentially lead to a new nuclear arms race," Kile said.
Beatrice Fihn, executive director of the International Campaign to Abolish Nuclear Weapons (ICAN), told Newsweek in a statement that countries expanding their arsenals she rethink their priorities.
"Nuclear-armed states must follow the lead of the world's majority in supporting and then joining the Treaty on the Prohibition of Nuclear Weapons and investing in cooperative security tools," Fihn said.
As for North Korea, President Donald Trump has made the East Asian nation's disarmament a priority of his administration. However, despite several high-profile meetings between the president and the country's leader, Kim Jong Un, no significant progress has been made and the country has continued to carry out missile tests.
At the same time, Trump has taken a hard-line stance against China, with tense relations exacerbated further amid the coronavirus pandemic, which first broke out in the Chinese city of Wuhan.
This article has been updated with a statement from ICAN.