North Korea Explains Conditions for Getting Rid of Nuclear Weapons Ahead of U.S. Talks
North Korea has laid out its conditions for discussing denuclearization ahead of the next round of planned talks with the United States, striking a positive tone for North Korean supreme leader Kim Jong Un and President Donald Trump's historic peace process.
In a statement published Monday by the official Korean Central News Agency, the director-general of the North Korean Foreign Ministry's Department of U.S. Affairs said it was "fortunate that the U.S. has repeatedly expressed its stand to tackle an issue through dialogue and negotiations." The official also voiced "hope that the working-level negotiations expected to be held in a few weeks will be a good meeting between the DPRK and the U.S.," using an acronym for North Korea's official name, the Democratic People's Republic of Korea.
The statement noted that Washington's approach could either "improve the relations" between it and Pyongyang or "add to the hostility towards each other, arguing there were "two options — crisis and chance" and it was "entirely up to the U.S." to choose between the two.
"Clear and invariable is the DPRK's stand," the official was cited as saying. "The discussion of denuclearization may be possible when threats and hurdles endangering our system security and obstructing our development are clearly removed beyond all doubt."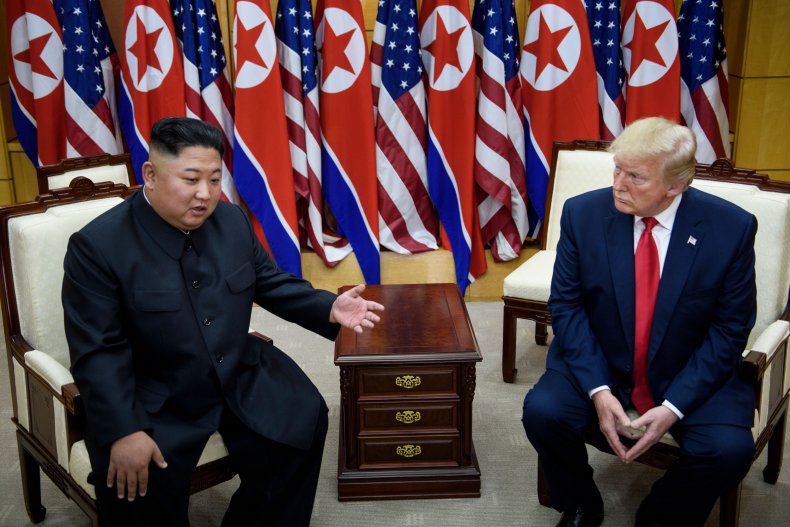 North Korea has long been the target of international sanctions due to its development of nuclear weapons, assets the ruling Kim dynasty has argued was necessary to deter a potential U.S. invasion. Though Washington and Pyongyang have never normalized ties since clashing during the 1950s Korean War in which the U.S. backed South Korea and China and the Soviet Union supported North Korea, the two governments have managed to get together for three summits since last summer aimed at securing peace, lifting economic restrictions and denuclearizing the Korean Peninsula.
The exact meaning of that last phrase has at times proved an obstacle for the ongoing negotiations, with the U.S. pushing for a "complete, verifiable and irreversible denuclearization" without preconditions and North Korea first seeking sanctions relief and security guarantees. The two sides have yet to reach any agreement.
Still, both administrations have continued to express confidence in the other's willingness to talk and South Korean newspaper Joongang Ilbo cited diplomatic sources Sunday as saying that Kim invited Trump to a fourth summit, possibly in Pyongyang, in his latest letter last month. South Korean Foreign Minister Kang Kyung-wha confirmed the following day that a letter was sent, but declined to disclose any of its contents.
Also on Monday, South Korea's Yonhap News Agency cited a State Department spokesperson as that the U.S. would "welcome the North Korean commitment to resume negotiations in late September" and was "prepared to have those discussions at a time and place to be agreed." The statement came a week after North Korean First Vice Foreign Minister Choe Son Hui expressed a "willingness to sit with the U.S. side for comprehensive discussions of the issues we have so far taken up at the time and place to be agreed late in September."
"I believe that the U.S. side will come out with a proposal geared to the interests of the DPRK and the U.S. and based on the calculation method acceptable to us," Choe said at the time. "If the U.S. side fingers again the worn-out scenario which has nothing to do with the new calculation method at the DPRK-U.S. working negotiation to be held with so much effort, the DPRK-U.S. dealings may come to an end."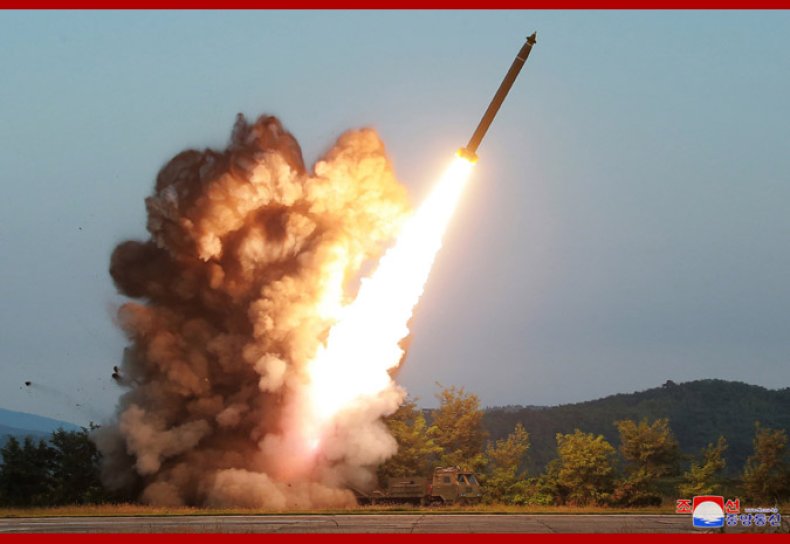 The latest push to restart high-level talks came as North Korea launched a series of short-range ballistic missile and rocket tests, totaling some eight launches since late July. Kim has said such tests came in response to the U.S.' decision to hold joint drills with South Korea, an action viewed by North Korea as a provocation.
Days after the latest launch, the Korean Central News Agency issued a commentary Sunday condemning the Pentagon's regional military exercises alongside South Korea and Japan as well as the planned deployment of more advanced U.S. weaponry in both countries. It warned: "Absolutely intolerable are the aggressive war moves of the trigger-happy forces going against the desire of the international community and the trend of the times."
Trump and his officials have largely downplayed the launches, noting that they may violate United Nations Security Council resolutions, but not Kim's self-imposed moratorium on longer-range tests that have not been conducted in nearly two years. Others, such as close U.S. ally Japan, have expressed greater concern, though multiple Japanese Foreign Ministry officials characterized Trump's muted response as a strategy to maintain good personal relations with Kim in recent conversations with Newsweek.
South Korean President Moon Jae-in, who was also present at Trump and Kim's last meeting in late June, has criticized North Korea's launches as well, but has continued to call for inter-Korean and U.S.-North Korean talks to advance. During a cabinet meeting Monday, Moon said that "soon, the North Korea-U.S. working-level dialogue will resume" and such dialogue would be "the driving force behind the peace process on the Korean Peninsula."