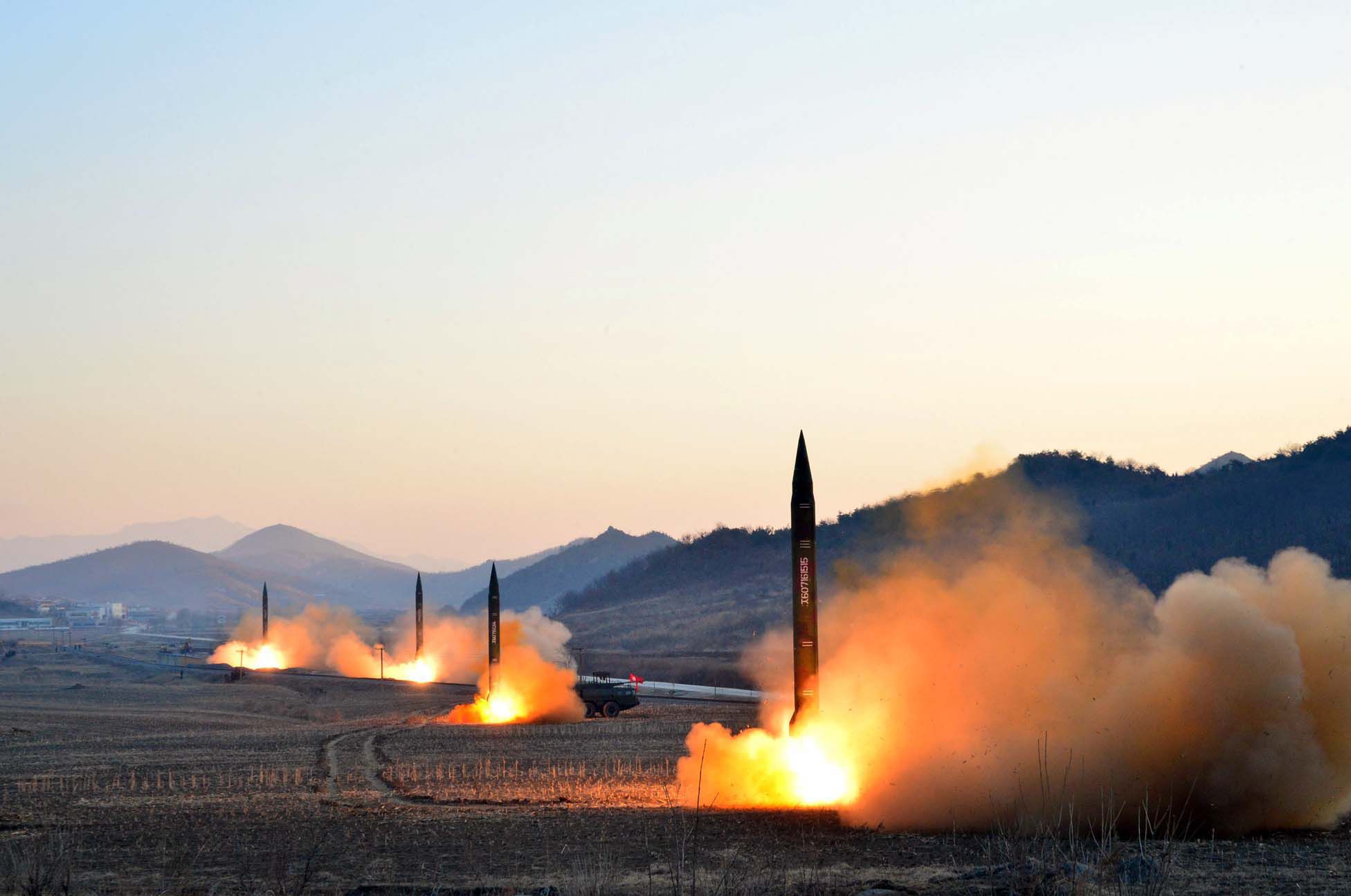 North Korea is prepared to use its stockpiles of chemical and biological weapons if war breaks out with the U.S. and its allies, according to a letter Pentagon chiefs sent to lawmakers.
The letter, written by Rear Adm. Michael J. Dumont, the vice director of the Pentagon's Joint Staff, details how a conflict between North Korea and the U.S. could play out.
Amid rising tensions between Washington and Pyongyang, the letter notes the difficulty of establishing the "'best- or worst-case casualty scenarios'" should war break out with North Korea, given the proximity of South Korean capital Seoul to the de-militarised zone and uncertainty over how much warning the U.S. would have of a North Korean attack.
Addressed to Democrat Congressmen Ted Lieu of California and Ruben Gallego of Arizona, the letter lays out the stark potential consequences of conflict with the rogue state, and says that North Korea could resort to using its stockpile of chemical and biological weapons.
The letter also said that Pentagon leaders "assess that North Korea may consider the use of biological weapons" and that the country "has a long-standing chemical weapons program with the capability to produce nerve, blister, blood and choking agents."
It offers lawmakers a classified briefing on plans the U.S. has in place to counter a chemical weapons attack from North Korea.
The Center for Nonproliferation Studies estimates North Korea has between 2,500 and 5,000 metric tons of chemical weapons, including a large supply of VX, the deadliest nerve agent ever created. VX was used by two alleged North Korean assassins to kill North Korean leader Kim Jong Un's half brother in a Malaysian airport in February.
Hamish de Bretton-Gordon, former commanding officer of the U.K. Chemical, Biological, Radiological and Nuclear Regiment (CBRN) and NATO's Rapid Reaction CBRN Battalion, has warned that tens of thousands could be killed in the event of a North Korean VX attack.
"I think we now know that they have 5,000 tons of VX," de Bretton-Gordon said, speaking to NBC News in September. "We know they have missiles capable of firing 4,000 to 6,000 miles, probably with a payload of half a ton, so half a ton of VX in those missiles could kill tens of thousands of people, and they could do that now, so that is a genuine concern."
In a June article in Bulletin of the Atomic Scientists, the military historian Reid Kirby said the types of artillery along the demilitarized zone, and vulnerability of children and the elderly, meant that a North Korean attack using the nerve agent Sarin could kill as many as 2.5 million people in Seoul and injure millions more.
Others experts though argue that there is little reliable information about the extent of North Korea's chemical and biological weapons program, and the state would likely rely on its extensive arsenal of weapons less dangerous to handle than biological agents in the event of an attack.
"Very little is known for sure about North Korea's alleged bioweapons program. Much of the available data is drawn from scant intelligence estimates issued by the US, Russian, and South Korean governments, most of these estimates over a decade old," wrote Sonia Ben Ouagrham-Gormley, an associate professor in the biodefense program at George Mason University, in July.
"More broadly, what is missing in assessments of the North Korean bioweapons threat is an understanding of the conditions required to produce bioweapons successfully—and an evaluation of whether North Korea meets the required conditions."
North Korea is not a signatory of the 1997 Chemical Weapons Convention, outlawing chemical weapons. Japanese Prime Minister Shinzo Abe warned in April that North Korea could target Japan with a missile loaded with Sarin, a highly toxic nerve agent.
The letter affirms the Pentagon's backing for the sanctions regime imposed on North Korea and diplomatic pressure, and "change in the offensive posture of North Korea's forces."
"We remain postured to respond in the event of a provocation or conflict, and we have taken all appropriate measures to protect our allies, the Republic of Korea (ROK) and Japan, and U.S. Forces in those countries," the letter reads.
The letter was a response to a request to Defense Secretary James Mattis from Lieu and Gallego, in which they requested estimated Pentagon casualty figures from a war with North Korea.
President Donald Trump arrived in Japan Saturday for his first trip to Asia as U.S. president, with North Korea likely to be among the major topics under discussion.
As part of the 12-day trip, Trump will also visit South Korea, China, Vietnam and the Philippines.