North Korea Demands Japan Must Apologize For Its Wartime Crimes
North Korea's main state newspaper has called on its neighbor Japan to apologize for the atrocities its armed forces committed during the Second World War.
The commentary in Rodong Sinmun said that Tokyo must "sincerely atone" for its "past wrongdoing," the South Korean Yonhap news agency reported.
The Pyongyang publication criticized the actions of a Japanese man appearing to kick a statue in Taiwan that commemorated Japan's wartime sexual slaves, euphemistically called "comfort women."
"It is an international demand that Japan liquidate its own past history and it would be mistaken if it thinks that it can go against this demand," read the editorial by an unnamed writer. "It is a legal obligation and moral responsibility to apologize and compensate for a crime committed," it added.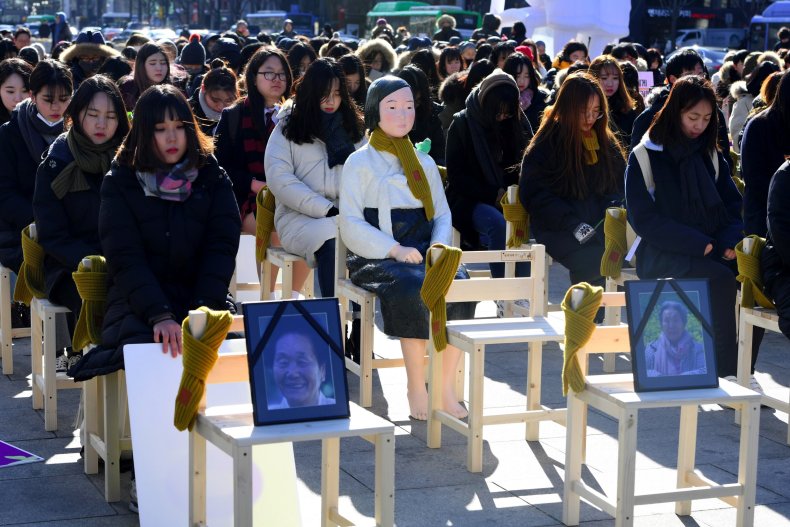 Hopes are high of a rapprochement on the Korean peninsula following meetings between North Korean leader Kim Jong Un and his southern counterpart, Moon Jae in.
However, Pyongyang has continued to lambaste its former occupier Japan. In August, an editorial in the same publication, a mouthpiece for the regime in Pyongyang, said: "Had the Japanese invaders not stretched their dark tentacles to Korea, there would not have occurred such a tragedy in which the Korean nation has suffered the misfortune and pain for more than seven decades."
The commemoration of the victims of sex slavery at the hands of Japanese military forces just before, and leading up to, the end of the war, is a sensitive issue for Tokyo.
There is tension between South Korea and Japan after statues were erected on buses in Seoul in August 2017 to honor the former sex slaves.
The Japanese and South Korean governments reached an agreement in 2015 although Tokyo has never accepted legal responsibility for the sex slaves.
Meanwhile, Osaka ended its sister city status with San Francisco after the Californian city agreed to allow a statue to be erected in its Chinatown district.
It adds to a sense that the burgeoning ties between Seoul and Pyongyang are making Japan strategically isolated in Northeast Asia.
"As Seoul eases ever closer to Pyongyang, this confronts Tokyo with the challenge of preventing any further fragmentation of the troubled, three-way alliance between Japan and the U.S. on the one hand, and South Korea and the U.S. on the other," the Asia Times said in an editorial.