Donald Trump, Kim Jong Un, John Bolton and the Road to War in North Korea
In 2003, when George W. Bush was president, the White House undertook a new effort to get North Korea to give up its nuclear weapons program. It did so by working with four other countries—South Korea, China, Japan and Russia. These so-called six-party talks' were a yearslong, often frustrating diplomatic effort, and in the middle of it, I sat down with a negotiator from one of the parties, a diplomat who had become one of my best sources in the region.
Normally, he was calm. But when I mentioned John Bolton, the former Bush administration official who had helped scuttle a previous nuclear agreement between the U.S. and Pyongyang, the diplomat's equanimity evaporated. "John Bolton," he spat, "is the reason North Korea has multiple nuclear weapons today."
The diplomat was overstating his case. But the mere fact that he said it was revealing—especially now that President Donald Trump has appointed Bolton to be his national security adviser. The move, which becomes official in early April, will come roughly a month before one of the most audacious diplomatic gambits in American history: Trump's agreement to meet with Kim Jong Un, the young leader of North Korea.
Bolton, the articulate, Yale-educated lawyer who replaced H.R. McMaster, remains extremely polarizing. A former State Department official and United Nations ambassador under Bush, he has been a Fox News analyst for several years, which means Trump has seen him on TV long enough to know he is a hawk on almost all national security issues. A month ago, he wrote an opinion piece in The Wall Street Journal titled "The Legal Case for Striking North Korea First." Those in Washington frantically trying to prevent a pre-emptive U.S. military strike against Pyongyang found Bolton's piece extremely concerning.
Now, his ascension has much of official Washington—not to mention all of East Asia—worried. Their fears? That he will snuff out Trump's meeting with Kim before it even happens, much as he tried to derail a nuclear deal more than a decade ago. Signed when Bill Clinton was in office, the deal provided Pyongyang with two light water reactors and monthly deliveries of fuel oil, in return for the North denuclearizing.
But with Bolton as the point man, the Bush administration complained that Pyongyang had been cheating on it. The Clinton-era agreement had dealt with the North's effort to build nukes using plutonium, but Pyongyang was secretly trying to build weapons using highly enriched uranium. It was an egregious violation, but diplomats in various capitals had wanted to see if they could quietly get the North Koreans to stop the uranium program. The Bush administration said no, confronted Pyongyang (which copped to what it was doing) and the deal died. The North then said it was going to build several nuclear weapons, and they now have.
For more than a decade, analysts have been debating the wisdom of the Bush administration's response. What's clear, however, is that for a diplomat, Bolton can be very undiplomatic. Yet even his bureaucratic enemies will concede he is smart, detail-oriented and tenacious. (Bush hired him for the State Department after Bolton played a critical role in fighting the recount battle in Florida following the 2000 election, when the final vote there between Bush and Al Gore decided the outcome.)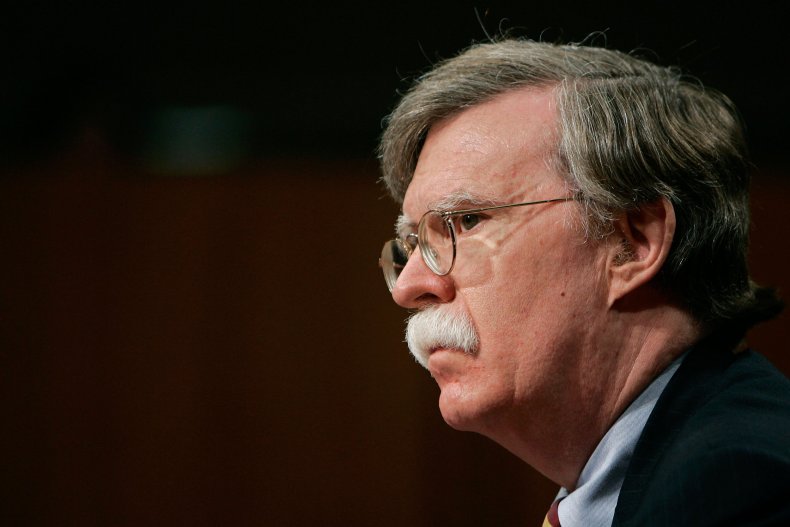 Related: What war with North Korea looks like
The issue now is to what end is Bolton going to use those skills as the historic Trump-Kim summit approaches. Already Bolton's critics insist he's in favor of pre-emptive war, which he maintains is legal. And he may have some help in Washington. Weeks before announcing Bolton's appointment, Trump shifted another hawk, Mike Pompeo, from CIA director to secretary of state, replacing Rex Tillerson.
Taken together, the moves, critics say, are a sign that the hawks are now in charge and that a conflict with Pyongyang may be in the offing. Yet months earlier, the administration had already been considering a "bloody nose" strategy against the North—a limited pre-emptive strike against some of its nuclear sites to show Kim the U.S. is serious about denuclearization. This idea grew out of McMaster's National Security Council. Only recently did the administration, in the face of fierce objections from Defense Secretary James Mattis and former Secretary of State Tillerson, disown the strategy.
Bolton's defenders say his appointment makes sense; with him and Trump at the helm, the U.S. has two unpredictable, hawkish leaders facing off against Kim and can now effectively execute a Mad Bomber strategy. Leaders in Seoul and Tokyo may worry that Trump and Bolton's heated rhetoric will lead to war, but that's perhaps the point. They want Kim and his toadies in Pyongyang to tremble.
We'll see in May how forthcoming Team Kim will be. It's likely the president is too prideful to back away from the summit now, even if Bolton presses him to do so. The key will be what happens after Trump and Kim meet. As a self-styled dealmaker extraordinaire, the American president is unlikely to walk away disappointed, as Ronald Reagan famously did at the 1986 nuclear summit meeting with Soviet leader Mikhail Gorbachev. Trump's instinct will be to proclaim it the best, the most incredible, the most important deal ever in the history of the world.
Then, as the months go by, if the U.S. finds evidence that Pyongyang is not abiding by whatever they agree to, Bolton will be all over it. Should that day come, the prospect of war with North Korea will become all too real.