North Korea Invited for Talks on Olympic Games at Truce Village
South Korea has invited the North to meet and talk on January 9 to discuss possible cooperation at the Winter Olympic Games held in Pyeongchang, located around 50 miles away from the demilitarized zone (DMZ) that separates the two countries.
The South Korean government made the decision at a meeting held on Tuesday following Kim's New Year's address, in which the North Korean leader offered to help his South Korean "compatriots" make the games a success.
"We are willing to dispatch our delegation and adopt other necessary measures. With regard to this matter, the authorities of the north and the south may meet together soon," Kim said, according to an English translation of his speech published in the state-controlled North Korean media.
The proposal for talks next week came from South Korean unification minister Cho Myong-gyon, who picked as a location the truce village of Panmunjom, where the Joint Security Area and the military demarcation line a North Korean defector recently crossed under a hail of bullets are located.
"We think that the suspended inter-Korean communication channels should be immediately restored. We propose that the two Koreas discuss details of talks including agenda items and the composition of delegations through the channel at the truce village," Cho said at a press briefing on Tuesday, quoted in South Korean news agency Yonhap, adding the decision had been discussed with the U.S.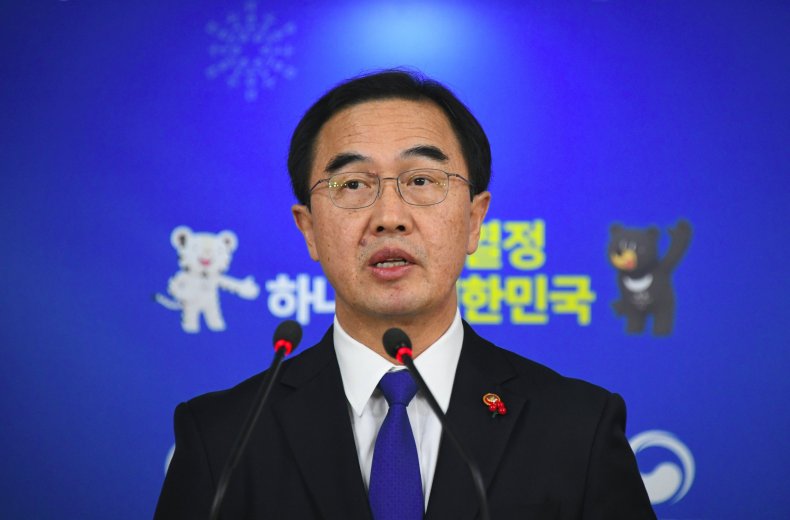 This is the second invitation for talks the South Korean government has extended to the North since President Moon Jae-in was elected in May promising to denuclearize the peninsula by reviving six-party talks. A previous offer for military talks ahead of the Korean war armistice anniversary in July was snubbed. South Korean officials now believe the prospect of talks next week is more concrete. "We look forward to the North's positive response to this," Cho said on Tuesday.
South Korean Prime Minister Lee Nak-yeon warned that North Korea would likely come to the table emboldened by its advancement in nuclear and missile technology—in 2017, Pyongyang carried out its sixth and most powerful test as well as test-launching its most powerful intercontinental ballistic missile (ICBM), which is capable of reaching the U.S. mainland.
"There is a sufficient possibility of North Korea demanding different treatment as it is arguing (that is now a nuclear power)," Lee said on Tuesday, quoted in Yonhap. He hinted that Pyongyang's demands would include large-scale economic support, an end to joint South Korea-U.S. military drills and being treated as a nuclear-armed state. "Nonetheless, we have to exercise imagination and wisdom and muster courage to take advantage of this opportunity," Lee added.
The meeting would represent the first contact between South Korean and North Korean representatives in over two years. As the Associated Press reported in October, South Korea's Unification Ministry sends officials to Panmunjom to call North Korea twice daily—the first call is made at 9 a.m. and the second one at 4 p.m. The North has not picked up for more than 18 months. Despite Kim's speech, South Korea's morning call went unanswered on Tuesday too, local media reported. Another attempt, as always, will follow in the afternoon.