Teenager Illegally Imports North Korean Beer, Sells It Online for $150
A teenager in Japan has been charged with flouting an export ban of North Korean goods when he bought a bottle of beer that was made in the secretive state and later tried to sell it at a huge profit.
The unnamed 19-year-old man from Fukuoka allegedly concealed the North Korean produced beer in his carry-on bag before boarding a flight from Shanghai Airport to Saga Airport last October.
He had bought the beer in China for about 300 yen ($2.78) and sold it in an online auction for about 16,000 yen ($150), without getting approval from the Economy, Trade and Industry Ministry, the Japan News reported.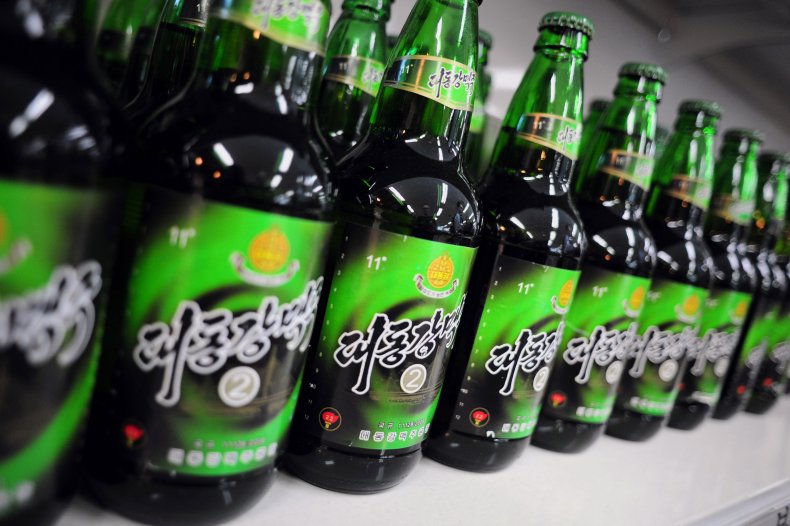 However, police from the Toyama prefecture on cyber patrol caught the man whom they said had repeatedly auctioned North Korean beer, as well as other grocery items, through the internet since last year.
The man confessed to the sale, telling police: "I thought [North Korean beer] could be sold at a high price."
Japan's ban on goods from North Korea has been in place since 2009 and includes all exports and imports of products made in, or shipped from, North Korea in response to its repeated nuclear and missile tests.
Tokyo has also expressed doubt that South Korea is pulling its weight in a global push for sanctions against Pyongyang. Japanese prime minister Shinzo Abe claimed there had been illegal transfers of sensitive materials from South Korea to its northern neighbor, which Seoul has denied, according to the Washington Post.
Japan has tightened the approval process for Japanese shipments of sensitive materials to South Korea and has expressed concerns that Seoul is not doing the same.
However, deputy director of South Korea's presidential national security office, Kim You-geun, said South Korea has been implementing U.N. sanctions against North Korea over its nuclear weapons program and demanded evidence from Japan for the allegations, The Post reported.
It comes amid tensions between Seoul and Tokyo over Japan's past colonial rule of South Korea.
Separately, on Friday it was reported that the Chinese President Xi Jinping had urged U.S. President Donald Trump to ease sanctions on North Korea when they met in Japan last month.
Chinese Foreign Ministry spokesman Geng Shuang told reporters Xi had briefed Trump on China's position on North Korea "and pushed the U.S. side to show flexibility and meet the North Koreans half way, including easing sanctions in due course," according to Reuters.
This week, the U.S. and the other countries have accused North Korea of violating U.N. sanctions by importing more refined petroleum products than it is allowed, Sky News reported.