North Korea: 1 Percenters Can Now Shop at the First Foreign-Brand Store in Pyongyang
As part of their country grapples with famine, North Korean 1 percenters have a different dilemma: Where to shop?
Miniso, the Japanese lifestyle store, like a cheaper Uniqlo, opened in Pyongyang on June 14 and has quickly become the destination for functional hats to stylish scarves. It is also the first foreign-brand store to open in the city, to the delight of North Korea's moneyed set.
North Koreans are subject to strict clothing regulations. Women are forbidden from wearing "Western-style clothing"; people must choose from one of 28 state-approved haircuts. Hair must be no longer than three or four inches, according to the country's strict rules and regulations.
However, rules are loosening in the capital of the Democratic People's Republic of Korea. A North Korean defector told the Guardian newspaper that before she had to wear a traditional Korean dress inside Pyongyang: "Now, women can wear trousers inside the city, but they need to be very loosely cut."
Enter Miniso, which describes itself as a fast-fashion design store, and arrives in the region as a joint-venture deal with one of North Korea's state-owned enterprises.
Miniso launched its first store in Guangzhou in 2013, and is expected to expand into 50 more countries, including Mexico and Mongolia. According to The Economist, revenue amounted to 10 billion yuan in 2016, doubling its earnings from the previous year.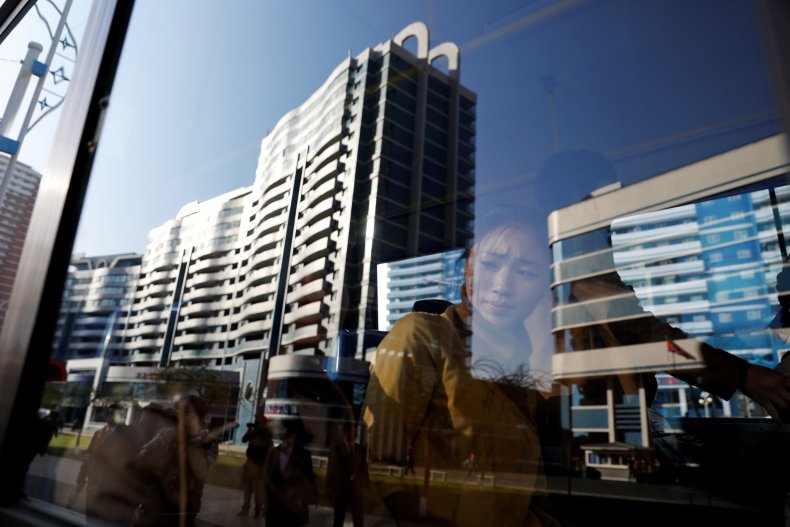 And who are these pioneer customers who brave the threat of labor camps in order to spend their considerable disposable income? The Washington Post called them the country's 1 percent. While the rest of the North Korea survives on an average per capita income of from $1,000 to $2,000 per year, according to a BBC report, the upper class purchases pizza, drinks frappés, and, now, buys outfits and accessories at Miniso.
Miniso joins other local shops in high-end malls in Pyongyang called "Pyonghattan," a play off Manhattan, catering to the rich kids of the Democratic Republic. The rest of the 99-percent, who earn around $4 per day don't have shopping issues, especially as there are few options to spend their money.
Related: Who Is Otto Warmbier?
But barely a week into Miniso's grand opening, it could already be in breach of United Nations Security Council resolutions, according to NK News, a website focusing on news in North Korea. North Korea is heavily sanctioned, which means countries are forbidden from trading with it.
China is North Korea's only trading partner, and U.S. President Donald Trump has pressured China to impose sanctions. Trump tweeted earlier in the week, thanking China for its help with North Korea but also insinuating that it hadn't done enough.
Shops in North Korea can sit empty for months, and many restaurants are just fronts. Last year Kim Jong Un warned North Koreans that another famine might be in store, and advised eating the roots of grass to remain healthy. The North Korea leader's love of cheese, however, has sent his weight soaring, which led to fractured ankles in 2014.
Miniso was not immediately reachable for comment.
North Korea: 1 Percenters Can Now Shop at the First Foreign-Brand Store in Pyongyang | World