North Korea Journalists Are a Lot Less Angry at the U.S. Than They Used to Be, Report Shows
The anti-American sentiment that traditionally runs deep in North Korea's state-run media has dropped to its lowest level since 2011, according to a leading monitor.
KCNA Watch, a service dedicated to analyzing North Korea's official Korean Central News Agency, recorded a seven-year low in provocative language used and threats made by the outlet for the first half of 2018. From January 1 to June 30, the index registered a score of .266, one of the lowest scores seen on the index and a drastic drop from last year's .411 score (.5 being the highest), as reported by KCNA Watch affiliate NK News.
The contents of KCNA are widely seen as a direct reflection of Pyongyang and its public views. The sharp downturn in aggression mirrors a historic thawing of relations between Cold War–era foes the U.S. and North Korea, culminating in last month's summit between North Korean supreme leader Kim Jong Un and President Donald Trump.
The meeting was the first of its kind and has helped forge an unprecedented dialogue between two countries that have not had formal relations in nearly seven decades.
Prior to pursuing their cautious detente this year, Kim and Trump's relationship got off to a fiery start last year as they lobbed nuclear-fueled threats and personal insults at one another. As Trump boosted the U.S. military presence in the Asia-Pacific and conducted joint exercises with regional allies South Korea and Japan, Kim debuted his country's intercontinental ballistic missiles (ICBMs) and a powerful hydrogen bomb.
The result was the Threat Index's largest spike since 2013, when KCNA Watch registered a record high of .45 in the first six months. At the time, KCNA was issuing a daily barrage of threats toward the U.S., even as former basketball star Dennis Rodman visited the infamously reclusive country and struck up an apparent friendship with its young leader. Kim also oversaw his first nuclear weapons test—the third for North Korea—and continued cleaning house by purging a number of his father's top men—including Kim's uncle, Jang Song Thaek, a close ally of China—at the end of the year.
Related: North Korea celebrates Fourth of July 2018 with peace, last year it launched ICBM 'gift' for 'American bastards'
The calmest year on the Threat Index is 2006, with an all-time-low of .19. KCNA largely held its tongue as North Korea tried to negotiate its way back to the Six-Party Talks between itself, China, Japan, Russia, South Korea and the U.S. That October, however, North Korea conducted its first nuclear test, setting off a series of escalations that mostly saw heightened levels of aggression into President Barack Obama's first term.
With Kim and Trump getting along better than ever, though, the Threat Index has fallen to the lowest point since the hermit kingdom's strongman succeeded his father at the end of 2011. Trump has vowed to guarantee Kim his security and eventually lift sanctions if North Korea abandons the nuclear weapons it developed to deter a potential invasion. While reports have suggested North Korea might not be denuclearizing as fast as it may seem, Kim has already freed U.S. prisoners, demolished his only known nuclear testing site and paused all missile tests.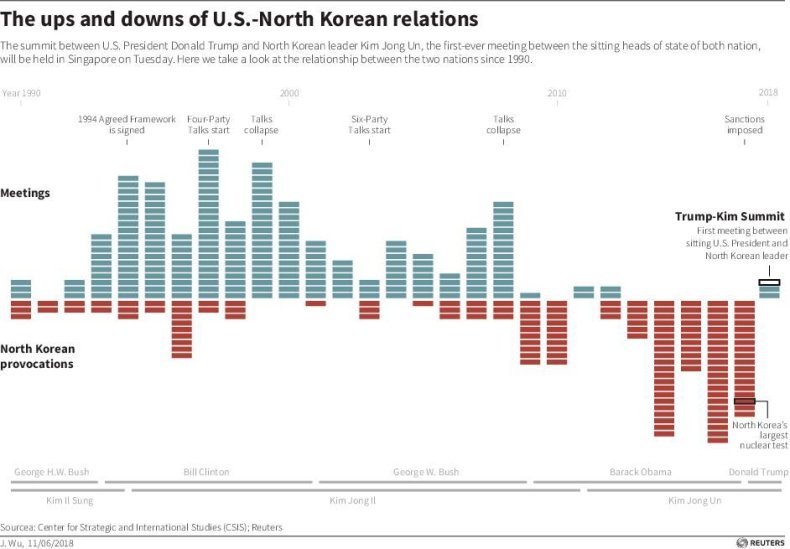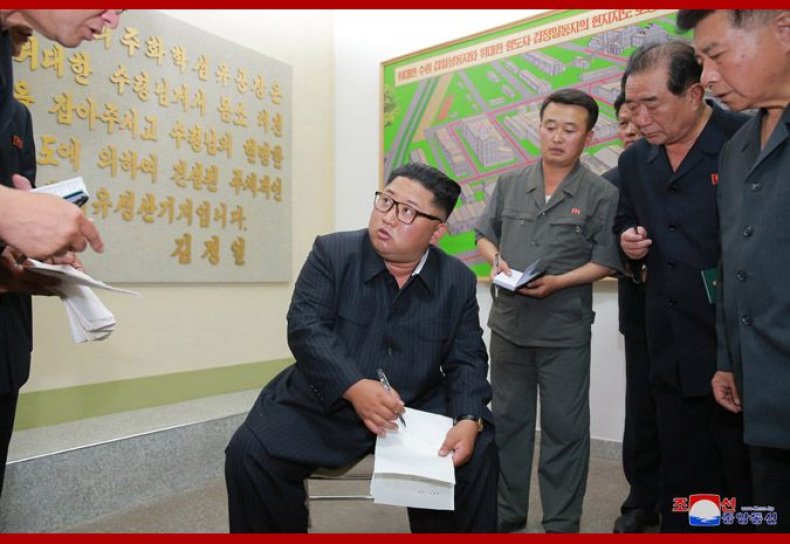 In addition to an absence of the usual vitriol against the U.S. in North Korea's media, tangible evidence of an improvement in Washington-Pyongyang ties could be seen on the streets of the North Korean capital and other cities. Last month, foreign tour guides told NK News that the country appeared to be taking anti-U.S. souvenirs off the shelves of gift shops along the normally tense Demilitarized Zone (DMZ) that separates the two Koreas, as well as in cities such as Pyongyang and Kaesong.
North Korea also appeared to skip this year's annual, month-long display of anti-imperialism rhetoric surrounding dates commemorating the beginning of the Korean War on June 25, 1950, and its end on July 27, 1953. While the fateful three-year conflict between communist-backed North Korea and U.S.-backed South Korea has never officially ended, the Trump administration has suggested it would be willing to officially make peace with North Korea should the talks continue to progress.