North Korea Keeps Its Options Open in Selling Weapons to Russia | Opinion
Russian President Vladimir Putin doesn't have many friends these days. His decision to invade, pummel, and occupy Ukrainian territory has transitioned Russia into a pariah state in the West. Trade between Russia and the European Union, worth 247.8 billion euros per year before the war, is now a shell of its former self. U.S.-Russia ties are practically severed, Europe no longer views Russia as a reliable energy supplier, and Russian citizens who wish to travel to the EU are forced to pay more for their visas.
But there is one country that has stood by Russia's side for the duration of the war—and it's not China. Despite Xi Jinping's proclamations of having a "no limits" friendship with Moscow, the Chinese leader remains concerned about breaking U.S. export rules to help Russia acquire sensitive military technology.
But North Korea, the small, poor, isolated nuclear-armed state in Northeast Asia, has offered Putin a degree of political support that makes Beijing's look pale in comparison. And unlike China, which must ensure its bridges with the West remain intact (Beijing's total trade with the U.S. and the EU in 2021 amounted to more than $1.3 trillion), Pyongyang's open endorsement of Russia's policy in Ukraine won't cost the North Koreans much at all in terms of damage to its reputation or economy. For North Korean leader Kim Jong-un, a stronger relationship with Moscow is a no-brainer.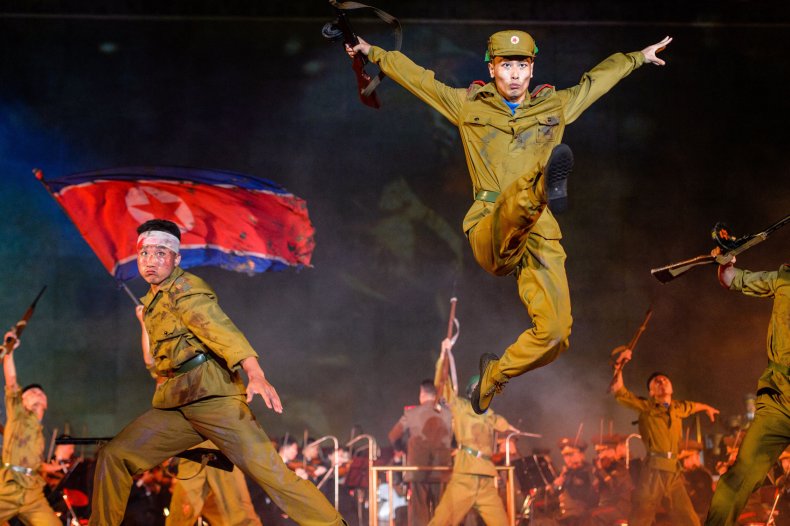 While Russia and North Korea have always maintained formal diplomatic relations and have a long, deep history between them (Kim Jong-un can thank the late Soviet leader Joseph Stalin for turning his family into a political dynasty), Pyongyang's words of encouragement and its effusive praise of Moscow have been over-the-top ever since the war in Ukraine began on Feb. 24.
Four days after the invasion, the Kim dynasty recycled the Kremlin's talking points by blaming the U.S. and its NATO allies for instigating the conflict. North Korea was only one of five countries that opposed a U.N. General Assembly Resolution calling on Russia to "immediately, completely and unconditionally" withdraw its troops from Ukraine. In mid-July, the North became only the third country to formally recognize the Russia-proclaimed Luhansk People's Republic and Donetsk People's Republic as independent states. According to Russian officials, North Korean construction companies have offered to rebuild parts of Russian-occupied territory in the Donbas region and are hinting that North Korean laborers could be sent to perform the work.
Meanwhile, the U.S. intelligence community has recently assessed that Moscow is turning to North Korea for millions of artillery shells and rockets, a sign that Russia's defense industrial complex is struggling to sustain armaments production at a time when long-range Ukrainian strikes are destroying Russian ammunition depots well beyond the frontlines.
All of this activity would suggest that Kim Jong-un, who is dealing with a stringent U.S. sanctions regime of his own, is hell-bent on providing Putin with seemingly unlimited assistance during the most consequential period of the Russian leader's 22-year tenure. But it would be wrong to assume Kim is doing all of this out of the kindness of his heart. In reality, running to Russia's corner is a shrewd tactical move.
Consider North Korea's geopolitical situation. Notwithstanding its small inventory of nuclear warheads and an increasingly impressive missile program, the North is a highly vulnerable state in a tough neighborhood. Pyongyang is surrounded by countries much wealthier, diplomatically relevant, and militarily powerful than it could dream of being. Two of those states, Japan and South Korea, have the luxury of being U.S. treaty allies. The North's hyper-vigilant efforts to contain the coronavirus shaved off a large portion of its already dismal economy, with overall trade decreasing by over 78 percent in 2020.
If it wasn't for China, the Kim dynasty would be in even more desperate straits. Despite endorsing multiple U.N. Security Council Resolutions against the North since 2006, China often breaks those very same resolutions by looking the other way as illicit commerce proceeds along the border. Beijing has been more vocal in its opposition to additional U.N. sanctions measures, even vetoing (in coordination with Russia) Washington's attempt in May to strengthen the economic restrictions in retaliation for Pyongyang's missile tests.
Yet as rosy as China-North Korea relations appear at the moment, it would be dangerous for Kim to assume the bonhomie will last indefinitely. Indeed, ties between the two have had repeated ups and downs, with the North sometimes viewing China as duplicitous and Chinese leaders, Xi Jinping included, often viewing the Kim dynasty as a troublemaker ungrateful for Beijing's support. Xi only sought to repair the relationship with Pyongyang after it became clear that Kim was attempting a rapprochement with the U.S. The two may tolerate each other, but they most certainly don't trust one another.
Therefore, Pyongyang's aid binge to Russia isn't about sending gifts to Putin as much as a concerted campaign by Kim himself to diversify North Korea's foreign relationships and lessen its dependence on China. Kim is, in effect, mimicking the strategy his grandfather, Kim Il-Sung, used throughout the Cold War, when he played Beijing and Moscow off of each other in order to enhance the North's freedom of movement. Put simply, the North hopes to use closer ties with Russia to get out from underneath China's foot.
One of the golden rules of geopolitics is to avoid relying too much on a single country. Russia's war in Ukraine has given the North Koreans an opportunity to correct course, and Kim Jong-un intends to take full advantage.
Daniel R. DePetris is a fellow at Defense Priorities and a foreign affairs columnist at the Chicago Tribune and Newsweek.
The views expressed in this article are the writer's own.