North Korea's Kim Jong Un Gets 'First Official Portrait' Alongside Cuba's President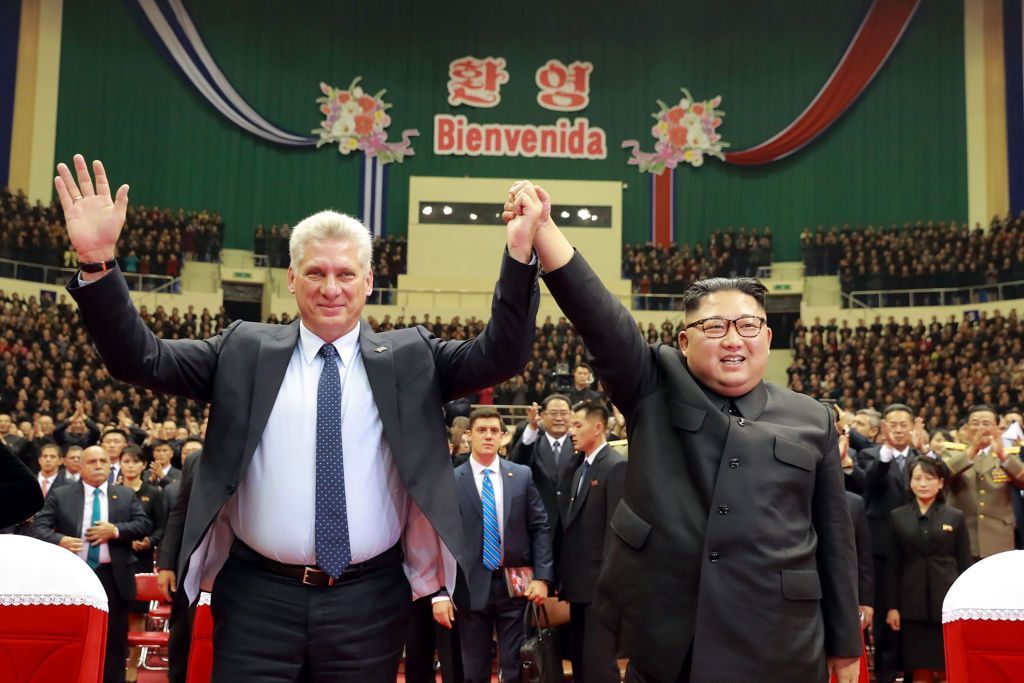 North Korea has unveiled what is reportedly the "first official portrait" of strongman leader Kim Jong Un, and it was hung alongside that of Cuba's President Miguel Díaz-Canel in Pyongyang.
While idealized portraits of Kim's grandfather and father—Kim Il Sung and his son and successor, Kim Jong Il—are common images throughout the country, analysts suggest this is the start of a new personality cult surrounding the current leader, Channel News Asia said.
"It's the first time that such a portrait was displayed in a public place," said Cho Han-bum, an analyst at South Korea's state-run Korea Institute for National Unification.
Oliver Hotham, an analyst with NK News, told the BBC that a portrait painted in "this style is a strong hint that the regime could be beginning to take steps to develop the Kim Jong Un personality cult."
Displayed at Pyongyang International Airport, the two portraits are 7 feet tall, according to Britain's Daily Telegraph. They were hung ahead of the arrival this past weekend of Cuba's president, who was making an official state visit.
Notably, the portrait of Kim also depicted him wearing a Western-style suit and tie, unlike the attire of his father and grandfather, who preferred to be shown wearing tunics inspired by Chinese leader Mao Zedong. The style also departs from the iconic gray or black uniform worn by Kim, who generally appears dressed like his predecessors.
"Portraits, slogans and posters form the core of a message for a socialist country," Yang Moo-jin, a professor at Seoul's University of North Korean Studies, told Channel News Asia. Yang said such displays are crucial to Pyongyang's control.
Kim has typically been seen as a follower of the strong leadership style of his father and grandfather, but analysts suggest that his image has changed in the past year. The 34-year-old leader was required to take over abruptly after father's death in 2011 and was seen by many as inexperienced. However, after several high-profile international meetings, including a landmark summit with President Donald Trump in Singapore this past summer, Kim is now seen by his people as increasingly powerful.
"Everything that's happened in 2018 has also worked to solidify his image," Hotham told the BBC. "Eight summits with foreign heads of state have been a delight for Pyongyang's propagandists, helping them paint the leader as an internationally respected statesman on par with Xi Jinping and Donald Trump."