Kim Jong-un Stars in Wild 'Top Gun'-style North Korea Missile Launch Video
North Korea's Leader, Kim Jong-un, has starred in a Hollywood-esque military video for a missile test launch.
North Korea's state-run television, KCTV, showed the edited footage on Thursday, according to a report by American subscription-based website NK News. The video has also been shared on Twitter.
The video saw Kim Jong-un, walking out ahead of the Hwasong-17 intercontinental ballistic missile (ICBM) that was being led out of a hangar.
The North Korean leader, was shown walking between two military officials in his signature black leather jacket and sunglasses in slow motion while dramatic music played.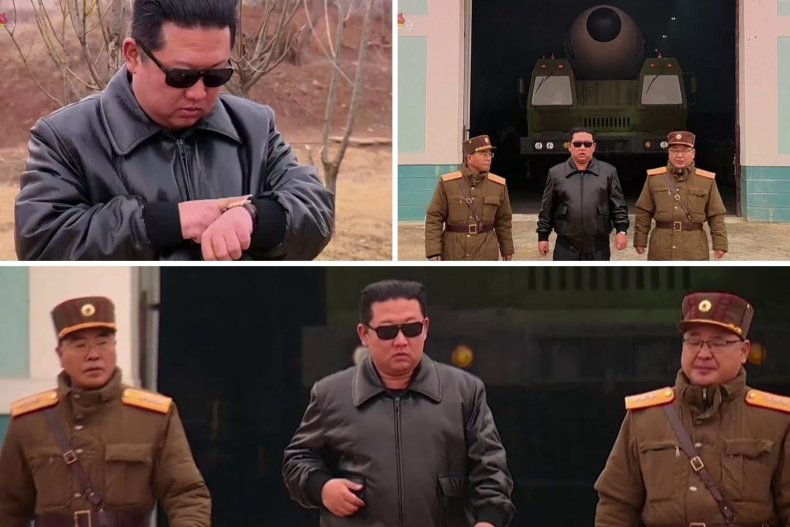 The footage then showed the two generals and Kim Jong-un looking at their watches while the camera cut between them with increasing speed. Kim Jong-un then takes off his glasses in slow motion and gives a small nod.
The military video has been mocked on social media for the choice of style.
"What is this, 'Reservoir Dogs' or 'Top Gun'," Bloomberg Asia Deputy Head Kristine Servando wrote on her Twitter.
"Kim Jong-un recently ordered another long-range ICBM test after the hail of other missiles this year.
"And his propaganda team made a mini-movie about it."
NK News also tweeted the countdown launch portion of the video.
During the countdown, the video cuts to generals and soldiers yelling before someone pushes what appears to be the launch button and then the rocket taking off.
NK news also showed the final clip of the military video which showed the reactions of the soldiers, generals and the North Korean leader.
Kim Jong-un and his two generals are then shown pumping their arms in the air while smiling and cheering. The North Korean leader is seen sitting down clapping with a smile on his face.
The video then cuts to soldiers in a field celebrating and hugging one another.
During the launch, Kim Jong-un issued a warning to countries that would threaten its security.
"It is necessary to make clear that whoever tries to infringe upon the security of our state shall pay dearly," Kim reportedly said in the state newspaper Rodong Sinmun, according to the NK News report.
"Our state defense capability will make thorough preparations for long confrontation with U.S. imperialism on the basis of the tremendous military-technical force unflinching even to any military threat and blackmail."
He continued: "[The strategic force of the DPRK [Democratic People's Republic of Korea] is fully ready to thoroughly check and contain any dangerous military attempt of the U.S. imperialists.
"The new strategic weapon of the DPRK will clearly show the might of our strategic force to the whole world once again."
This missile launch was North Korea's first ICBM launch since November 2017. The missile was fired into the Sea of Japan and is said to have achieved a range of around 1,080 kilometers, or roughly 670 miles, and an altitude of 6,200 kilometers, or about 3,850 miles, according to a statement by South Korea's Joint Chiefs of Staff.
Following this test, South Korea announced that it conducted its own missile test, firing at a target from land, air and sea.
The South Korean Joint Chiefs of Staff added that they are "closely watching North Korea's military movements."
They warned that South Korea's forces "have the ability and posture to precisely strike the origin of the missile launch and command and support facilities at any time.
The statement also condemned its rival's actions as a "serious challenge to the ROK (Republic of Korea) and ROK-US alliance," while North Korea is "refusing to offer dialogue to the international community."
Update 03/25/22 7:40 a.m. ET: This article has been updated to include additional information.