North Korea's Kim Jong Un Says His Country Has 'Nothing to Be Proud Of' When It Comes to Public Health
North Korean supreme leader Kim Jong Un offered an unusually harsh wave of criticism against his country's public health sector during a visit to a medical factory.
In a report published Tuesday by the official Korean Central News Agency, Kim Jong Un railed against an apparent poor state of affairs at the Myohyangsan Medical Appliances Factory in Pyongyang, something he said existed despite numerous warnings from the country's ruling Korean Workers' Party. The young leader could be seen touring the factory in photos shared by the agency and reportedly "said he cannot but be very concerned about and disappointed by the bad situation" of what he saw.
"He noted that he could not understand whether the factory was under remodeling and modernization or not and what had been remodeled and modernized as he could not see any sign of remodeling though it has been two years since the Party gave a warning to it," the Korean Central News Agency wrote.
"Other sectors have made remarkable leaps forward in recent years, but the public health sector has never done so but become more and more passive, he said, noting that there is nothing to be proud of in the public health sector, except the modern hospitals, the Medical Oxygen Factory and the Dental Hygiene Products Factory recently built under direct control of the Party. There is no unit keeping its environment well in the public health sector, to say nothing of equipment modernization, he charged," the report added.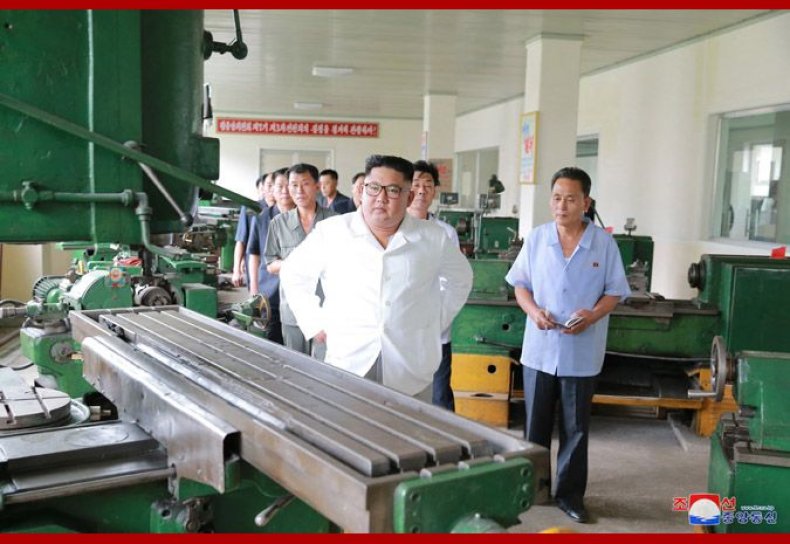 Kim Jong Un also channeled his grandfather, Kim Il Sung, who founded the country as well as the Myohyangsan Medical Appliances Factory, something "he paid deep attention to till the last moments of his life," according to Tuesday's report. After the country was devastated in a three-year war with U.S.-backed South Korea, Kim Il Sung called on the nation to enhance production in a state-sponsored push known as the "Chollima" or "1,000 li [roughly 311 miles] horse" movement.
During Kim Jong Un's visit to the factory, "he said he would send the first Chollima of the public health sector to the factory, and encouraged them to take the lead in the public health sector and the industry of medical appliances of our country by riding on the Chollima." He also said "he would personally shoulder the burden of the work of updating the factory, he detailed the orientation to carry out the tasks facing the relevant fields."
Such self-criticism in North Korea's tightly curated media is rare but not unprecedented, and is usually a sign of official disappointment in certain areas rather than a blanket criticism of the country's unique political and economic system as a whole. Since succeeding his late father in late 2011, the youngest and third member of the ruling Kim dynasty to head North Korea has been eager to present himself as a more modern and accessible leader, while retaining his predecessor's authoritarian style of rule that has led to widespread allegations of human rights abuses.
Kim Jong Un has also continued in the path of nuclear weapons, which Pyongyang has long argued were necessary to defend the nation against a potential U.S. attack. Strides made in North Korea's nuclear and missile technology under Kim Jong Un have led to mounting U.S.-led sanctions that have further damaged the country's economy regardless of its leader's reforms. In addition to making historic advances in military might, however, Kim Jong Un's administration has also seen significant breakthroughs in diplomacy between North Korea and its traditional foes South Korea and the U.S.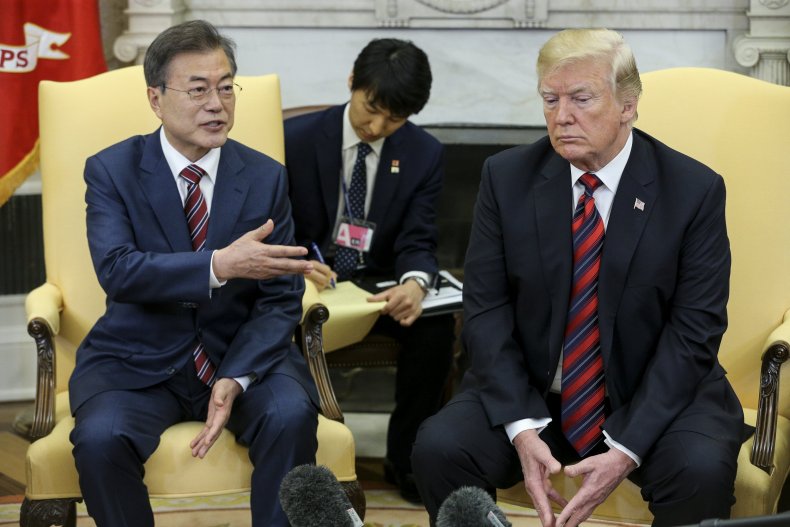 After threatening to come to blows with the U.S. on several occasions last year, North Korea spearheaded a diplomatic initiative with South Korea earlier this year that has since transformed into a comprehensive peace process. The two Koreas have held a series of high-level meetings among political and military officials, including two inter-Korean summits that featured direct talks between Kim Jong and South Korean President Moon Jae-in, and the first-ever U.S.-North Korea bilateral summit was held in June between Kim Jong Un and President Donald Trump.
Kim Jong Un has agreed to abandon nuclear weapons in exchange for a peace treaty formally ending its decades-long conflict with the U.S. and South Korea, as well as an end to U.S. sanctions, but the Trump administration has indicated that these measures would not be taken until full denuclearization was achieved. Moon has hinted that he was willing to take major steps toward achieving peace and uniting the two Koreas economically and infrastructurally ahead of a third inter-Korean summit next month. Nevertheless, the U.S. officials have displayed skepticism toward the progress in which North Korea was making in destroying its nuclear and missile programs, despite it dismantling some key sites.
Trump himself has remained particularly positive about the prospect of Kim Jong Un living up to his commitments. In an interview with Reuters, Trump took credit Monday for convincing North Korea to freeze nuclear testing and said that "a lot of good things are happening" thanks to the current talks, which he said would "most likely" feature another meeting between him and Kim Jong Un.