North Korea's Kim Jong Un Wants to 'Completely Eliminate Manual Labor'
North Korean supreme leader Kim Jong Un has expressed his wish to automate all labor in the country, doing away with manual labor entirely in a bid to modernize the tightly-controlled social state.
Kim made the remarks during a visit Sunday to a cosmetics factory in the northern province of Sinuiju, a lucrative trade hub located near the country's border with China. The visit is Kim's first public appearance since visiting Chinese President Xi Jinping for the third time last month and may send a message that the young ruler is serious about boosting damaged economic relations with North Korea's traditional ally, which has signed on to nuclear-related sanctions against its neighbor, and updating the country's aging manufacturing processes.
"It is important to completely eliminate manual labor and modernize production processes," Kim said, according to South Korea's Chosun Ilbo newspaper.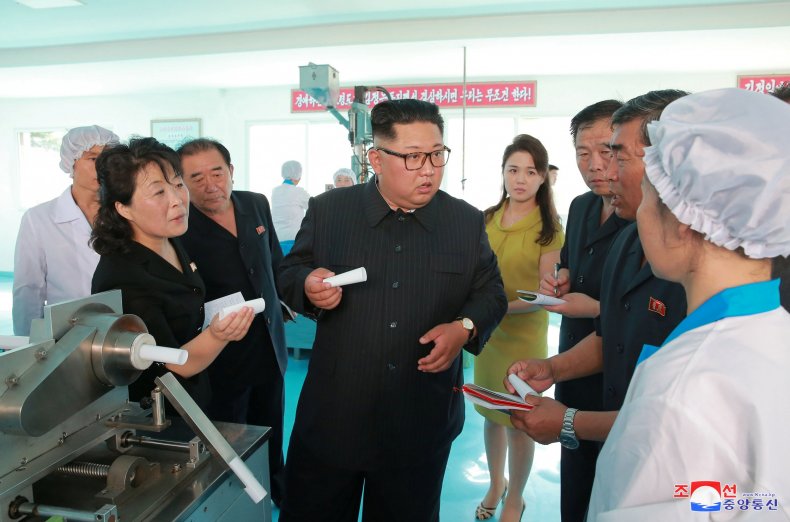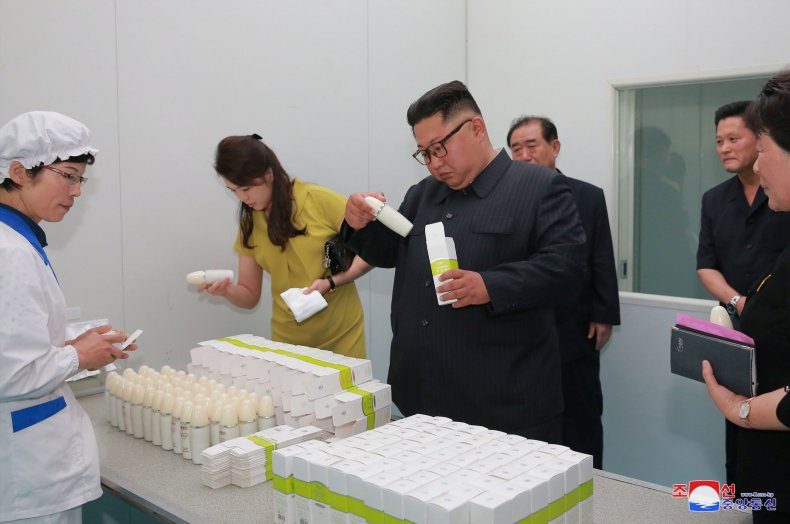 Kim was joined by his wife, Ri Sol Ju, and photographs released by the official Korean Central News Agency showed the couple inspecting various products, including a well-known "spring fragrance" brand that has a market outside of North Korea as well.
"I had always hoped for a visit to the cosmetic factory in Sinuiju… They are famous for producing cosmetics with a spring scent," Kim said in a quote reported by KCNA and later carried by the Singapore-based newspaper The Strait Times. "After being briefed about the good results at the factory, I took some time out of my schedule to visit."
Related: Donald Trump Wants North Korea to Denuclearize in a Year, But Experts Say That's Impossible
The Global Times, an official organ of the ruling Chinese Communist Party, published a report Monday on the "spring fragrance" product following its appearance in North Korean state-run media, finding it popular among Chinese consumers online and even in shops along the border. The outlet quoted one Beijing resident as saying she "bought it out of curiosity" but "did not use it frequently because the country is so mysterious and I do not know how the product is produced."
Nevertheless, Kim reportedly ordered that the factory bring "spring fragrance" and other products manufactured by North Korean company Pomhyanggi to a "fashionable shop" in Pyongyang. The Chinese paper also attributed to North Korea monitor 38 North a 2015 report revealing that Kim's father, Kim Jong Il, used to gift "spring fragrance" to visiting female soldiers or artists.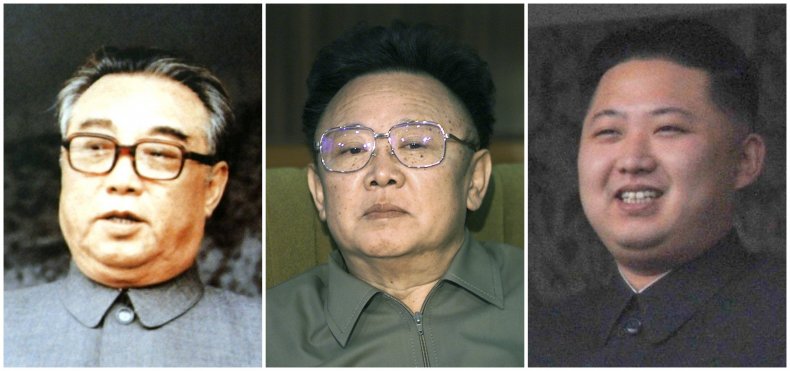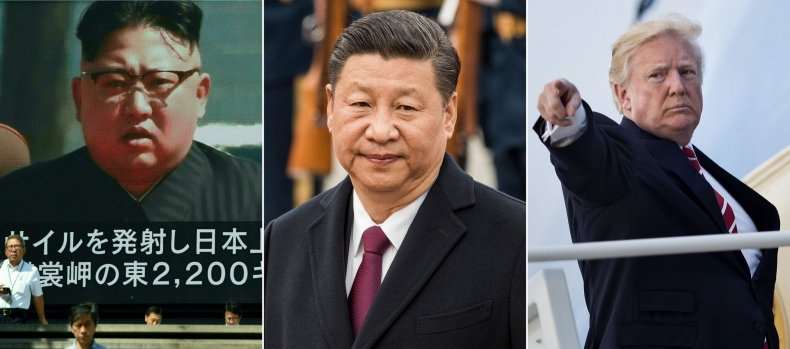 "Seeing with deep emotion the significant photos of President Kim Il Sung and leader Kim Jong Il on show at the room dedicated to the revolutionary history, [Kim Jong Un] said that the factory traveled the path of its praiseworthy development under the wise leadership and particular care of Kim Il Sung who brought about the beginning of the cosmetics industry of the country and of Kim Jong Il who chose the site of the factory at the foot of a cozy mountain in the picturesque southern Sinuiju area with clean water and laid a firm foundation for the future development," the English-language KCNA report read.
The youngest Kim was reportedly proud of factory's production levels, but encouraged workers to continue excelling. The visit fared better than his stops at the Sinuiju Textile Mill, where the supreme leader "felt heartbroken to see the experienced mill...not retaining its proud tradition," and the Sinuiju Chemical Fibre Mill, where "he seriously reproved officials" for slacking off and failing to meet deadlines and quotas.
Since President Donald Trump first accepted Kim's invitation in March to meet face-to-face, Kim has embarked on a number of diplomatic visits—meeting twice with rival South Korean President Moon Jae-in, and three times with Xi—and has softened his country's traditional anti-U.S. tone that dates back to the 1950s Korean War.
In exchange for Kim's promise to denuclearize and his destruction of key nuclear testing and missile sites, Trump has pledged to offer the Cold War-era foe security and ultimately lift sanctions. Reports have suggested, however, that Kim's denuclearization has been slow and he may actually be expanding a site associated with the production of ballistic missiles.