North Korea Marathon Re-Opens to Foreign Runners After Ebola Scare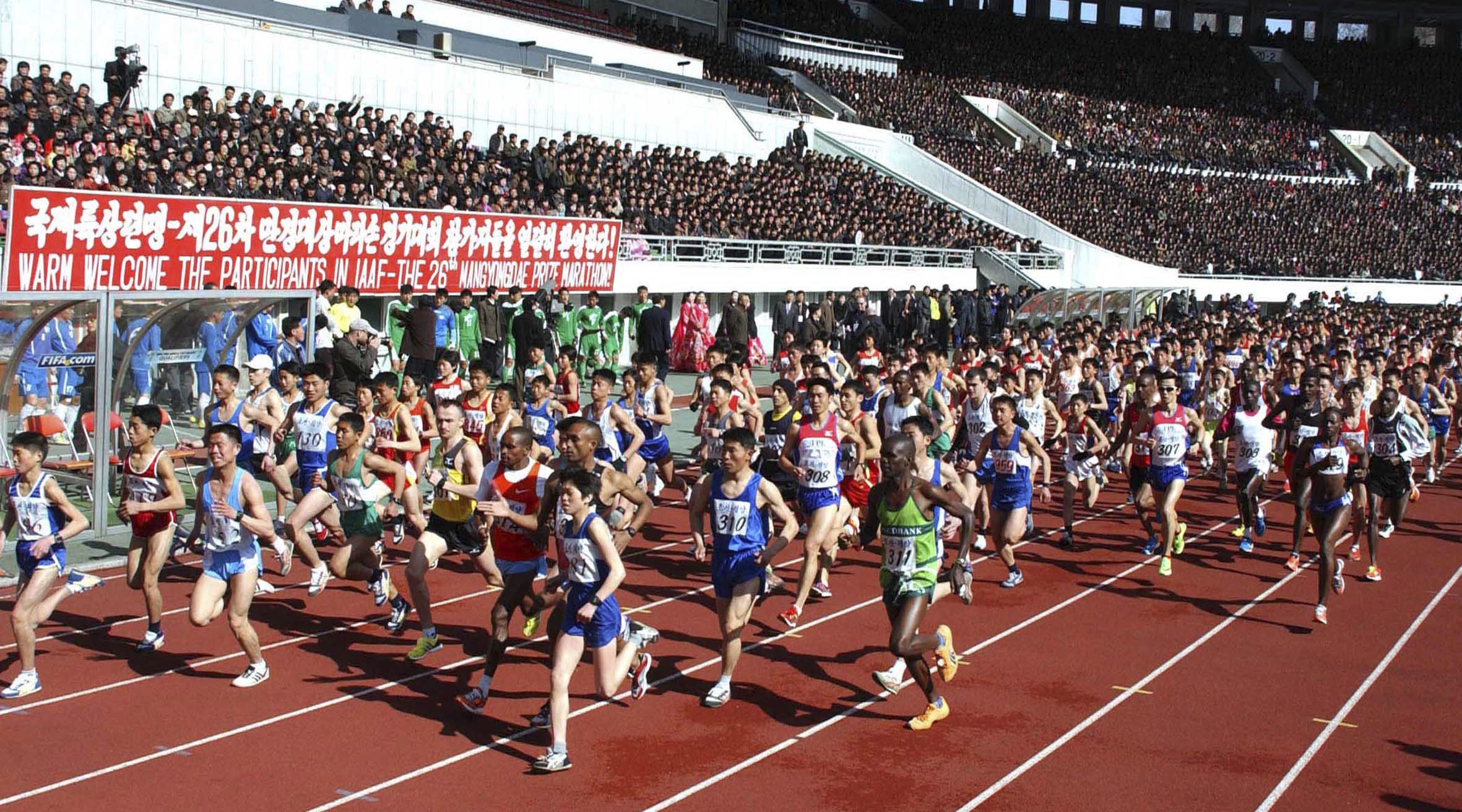 North Korea's 2015 Pyongyang Marathon has re-opened to foreign amateur runners this week, just weeks after the Mangyongdae Prize Marathon Committee decided to ban them following fears of Ebola.
The country has made major efforts to prevent Ebola from reaching its shores, despite the epicentre of the disease in western Africa being thousands of miles away. In October it closed its borders for all but essential travel and anyone who did enter - NGO workers, diplomats and North Korean officials - had to spend 21 days under quarantine.
This blanket ban meant that the likelihood of foreign runners, both amateur and professional, looked unlikely and many of the North Korea-dedicated tour agencies, who had organised for runners to take part in the race, cancelled bookings.
However, it would seem that they have now been gifted a reprieve as the country's borders are once again open and the Ebola quarantine lifted.
John Dantzler-Wolfe, COO of Uri Tours, a tour company dedicated to North Korea, explains that the Pyongyang Marathon is one of the company's most popular tours. "We had around 200 bookings prior to initial cancellation," he says, "And now it's back on we've actually extended our registration deadline."
Dantzler-Wolfe says that for marathon runners, the race affords them certain freedoms that tourists usually don't get as access to the country is very much restricted. "Usually, foreign travelers are accompanied by a North Korean tour guide at all times, but the marathon is one of the best ways to see Pyongyang. You're on foot, you're running, and you can be almost autonomous, although of course still within the restrictions of the designated marathon route."
The tour operator estimates that about 500 foreign runners took part in the race last year, including London-based Joseph Turner who told Mashable that "sometimes the countries most negatively portrayed by Western media are those with the most friendly and welcoming people".
However, despite the good reviews many foreign government's advise against their citizens visiting the country, although an estimated 1,500 Westerners visit the country annually. The U.S. State Department "strongly recommends against all travel by U.S. citizens to North Korea", while the UK government's travel advice acknowledges the unpredictable changes in the country: "In recent months, the political situation in North Korea has been relatively calm, although the situation could change quickly.
North Korea freed three Americans it was holding prisoner on espionage charges following negotiations last year. Kenneth Bae, a missionary, was convicted on charges of attempting to overthrow the North Korean government and Jeffrey Fowle was accused of leaving a bible in a nightclub while Matthew Todd Miller had attempted to claim asylum in the country.