North Koreans Marched in Support For Kim Jong Un Attacking Donald Trump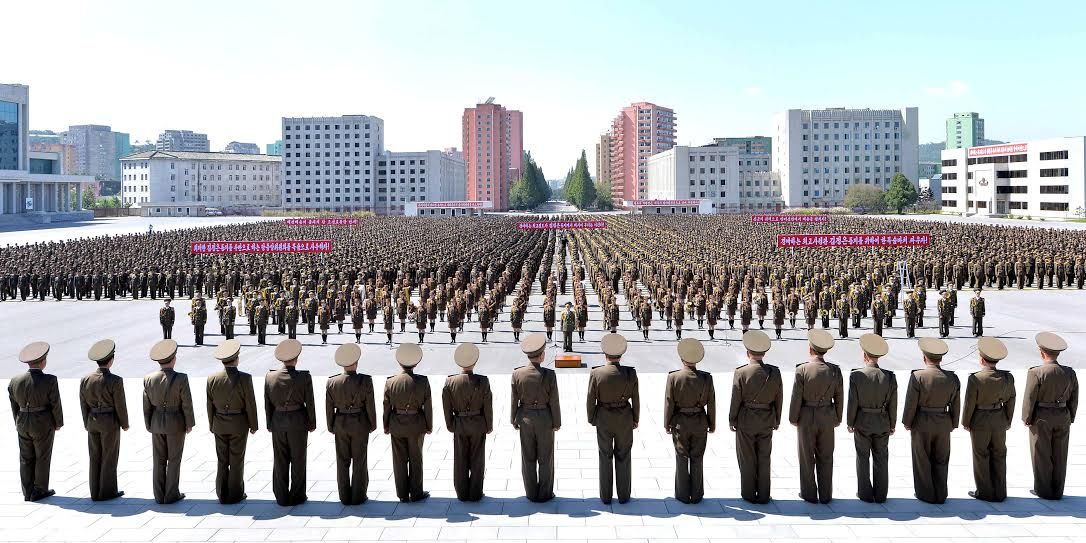 North Korean leader Kim Jong Un unleashed his citizens in a march in the capital city of Pyongyang Saturday to display support for his lashings of United States President Donald Trump, Agency France Presse reported.
Tens of thousands of people amassed in the city's Kim Il-Sung Square—named after the current leader's grandfather and the nation's founder—to represent workers, intellectuals and peasants in a likely forced showing of solidarity against Trump and for the totalitarian regime.
Marchers followed a banner reading: "Let us safeguard with our lives the central committee of the party headed by the great comrade Kim Jong-Un."
The march came as Trump and Kim Jong Un exchanged significant barbs this week. During his long-awaited speech before the United Nations General Assembly Tuesday, Trump again called Kim "rocket man," a reference to the government's ongoing and frightening missile and nuclear testing, and threatened the U.S. could "destroy" the North if it continued to make its own threats towards the U.S. and its allies like South Korea and Japan.
But Trump's apparent threat of military action against the North only resulted in another warning from Kim. The leader, who took over for his father Kim Jong Il in late 2011, fired back by calling Trump a "barking dog" and said the president would "pay dearly" for his comments before the United Nations.
While the march Saturday was just one of many the North frequently holds in order to show the current government has the backing of its people—actual or not—at least some of the marchers had choice words for Trump.
"I would like to put down my pen and take up arms again to perform my duty to defend the fatherland," a Pyongyang Mechanical University student Ri Il Ung said according to AFP.
The student added: "Trump is a warmonger and a backstreet gangster. It's quite ridiculous that such a person could become a politician."
Trump is far from the first U.S. leader to employ terse or volatile language in attempts to either bring the North's leadership to its knees or the negotiating table, but Kim has not backed down. President George W. Bush lumped the North together with Iraq and Iran as part of his "axis of evil," and Barack Obama said the U.S. would defend its allies while speaking in the South in 2014.