North Korea May Have Made Up To $200 Million From Bitcoins to Fund Its Nuclear Weapons
North Korea may have made up to $200 million last year in cryptocurrency transactions, which they used to bypass international sanctions on Kim Jong Un's nuclear weapons program, according to an expert.
Priscilla Moriuchi, a cybersecurity expert and former U.S. National Security Agency officer, claims Kim's regime is estimated to have gathered 11,000 bitcoins last year, as reported by The Korea Times.
If the country sold the bitcoins during its financial peak in December, they would have made around $210 million. However, since January the total value has fallen to $120 million.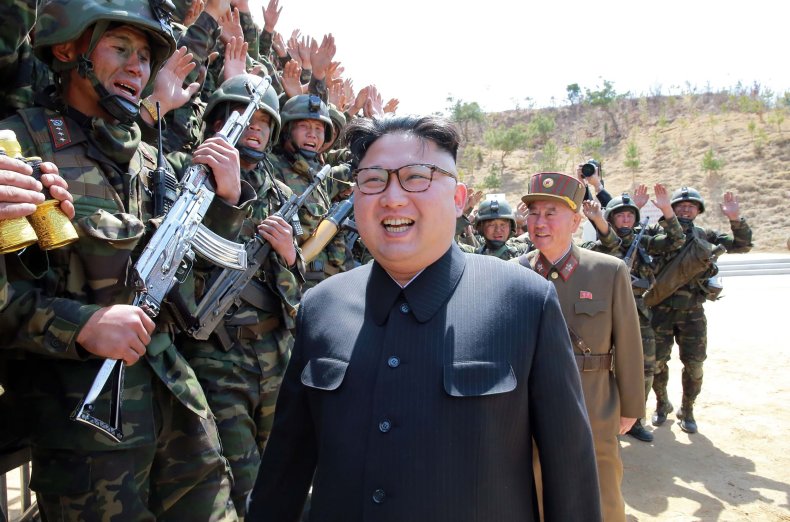 According to Moriuchi, the large amount of cryptocurrency was obtained through "mining"—a process that involves gathering recent transactions into blocks and trying to solve a computationally difficult mathematical problem. Once the problem is solved, it builds a so-called "block" that is essentially the currency.
Moriuchi believes North Korea is using bitcoins to subsidize its flagging economy, which is severely burdening by numerous international sanctions over its nuclear program.
"I would bet that these coins are being turned into something–currency or physical goods–that are supporting North Korea's nuclear and ballistic missile programme," she told Vox.
Last month, President Donald Trump announced harsh new sanctions against the regime, after the Winter Olympics in Pyeongchang came to an end along with a lull in Korean Peninsula tensions. The intent of the sanctions is to cut off North Korea's funds until it has no choice but to start negotiations over its escalating nuclear weapons program. The cryptocurrency could help enable the regime to evade these sanctions.
Moriuchi believes Pyongyang has already constructed a network of cyber operations bases in other countries, such as China and various parts of Southeast Asia where the mining takes place. In order to block these efforts, Moriuchi said more needs to be done to better regulate cryptocurrency exchanges.
"That helps create a paper trail we can use to identify North Korean accounts and how North Korea is moving these currencies," she said.
In recent years, North Korea has proven itself to be a growing criminal cyberthreat. Last December, the U.S. claimed Pyongyang was behind the infamous WannaCry ransomware that affected more than 200,000 victims in 150 countries and brought the U.K.'s National Health Service to a screeching halt. The cyber attack also resulted in the cancellation of hundreds of operations.