North Korea May Have Tried to Attack Japan, Kim Jong Un Missile Launch Photo Shows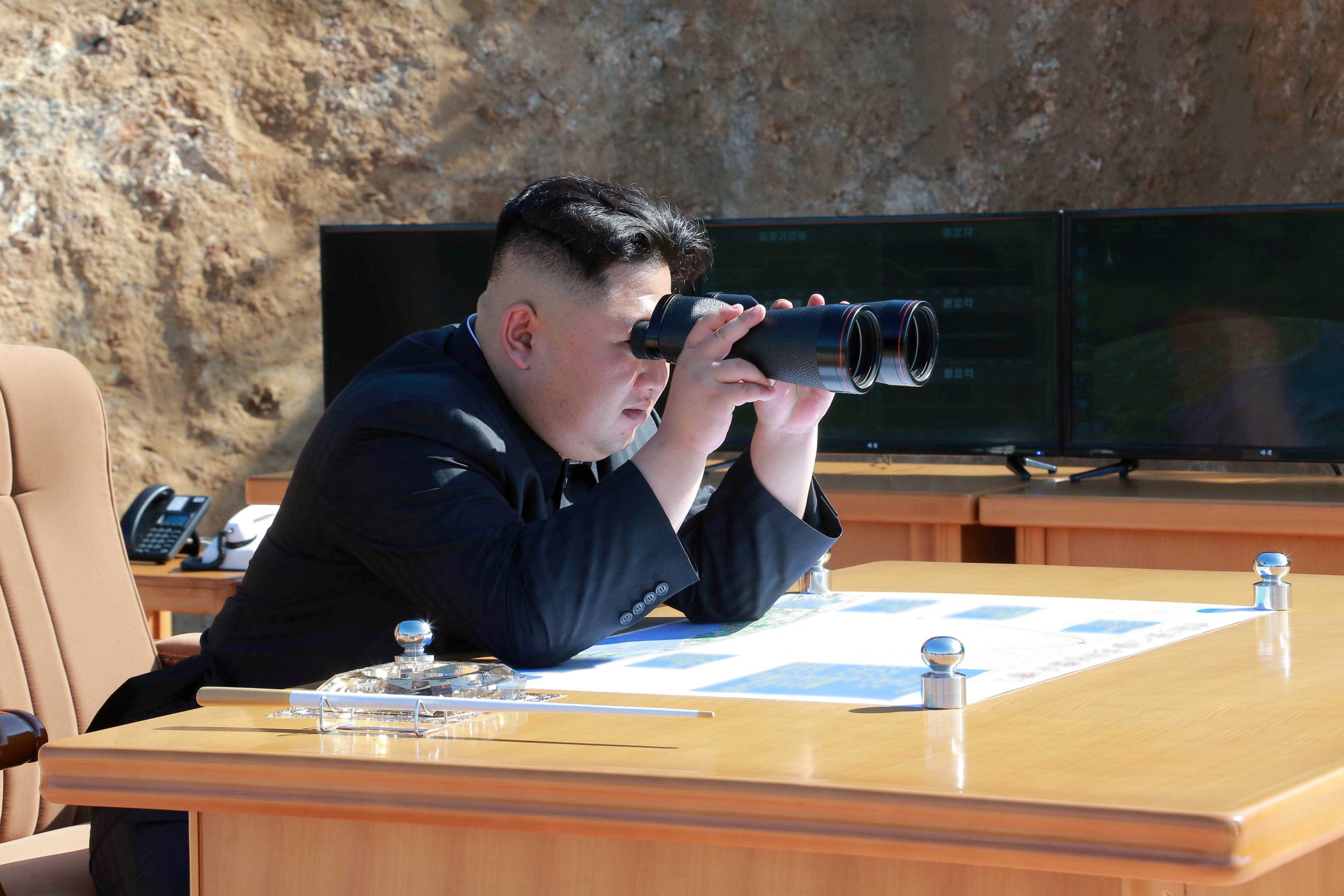 North Korea is generally known as a place that likes to keep secrets, but its propaganda arm may have inadvertently let loose something huge—that the country's first intercontinental ballistic missile (ICBM) was supposed to land within Japanese territory.
Kim Jong Un's reclusive, militarized state shocked the world by successfully test-firing a second ICBM on Friday, less than a month after it achieved its first launch on July 4. While North Korea's nuclear and ballistic weapons development has long rattled regional countries, Friday's launch particularly concerned Japan, because the missile appeared to have landed in its exclusive economic zone, an area where the country enjoys special commercial and industrial rights.
A new report by Washington-based Strategic Sentinel LLC appears to show, however, that North Korea planned a much more provocative action for its first ICBM test, and the clues reportedly lie in a photograph of Kim.
Related: North Korea fires missile near Japan; Tokyo, Seoul officials hold emergency meetings
"On the July 4th test, something abnormal was found pertaining to the predicted trajectory on the paper map in front of Kim at the viewing area. Close analysis of the map appears to show the splash down point of the missile just off Okushiri Island located west of Hokkaido, Japan," Strategic Sentinel's report read.
"That trajectory could have potentially put the missile inside Japan's Territorial Waters, the area of sovereign waters 12 nautical miles off any country. This area is directly controlled under the [nation's] laws and includes airspace above and the seabed below."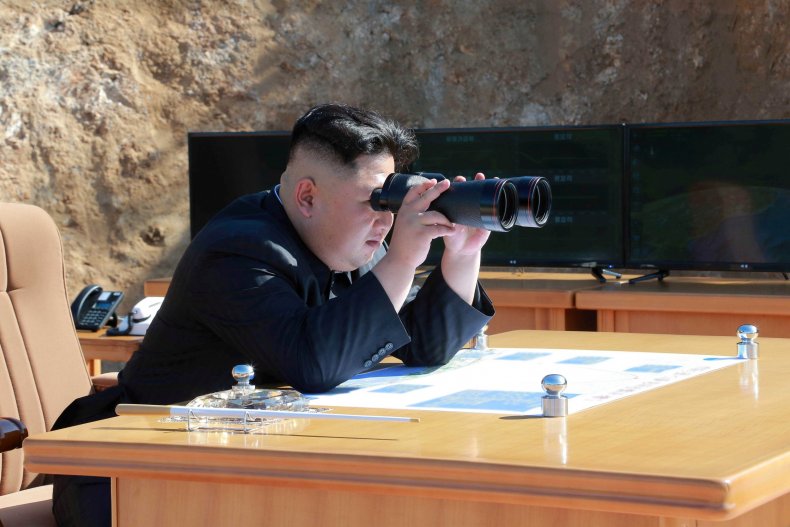 Strategic Sentinel, which describes itself as a "geostrategic consulting agency," said senior image analyst Nathan J. Hunt made the discovery by enhancing the image and comparing the missile's projected trajectory line with that of a previous launch of a missile with some shared characteristics. Neither Hunt nor his colleagues at North Korea monitoring group 38 North could say why the missile did not achieve this distance, but noted that North Korea's ability to fire the missile over 1,741 miles high and nearly 580 miles horizontally established the launch as one of the country's greatest technological accomplishments. Had the missile landed within Japan's waters, Tokyo could have initiated "a military response to safeguard its territory," the report said.
Ryan Barenklau, CEO of Strategic Sentinel and author of Sunday's report, and aerospace engineer John Schilling, a frequent 38 North contributor who assisted with the analysis, hinted that the map may have been a hidden message from Kim to the West, according to The Japan Times. Barenklau said North Korea was "becoming more bold" and might be pushing the envelope to test for reactions. Schilling said both theories—that North Korea was quietly signaling its foes with the map, and that it had tried, and, for whatever reason failed, to hit Japanese waters—were plausible.
While the target apparently marked on the map would have been the closest North Korea had ever come to Japanese land and the first hit within actual Japanese territory, Friday's test and other previous ballistic missile launches have demonstrated North Korea's willingness to get too close for comfort. A missile defense expert with the International Institute for Strategic Studies, Michael Elleman, who is also a 38 North contributor, noted Monday during a telephone conference call that while North Korea's room to operate is exceptionally limited by various international boundaries in the region, it "could have landed [Friday's ICBM] in more neutral territory." But he said he thinks Kim and his administration "really don't care" if they hit Japan's exclusive economic zone.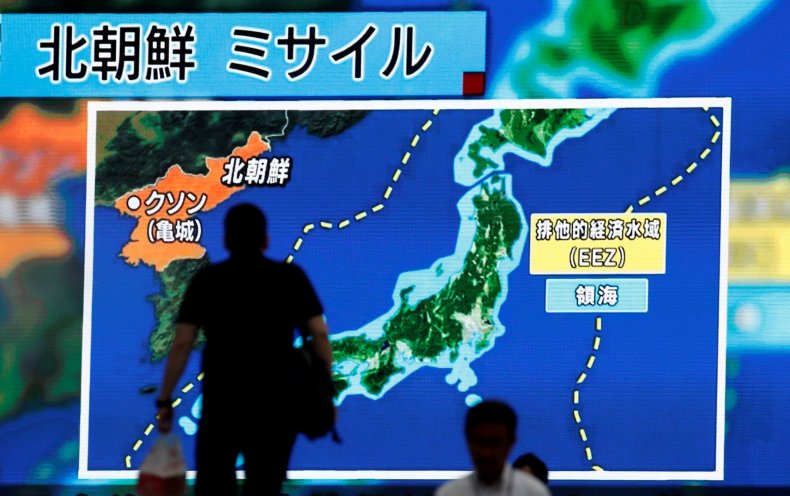 Responding to Tokyo's condemnation of Friday's test, North Korea dismissed Monday what its state-run newspaper Rodong Sinmun called Japanese leaders' "bad habit of using the DPRK's self-defensive steps as [leverage] to maintain their remaining days as politicians," using an acronym for North Korea's official name: the Democratic People's Republic of Korea. North Korea argues that its nuclear and ballistic weapons are necessary for deterring foreign invaders, and refused to disarm despite calls from the U.N. Security Council to do so. The country considers U.S. allies Japan and South Korea to be traitors to the region and has called on them to renounce U.S. support.
"The aim sought by the Japanese ruling quarters in creating phobia of the DPRK is to calm down the antigovernment atmosphere at home, but it is a foolish attempt," the outlet said, according to the official Korean Central News Agency.
"They have to properly understand the strategic position of the DPRK on the highest stage and stop at once the foolish act of serving as a shock brigade in the U.S. anti-DPRK moves," the article concluded.