Women in Kim Jong Un's North Korea Army Stopped Getting Their Periods. Here's Why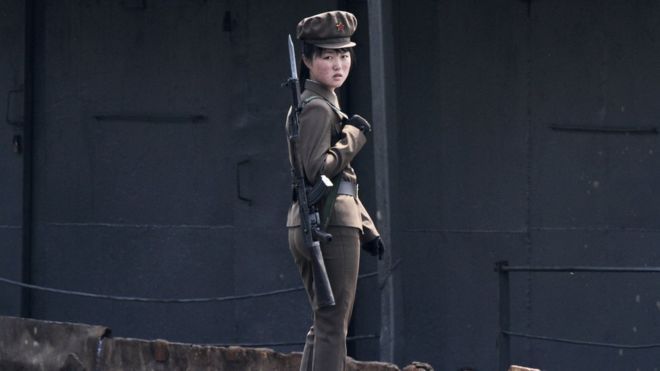 Updated | Recently, a women who had escaped from North Korea gave the BBC an account of her time in the country's military service, including that she and the other female soldiers stopped getting their periods.
"After six months to a year of service, we wouldn't menstruate any more because of malnutrition and the stressful environment," the former soldier, Lee So Yeon, told the BBC. "The female soldiers were saying that they are glad that they are not having periods. They were saying that they were glad because the situation is so bad if they were having periods too that would have been worse."
The North Korean army didn't provide the female soldiers with sufficient menstrual products; they were forced not only to reuse sanitary pads, but to wash those pads—which were made of white cotton—when the male soldiers were asleep. The fact that physical and emotional stressors eventually made the women stop getting their periods entirely was considered a small mercy by So Yeon and her peers.
Anyone with female reproductive biology is vulnerable to functional hypothalamic amenorrhea, the medical term for a cause of missed or irregular periods. Its three primary causes are extreme physical exertion, malnutrition, and stress. Dr. Robert Berg, a Clinical Assistant Professor in the Department of Obstetrics and Gynecology at NYU Langone Health, cited extreme marathoners or people suffering from anorexia nervosa as examples of the the demographics likely to be affected by amenorrhea.
If someone were pregnant or had a hysterectomy, those reactions would originate in the uterus. But stress-induced amenorrhea, even when the source of that stress is malnutrition or physical exhaustion, is a condition that originates in the brain.
"Whether it comes from emotional or physical stress, it still starts in the brain," Berg told Newsweek. "And it works its way down a hormone chain of sorts and makes its way to the ovaries. It's not all the same pathway, but it ultimately affects the hypothalamic-pituitary-adrenal axis."
What that means is that physical stress causes a decrease in various hormones, like cortisol, within the brain. That imbalance then sets off a domino-effect through various systems in the body and is what leads to the menstruation cycle shutting down.
"One of the girls I spoke with, who was 20, told me she trained so much that she had skipped her periods for two years," Juliette Morillot, author of North Korea in 100 questions, told the BBC after returning from a field visit.
Once the stressors dissipate, Berg explained, the menstruation cycle typically re-emerges and goes back to normal. But as the BBC reported, North Korean women are currently required to serve in the military after graduating from high school until age 23. Mandatory military service is longer in North Korea than in any other country in the world.
Correction: The story has been updated with the current name of NYU Langone Medical Center, now called NYU Langone Health.