North Korea Warns of 'Miserable' Consequences to U.S. Missile Defense in South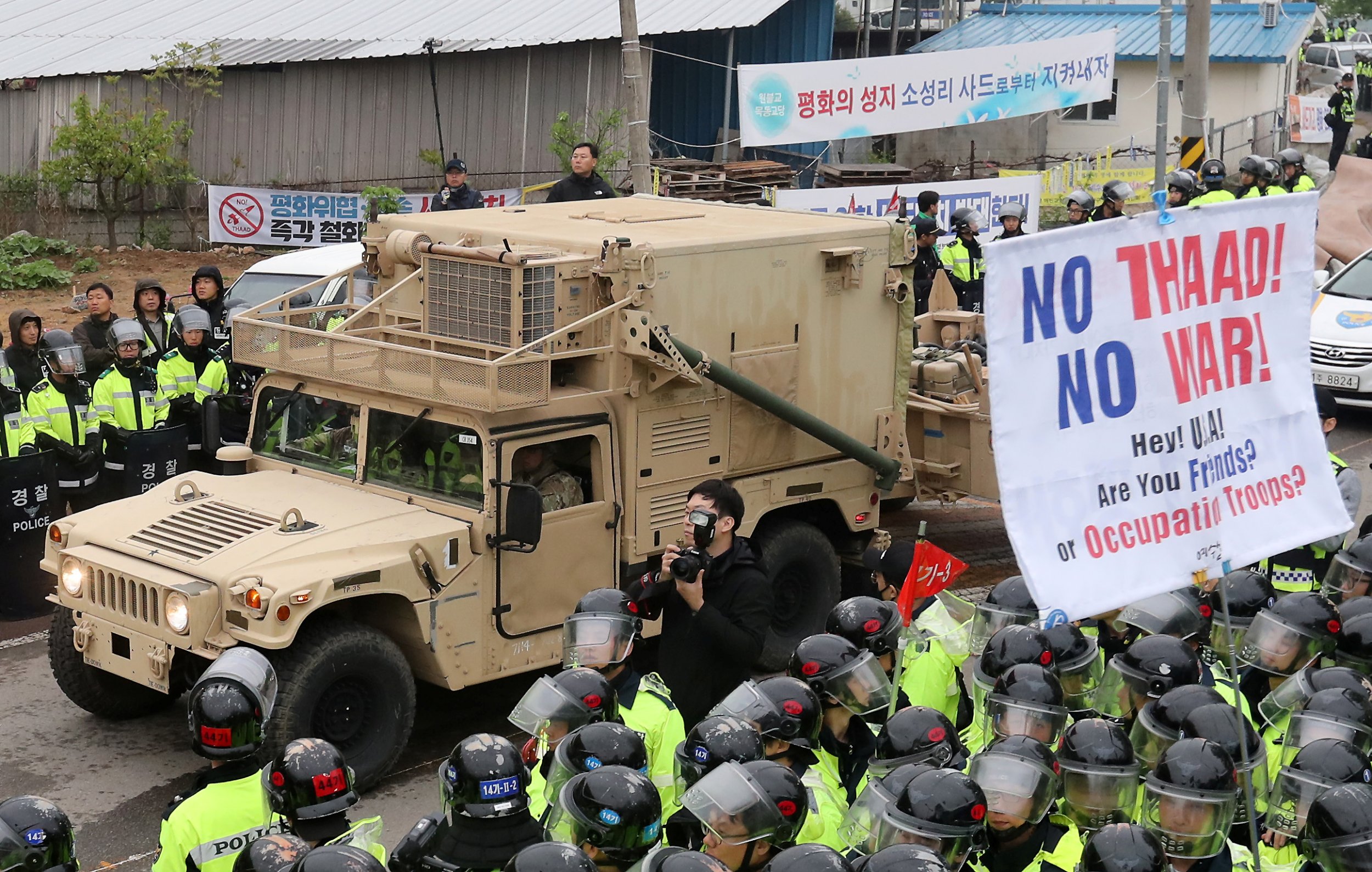 North Korea deeply criticized the U.S.'s installation of a missile defense system in South Korea on Wednesday and called on citizens to reject Washington's military ambitions in the region.
In the latest commentary by Pyongyang's official Korean Central News Agency (KCNA), the state-run media outlet blasts the U.S.'s deployment of the Terminal High Altitude Area Defense (THAAD) missile defense system, which was designed to defend South Korea against North Korea's nuclear and ballistic arsenal and became operational in recent days. The article, called "Consequences of THAAD Deployment Will be Miserable," claimed recent South Korean protests against the U.S. anti-missile apparatus's presence on South Korean soil were indicative of "the persistent struggle of the South Koreans against THAAD."
Related: North Korea: Nuclear War 'Will Bring Nothing but Doom' for U.S., State Media Says
"South Korea can suffer great disaster any moment." the commentary read. "It is exactly for this reason that the South Koreans are raising voices denouncing the conservative group."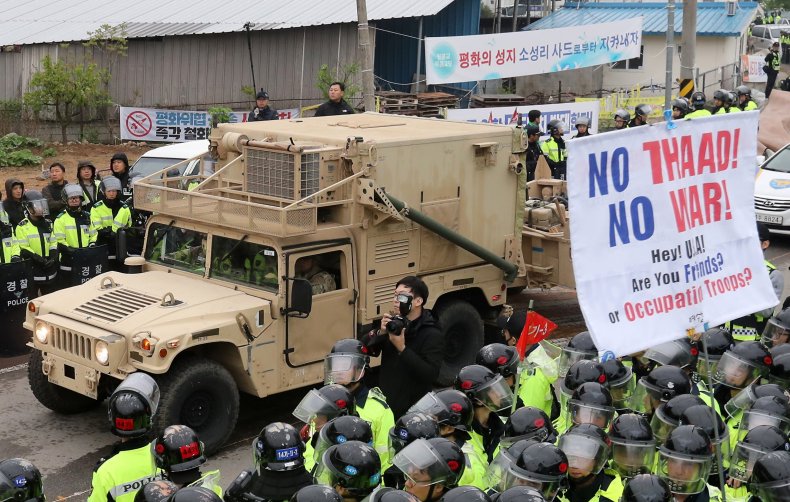 KCNA referenced the uncertain political climate plaguing its southern rival following the arrest and jailing of South Korea's former conservative President Park Geun-hye, who was found guilty last year of abusing her power and forced from office in March. Park supported the U.S.'s installation of the THAAD. However, the leading politician slated to be her successor, Moon Jae-in, had urged Washington and Seoul to wait until after presidential elections this year to agree on the system's deployment. The THAAD has since been activited ahead of schedule, according to U.S. officials cited by The New York Times on Tuesday, amid the deteriorating security climate on the Korean Peninsula.
Last month, rumors of a sixth nuclear weapons test in the works by North Korea prompted President Donald Trump to send a naval strike group headed by the supercarrier USS Carl Vinson to the region to enforce Washington's threats against North Korean leader Kim Jong Un not to pursue nuclear weapons development. Pyongyang did not conduct a nuclear test, but did unsuccessfully launch two ballistic missiles in recent weeks, risking further provocation of the U.N. Security Council, which denounced the first failed missile launch in a statement last month. North Korea has rebuffed foreign warnings of military action and called Wednesday on South Koreans to reject THAAD.
"The South Koreans should wage unflinching struggle to resolutely foil the despicable THAAD deployment pushed forward by the aggression-minded conservative forces pursuant to the U.S.," KCNA wrote.
North Korea and South Korea have technically been at war since the 1950s and have clashed at times across their heavily militarized border over the decades, but have avoided another major conflict. While China, North Korea's traditional ally, has expressed major frustrations over Pyongyang's nuclear program, Beijing also has sharply condemned the U.S.'s installation of THAAD, which China, along with Russia, feels threatens its own military capabilities.