Could North Korea Missile Hit U.S.? Kim Jong Un Says Mainland Within 'Sighting Range'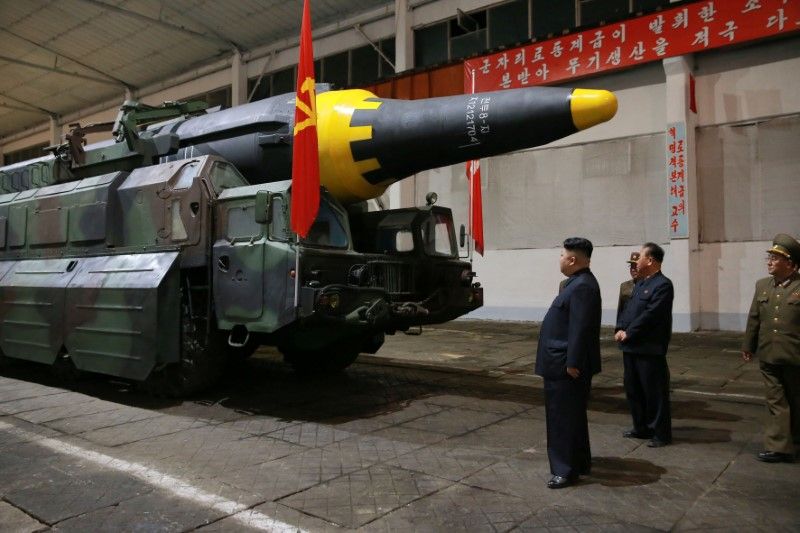 North Korea leader Kim Jong Un warned Monday that his country's new ballistic missile can carry a large nuclear warhead and that the United States mainland is now within "sighting range."
Related: North Korea's Kim Jong Un threatens 'Korean-style war' against CIA and other 'dens of evil on this planet'
Defying United Nations resolutions and warnings from the U.S., the country conducted its latest missile test Sunday.The weapon, said North Korea, was a mid- to long-range ballistic missile that could survive re-entry into the atmosphere, a key feature needed for a long-range intercontinental ballistic missile capable of hitting the United States. Its state media agency, the Korean Central News Agency (KCNA), added further details.
"The test-fire aimed at verifying the tactical and technological specifications of the newly developed ballistic rocket capable of carrying a large-size heavy nuclear warhead," a report said.
The missile landed 60 miles from the coast of Russia's Vladivostok region and flew 489 miles at an altitude of 1,312 miles, according to the KCNA. Kim warned that the U.S. mainland is in "sighting range for a strike" and that North Korea "has all-powerful means for a retaliatory strike."
Aerospace expert John Schilling said that the missile, if launched at maximum trajectory, could have flown 2,800 miles, said that the test represented a "level of performance never before seen from a North Korean missile." Such a distance would put U.S. territory in the Pacific within range.
"It appears to have not only demonstrated an intermediate-range ballistic missile (IRBM) that might enable them to reliably strike the US base at Guam, but more importantly, may represent a substantial advance to developing an intercontinental ballistic missile (ICBM)," Schilling wrote on his analysis site 38 North.
Kim Dong Yub, a professor at the Institute for Far Eastern Studies in Kyungnam University, told South Korea's Yonhap News Agency that, fired at a standard angle, the missile "may have a maximum range capable of reaching Alaska and Hawaii."
While this missile could not reach the U.S. mainland, Schilling added, it could be a test of technology that could be used on future ICBMs. North Korea's ambassador to China, Ji Rae Ryong, insisted in Beijing Monday that "the test-firing of ICBMs will occur at any time and place, at the will of North Korea's highest leadership," according to Reuters.
The test comes just days after South Korea's new president took office and is seen by experts in the country as a test for its new leader. President Moon Jae In, a liberal, has suggested he will seek greater engagement with the North.
It was also a message to Washington. In recent weeks, North Korea has criticized what it claims are provocative actions and statements from the U.S. in the Korean Peninsula, accusing it of having "created a dangerous situation in which thermonuclear war may break out at any moment on the peninsula and poses a serious threat to world peace and security."
In a commentary Friday, the KCNA said: "As long as the U.S. pursues its hostile policy and its vicious nuclear threat and blackmail continue, the DPRK [Democratic People's Republic of Korea] will increase its capabilities for nuclear attack at a breakneck speed."