North Korea Missile Live Updates: Country Fires 'Possible Submarine Missile' Into Sea of Japan
North Korea has fired at least one ballistic missile - believed to be designed for submarines - into South Korea's eastern waters in the Sea of Japan following a recent streak of weapons testing from the country.
The Japanese government had pledged to gather more information about the launch and suggested North Korea fired two missiles near its territory, including a new powerful weapon unveiled in a military parade earlier this year.
The U.S. Defense Intelligence Agency (DIA) warned that the North wants to launch a long-range missile in the coming year - a move that would represent a major security risk to South Korea, Japan, and other U.S. allies in eastern Asia.
Follow Newsweek's liveblog for all the latest updates...
Thanks for reading...
Live updates have now ended
Head to the Newsweek website for all the latest news
Pentagon likely to get billions more than first thought
The Senate Appropriations Committee has announced its support for $725.8 billion in funding for the Department of Defense for the fiscal year 2022.
The figure is more than $10 billion more than President Joe Biden requested but total appropriations for defense will be higher - something that could lead to more investment in tackling North Korean aggression and that of its ally China.
The decision comes as Democrats in Congress are divided over a $1.2 trillion bipartisan infrastructure bill and a proposed $3.5 trillion infrastructure and social spending bill known as the Build Back Better Act.
FULL STORY: Pentagon Could Receive $10B More Than Requested Amid Infrastructure Fight
Could North Korea's military equipment not be as advanced as we fear?
Joseph Dempsey, Research Associate for Defence & Military Analysis at the International Institute for Strategic Studies, suggests in a thread of tweets that while the country has new submarine-launched ballistic missiles, the country's submarine tech remains inferior and with possible issues.
As North Korea launches missiles, South Korea shows off military tech
Seoul is hosting the ADEX 2021 display of weapons and new combat equipment.
The tech includes an array of large drones and AI-capable machines, fuelling concerns about an intensifying arms race between the North and South of the peninsula.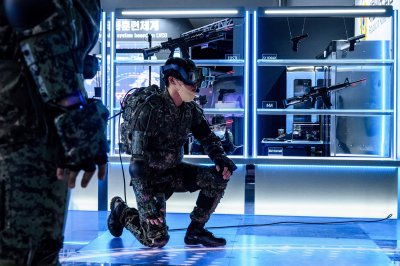 Top Republican senator: 'America is back to leading from behind'
Marsha Blackburn, a strong critic of China, called on President Biden to "stand up" to the "taunts" of communist countries.
Japanese PM plans to 'increase the country's defence capabilities'
Fumio Kishida said it would step up military measures "to protect Japan's territory, waters, residents and airspace" in a statement released moments ago.
We strongly condemn North Korea's missile launches. This violates provisions of the UN Security Council resolutions. For the safety of our citizens, I instructed responsible agencies to analyse information through surveillance and intelligence gathering and to closely interact on this issue with the international community, including the United States.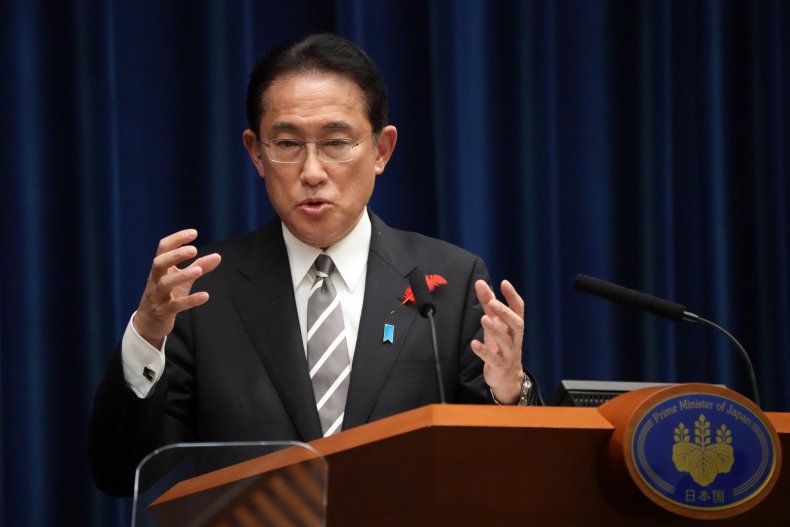 Fear missile launch could hamper U.S.-South Korea-North Korea negotiations
Within days, Biden's special envoy for North Korea, Sung Kim, is scheduled to meet with U.S. allies in Seoul over the prospects of reviving talks with North Korea - more than two years after nuclear negotiations stalled over disagreements on U.S.-led sanctions.
The U.S. continues to reach out to Pyongyang to restart dialogue. Our intent remains the same. We harbor no hostile intent toward the DPRK and we are open to meeting without preconditions.
Analysts suggest North Korea is trying to use South Korea's desire for inter-Korean engagement to extract concessions from Washington, but the Biden administration is intent on keeping sanctions in place until the North makes concrete steps toward denuclearization.
Kim Jong Un's comments on attacking South Korea last week re-emerge
The North Korean leader said on Monday last week that he wouldn't use his growing military and weapons arsenal against South Korea - despite the acts of aggression in demonstrating them near the country's territory.
He made the comments while attending an exhibition of missiles and other weapons in Pyongyang, where he spoke about continuing to assemble his powerful military and criticized the U.S. for being "hostile".
The U.S. has frequently signaled it's not hostile to our state, but there is no action-based evidence to make us believe that they are not hostile. The U.S. is continuing to create tensions in the region with its wrong judgments and actions.
FULL STORY: Kim Jong Un Says South Korea Isn't Who North Korea Has to Fight, Calls U.S. 'Hostile'
WATCH: Is this the missile North Korea launched today?
A brand new ballistic missile - able to be launched from a submarine - was shown off at a military parade in the country in April this year.
Analysts from South Korea and Japan believe the missile shown in the video below could be the one used in the test - but an investigation is still ongoing.
Missile 'likely designed for submarine-based launches'
South Korea's military described the weapon as being able to be launched from the sea, marking possibly the most significant demonstration of the North's military might since President Biden took office - and causing great concern among nearby adversaries.
Officials believe it could have been the very same missile unveiled at the country's military parades in April this year.