North Korea Has Missiles—and a New iPad Called 'iPad'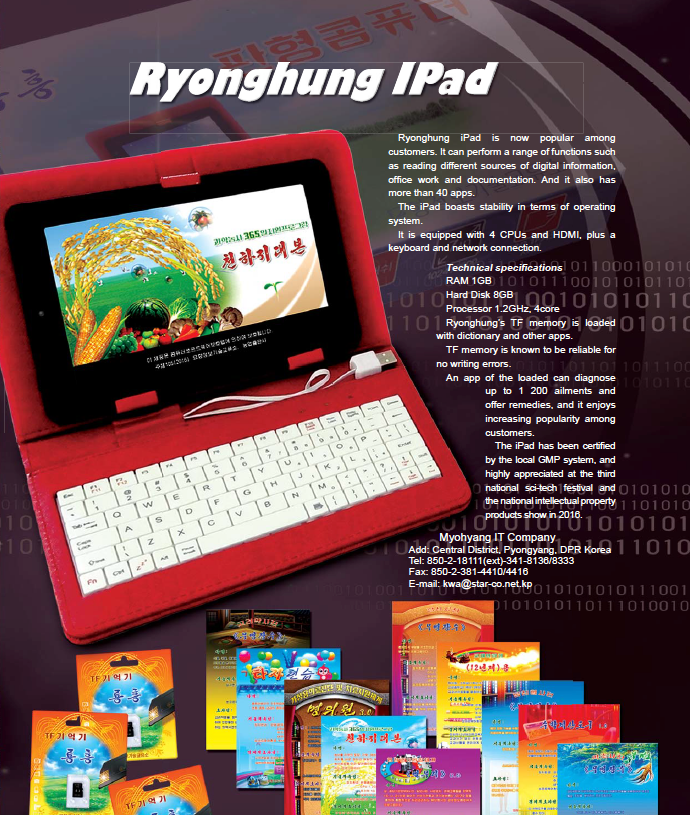 It is not just missiles that North Korea has been developing. The isolationist country is also coming out with a new tablet computer and has given it a novel name—the "iPad," or a "Ryonghung iPad," to be precise. The new product is featured and acclaimed in the latest edition of the country's Foreign Trade magazine.
Related: North Korea war would be 'catastrophic' and 'worst in most people's lifetimes,' U.S. Defense Secretary Mattis warns
"Ryonghung iPad is now popular among customers. It can perform a range of functions such as reading different sources of digital information, office work and documentation," reads the marketing description. "And it also has more than 40 apps. The iPad has been certified by the local GMP system, and highly appreciated at the third national sci-tech festival and the national intellectual property shows in 2016."
Among the other features said to be on the "iPad," which comes complete with a keyboard, is an app that, it is claimed, can diagnose up to 1,200 ailments and offer remedies. On its technical specifications, the blurb states that it has 1 gigabyte of RAM, 8 GB of internal memory and an 8-inch screen,
It also comes equipped with a network connection, although that won't enable users to access the internet in a country where the web is strictly off limits. And, anyway, North Korea's internet has fewer than 30 websites.
The product is designed by the Myohyang IT Co., based in Pyongyang. However, its blatant borrowing of the name of Apple's market-leading tablet would appear to be a clear violation of Apple's trademarks, as website NK News notes. On Apple's website, "iPad" is listed as a trademarked term.
"You may not use or register, in whole or in part, Apple, iPod, iTunes, Macintosh, iMac, or any other Apple trademark, including Apple-owned graphic symbols, logos, icons, or an alteration thereof, as or as part of a company name, trade name, product name, or service name except as specifically noted in these guidelines," say the legal guidelines on the Silicon Valley company's website.
North Korea leader Kim Jong Un appears to be quite the fan of Apple. Indeed, the "iPad" is not the first instance of the country showcasing a product that bears a striking resemblance to those produced by Apple. In 2015, photos emerged of a computer built by North Korean company Blue Sky that looked suspiciously like an Apple iMac. And back in 2014, it debuted an operating system that was remarkably similar to Apple's OS X.