Why North Korea Keeps Launching Missile Tests and What Trump's Going to Do About It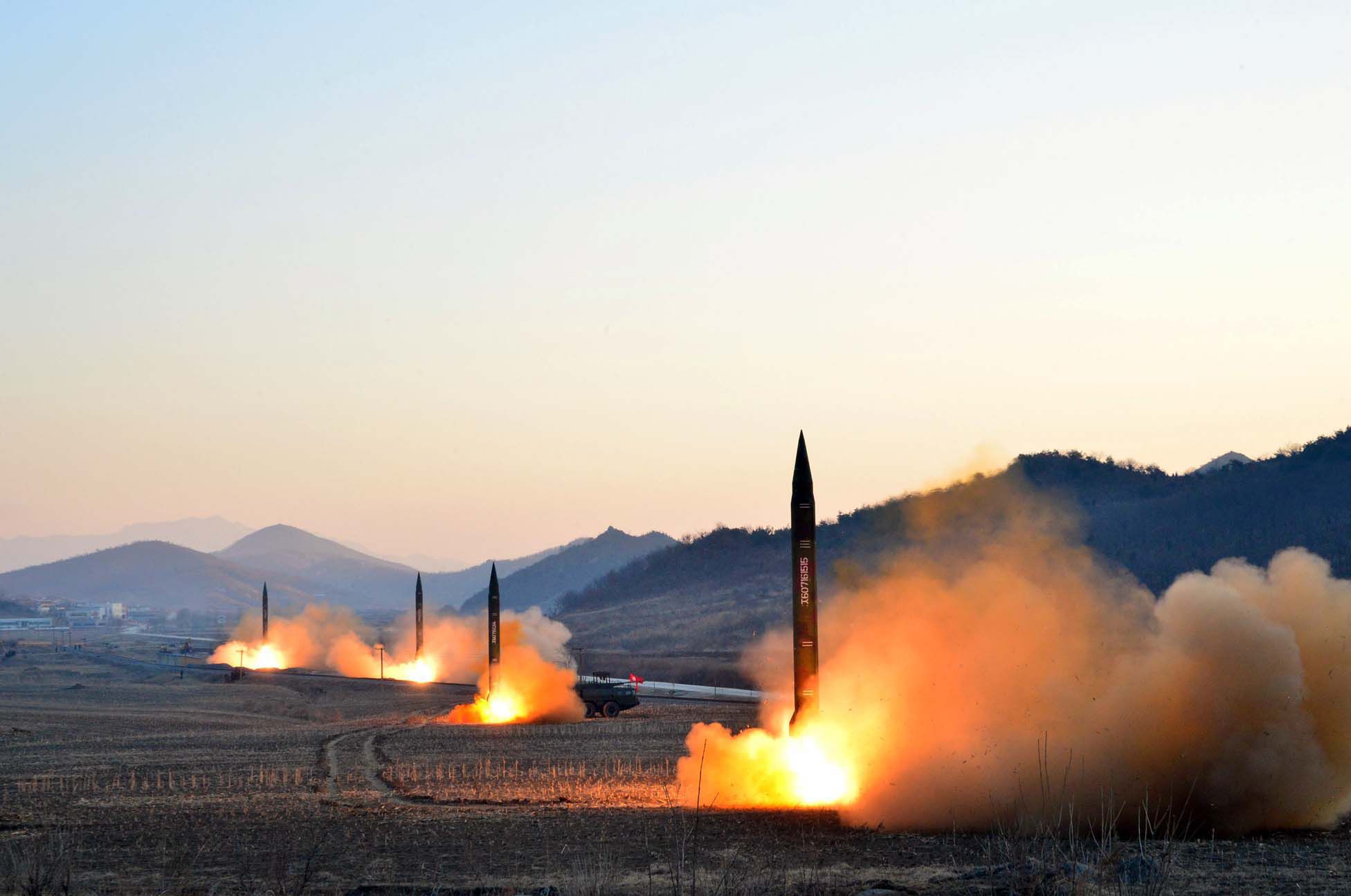 North Korea launched a new missile test Sunday, with an unidentified ballistic missile flying east about 500 km (over 300 miles) from Pukchang before landing in the Sea of Japan, according to the South Korean military's Joint Chief of Staff.
The test is the latest in a series of provocative displays of military strength by the rogue state, which have ratcheted tensions in the region and provoked a stand-off with the White House.
Newsweek explores some of the key issues.
Why is North Korea conducting missile tests?
North Korea is developing its long-range and submarine-launched ballistic missiles to boost its military capacity. The missile tests are often conducted on dates of symbolic importance to the state, such as the February 16 birthday of the state's former leader Kim Jong-Il, and serve as propaganda statements to intimidate international rivals.
How many missile tests has North Korea conducted this year?
North Korea has conducted eight missile tests so far in 2017.
Two were conducted to coincide with President Donald Trump's meetings with key regional leaders, with a land-based KN-15 missile tested as Trump met Japanese Prime Minister Shinzo Abe at his Mar-a-Lago resort in Florida on February 11.
A KN-17 missile launch on April 4 came just days before Chinese President Xi Jinping met with President Trump at Mar-a-Lago, where the pair discussed curbing North Korea's military and nuclear ambitions.
Last Sunday, North Korea successfully launched what it called a new type of ballistic missile capable of carrying a nuclear warhead.
The ground-to-ground missile, dubbed the Hwasong-12, landed in the sea between the North and Japan and signaled the regime's progress in developing an intercontinental ballistic missile.
How has Trump responded?
Trump has criticized North Korea on Twitter, accusing the state of behaving "very badly" in a May 17 tweet. However, he has also suggested he would be willing to meet with Kim Jong-Un, who he praised as a "smart cookie" in a CBS interview, telling Bloomberg on May 2 he would be willing to meet with him.
In response to the missile tests, Trump delivered the Terminal High Altitude Area Defense (THAAD) anti-missile system to South Korea, a month before deploying a Navy strike group. South Korea and the U.S. agreed on putting the system into place after a flurry of North Korean missile tests in 2016. The system acts as a missile defense shield to intercept short to medium range missiles.
What is China's role?
Trump has called on China to play a larger role in restraining North Korea, tweeting on May 17, "if [the Chinese] want to solve the North Korean problem, they will." Ahead of Trump's April meeting with Chinese President Xi Jinping, Trump said that if China would not assist with North Korea, the U.S. would act unilaterally.
China is North Korea's most important international ally and a key trading partner, though in recent months the relationship has soured.
Washington and Beijing are reportedly discussing a new U.N. Security Council in response to Pyongyang's missile tests, such as increased sanctions, and in April Air China briefly suspended flights between Beijing and Pyongyang.
North Korea warned China of "grave consequences" following reports of the sanctions discussions.
China has previously been accused of failing to follow through on promises to back diplomatic initiatives against North Korea.
How likely is nuclear war?
Speaking to Reuters in April Trump said : "There is a chance that we could end up having a major conflict with North Korea. Absolutely."
Since taking power in 2011, Kim has stepped up North Korea's nuclear program, with the state carrying out its fifth nuclear test in September, 2016, in defiance of UN resolutions.
Analysts said last Sunday's missile appeared to be an intermediate-range ballistic missile that could fly far enough to target key American military bases in the Pacific, including those in Guam. The test was an important milestone, indicating that the country is progressing with its intercontinental ballistic missile project.
Despite the North Korean regime's bluster and threats, experts believe the regime would overwhelmingly lose a full-blown conflict with the U.S. or South Korea, but could react with force to a preemptive strike on its military facilities.
David S Maxwell, a retired U.S. army special forces colonel who served in Korea and Japan, told the Independent, "Even if it's a preemptive strike to take out missile and nuclear capabilities, North Korea may feel it has to respond. This is the dilemma that strategists and policymakers face."
Why North Korea Keeps Launching Missile Tests and What Trump's Going to Do About It | World