North Korea Mocks Trump, Mattis and Portrays U.S. as Dying Fish on Chopping Board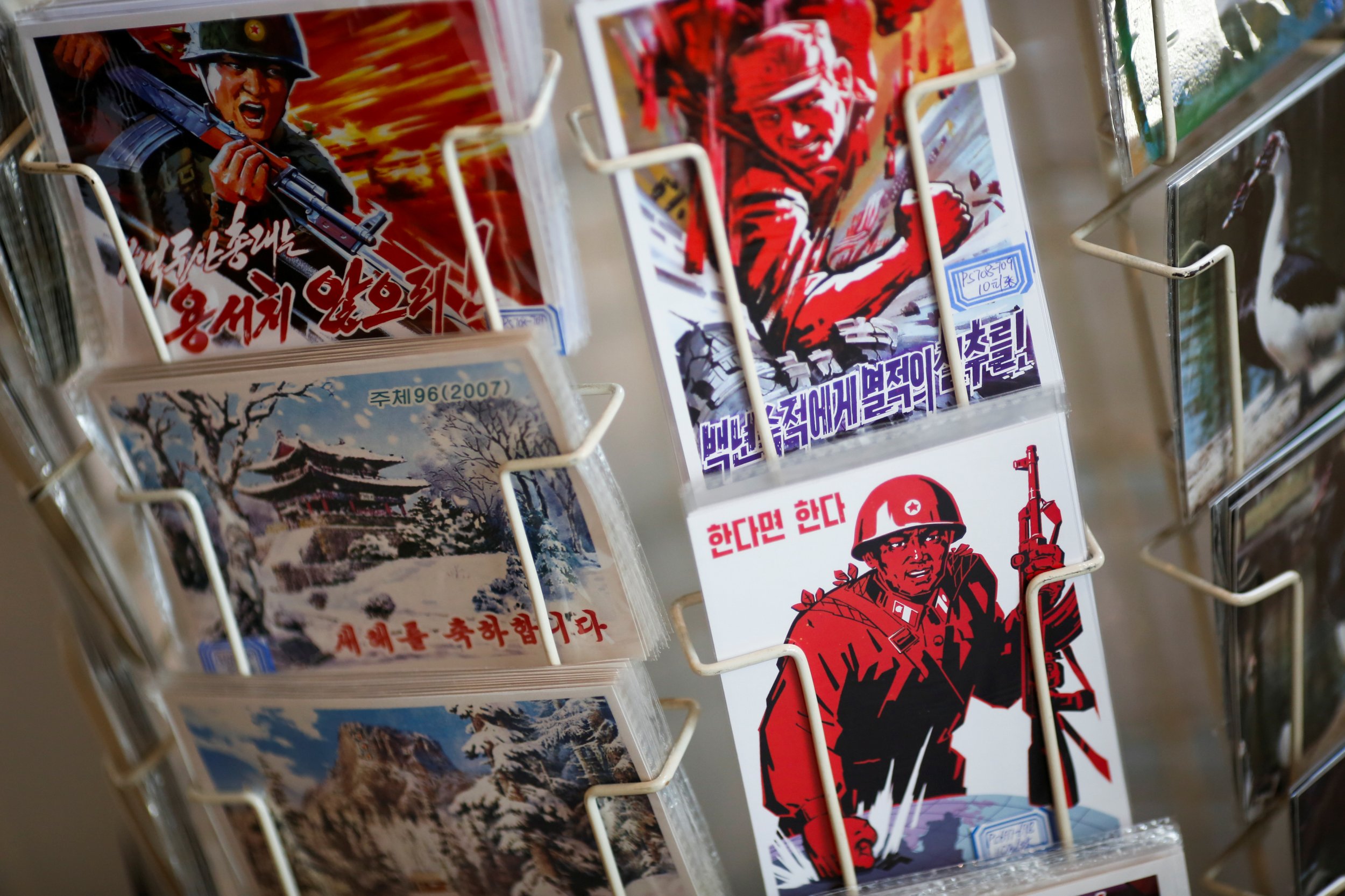 South Koreans continue to report the discovery of anti-U.S. propaganda leaflets they say are likely made in North Korea, including a particularly inflammatory recent batch depicting President Donald Trump.
Police in Seoul, South Korea, have been receiving reports of propaganda material since about September 20, according to South Korea's news agency Yonhap. The authorities have been handing over the leaflets to the Ministry of National Defense.
The flyers typically depict scenes mocking the U.S and glorifying North Korea's nuclear capabilities. In one, a North Korean ballistic missile can be seen tearing Japan's Prime Minister Abe and President Donald Trump apart. Another depicts an angry Trump sporting an Adolf Hitler–like mustache, with missiles extending from his fingers.
The NK News site describes another flyer as depicting Trump as a sick man on a hospital bed, with Defense Secretary James Mattis saying, "Your Excellency, the U.S. security is put on emergency alert." The Mattis character is pointing to North Korean missiles heading for the U.S. territory of Guam as well as the mainland.
Another portrays the U.S. as a dying fish on a chopping board, with the words "decapitation operation, preventive war, preemptive strike and secret operation" written across the fish, and "ready for war and sanctions" written on the board.
It is unclear how many leaflets were scattered across Seoul, but local media reports that at least 1,500 flyers were found in less than a week.
Seoul-based correspondents have also been tweeting about finding anti-U.S. messages scattered around the city, including Bloomberg's Sam Kim, who wrote on Twitter last week: "North Korean propaganda leaflets now include insults against @realDonaldTrump. This one calls him a 'barefaced robber.'"
Another leaflet took aim at the South Korean leadership. Reuters journalist James Pearson wrote:
It is fairly common for the two neighboring countries to drop leaflets attached to helium balloons into each other's territories. The countries are still technically at war, as the 1950–1953 Korean conflict did not end with a peace agreement.
In January 2016, North Korea sent around 1 million leaflets to the South, the BBC reported at the time, one of numerous occasions in which this happened in the past few years.
In South Korea, a North Korean defector-led group called Fighters for a Free North Korea is responsible for launching thousands of plastic flyers across the border every year. The Associated Press reported that these drops may include items such as cartoons, recordings of TV shows and empty food wrappers, intended to show what life across the border is like.
The government in Seoul is not supportive of the group's activities. According to reports in the South Korean press, President Moon Jae-in, who is the son of North Korean refugees, recently asked government officials to find a way to curb the activists' balloon launches.
"Sending leaflets near the border could spark unnecessary military tensions, including a possible accidental conflict," a unification ministry spokesman said in September, quoted in Yonhap. "It also poses a real threat to the safety of border-area residents."