Trump's Threats against North Korea Keep Former Pentagon Official 'Awake at Night'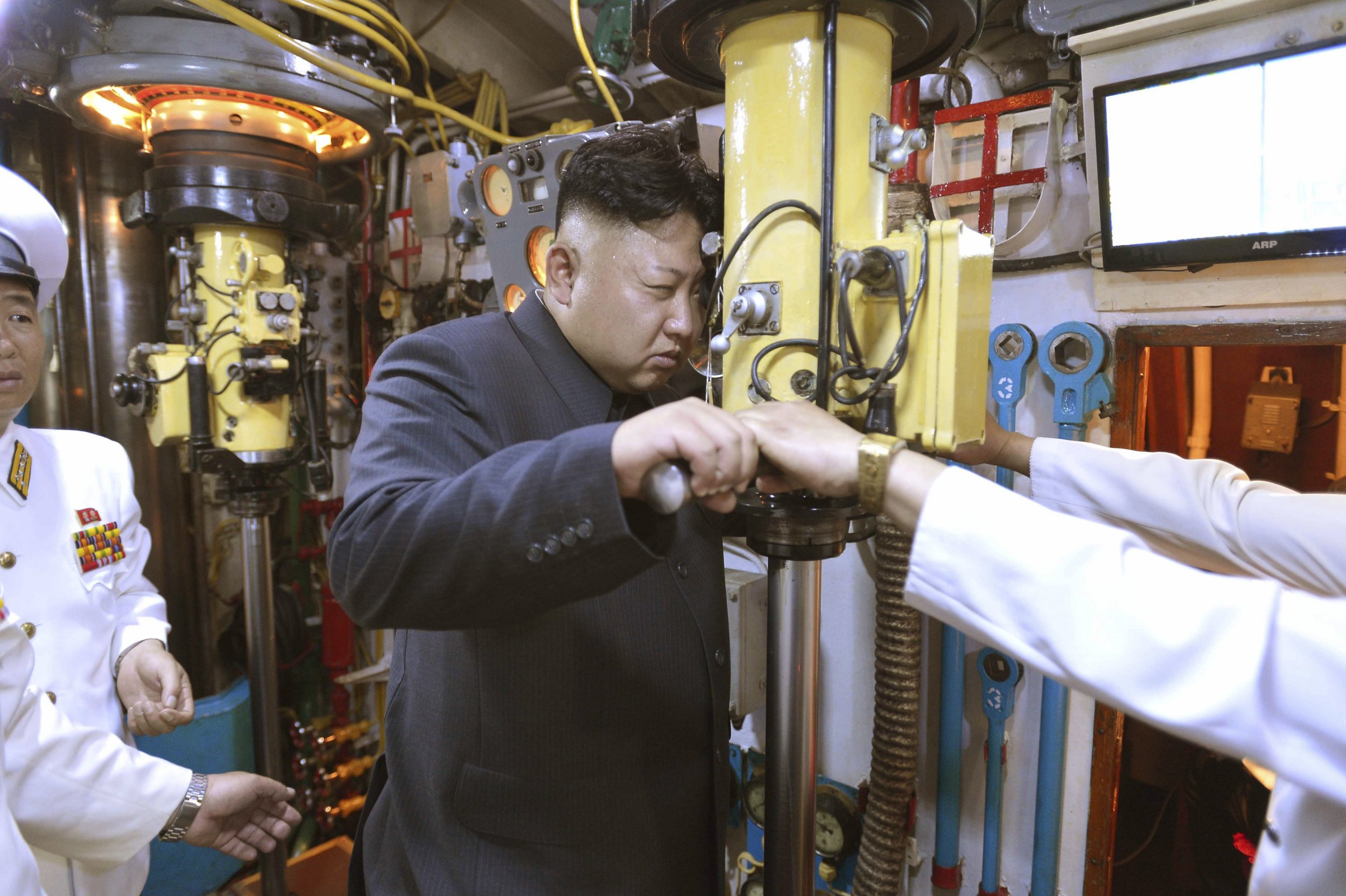 Even the most powerful non-nuclear weapons in the U.S. arsenal cannot guarantee the destruction of North Korea's nuclear bombs and will likely trigger a massive retaliatory attack from Pyongyang on South Korea, killing millons of people, American experts and former U.S. officials say. And as American warships gathered in the area, China and Russia warned both sides not to let the situation spiral out of control.
The Pentagon has deployed two Navy destroyers with Tomahawk cruise missiles just 300 miles from the North Korean nuclear test site, and the U.S.S. Carl Vinson aircraft carrier strike group is being diverted to the area, according to news reports. American heavy bombers are also positioned in Guam to attack North Korea if so ordered. During a joint military exercise in March, U.S. and South Korean forces carried out a simulated decapitation strike to take out Pyongyang's leadership.
Related: Dear Barack Obama, Kim Jong Un Wants to Talk
North Korean dictator Kim Jong Un, who has hinted at testing another nuclear weapon on Saturday, has warned Washington it might strike the United States first with a nuclear weapon if threatened with elimination by the Donald Trump administration.
Officials and experts who have dealt with North Korea say threats from Washington will only stiffen Kim's resolve to expedite the production of nuclear weapons and intercontinental missiles capable of carrying them. They envision a nightmare scenario in which Kim, under pressure, unleashes tens of thousands of artillery shells on South Korea's capital of Seoul, only 35 miles from the North Korean border, while protecting his nuclear weapons in underground facilities.
"Just verbally threatening a dangerous pre-emptive strike endangers the 28,500 U.S. troops in Korea, and literally keeps me up at night," says James Faeh, who was the Pentagon's country director for North and South Korea in the Barack Obama administration. "There is no chance we can be 100 percent sure of our ability to take out Kim's entire nuclear and missile arsenal in a single decapitation attack."
China and Russia also weighed in as war clouds gathered over the Korean peninsula. Beijing's foreign minister Wang Yi warned both Washington and Pyongyang to not "push the situation to the point where it can't be turned around and gets out of hand." A Kremlin spokesman, Dmitri S. Peskov, called on "all the countries to refrain from any actions that could amount to provocative steps."
Many observers saw the U.S. use of the "mother of all bombs" in Afghanistan against a suspected unit of Islamic State militant group (ISIS) fighters on Thursday as a warning shot against Kim not to test another nuclear weapon. While the MOAB (which stands for Massive Ordnance Air Blast) device was the largest non-nuclear weapon to be used in combat, it's not likely to be the first choice of Pentagon planners should they go after North Korea's underground nuclear arsenal. That would be the MOP, or Massive Ordnance Penetrator bomb, which was invented to hit Iran's underground nuclear facilities.
"The MOAB and the MOP would be extremely effective against known North Korean nuclear and missile sites," Gary Samore, the White House Coordinator for Arms Control and Weapons of Mass Destruction in the Obama administration, tells Newsweek. "The problem is that we don't know where all such sites are."
Matthew Bunn, an eminent weapons scientist who worked on nuclear issues in the Bill Clinton administration, agrees with Samore. "Those above-ground facilities are quite familiar. The big problem is we don't know where the heck their bombs are."
Bunn, now a professor at Harvard University's John F. Kennedy School of Government, adds that North Korea also probably has a secret additional enrichment facility that the Pentagon hasn't located, "so MOPs don't help if you don't know where to put them."
But the first challenge in using the weapons is just getting them close enough to North Korea without them being shot out of the sky. "They need to be airlifted by cargo planes, which are easy targets for [North Korean] air defenses," says Michael Krepon, a weapons expert and co-founder of the Stimson Center, a non-partisan policy research center in Washington, D.C.
"The other problem is that an attack on North Korea's nuclear and missile sites would probably trigger a general Korean War," says Samore. In the opening chapter, Seoul would likely be obliterated by North Korean artillery.
"Unless you can move Greater Seoul and its 28 million people—including some 80,000 Americans on any given day—the risks far outweigh benefits of an pre-emptive strike," says Robert A. Manning, who has worked on Asia issues at high levels for the departments of State and Defense and the Director of National Intelligence. "Remember that North Korea is not Syria." U.S. attacks on Serbia, Iraq and Libya, he adds, "are a good part of the reason why Pyongyang want nukes as an insurance policy."
When Seoul's Yonhap News Agency reported in March that the joint U.S.- South Korea exercises underway included "decapitation raids" by special forces targeting Pyongyang's leadership, a U.S. spokesman declined comment "for operations security reasons." Many analysts interpreted that to mean the Trump administration was considering such options along with cruise missile strikes and MOP and MOAB drops on North Korea's nuclear and missile facilities—as well as its leader's residence. More recently, on Twitter, President Trump vowed to "solve the problem" of North Korea with or "without China's help."
Faeh, the former Pentagon official in charge of Korea issues, despairs at such talk, which he calls "invaluable propaganda for [Kim] to say to his people: 'See, the Americans are evil and threatening us. You need me and my nuclear and missile programs to protect you.'
"Seeing these dangerous statements on pre-emptive strikes from the Trump administration quite literally keeps me up at night," he says. "Knee-jerk reactions leading to escalation is not a viable long-term strategy to keep us safe." On Wednesday April 14, all the leading candidates in South Korea's upcoming presidential election came out against a pre-emptive U.S.strike on North Korea.
Manning, now a senior fellow with the Brent Scowcroft Center on International Security at the Atlantic Council in Washington, says everybody needs to look past the current, overheated rhetoric.
"Perhaps the only virtue of North Korea," he says, "is that they are not suicidal, and deterrence has worked."