North Korea Nuclear Test Site Collapse Killed 200 People: Report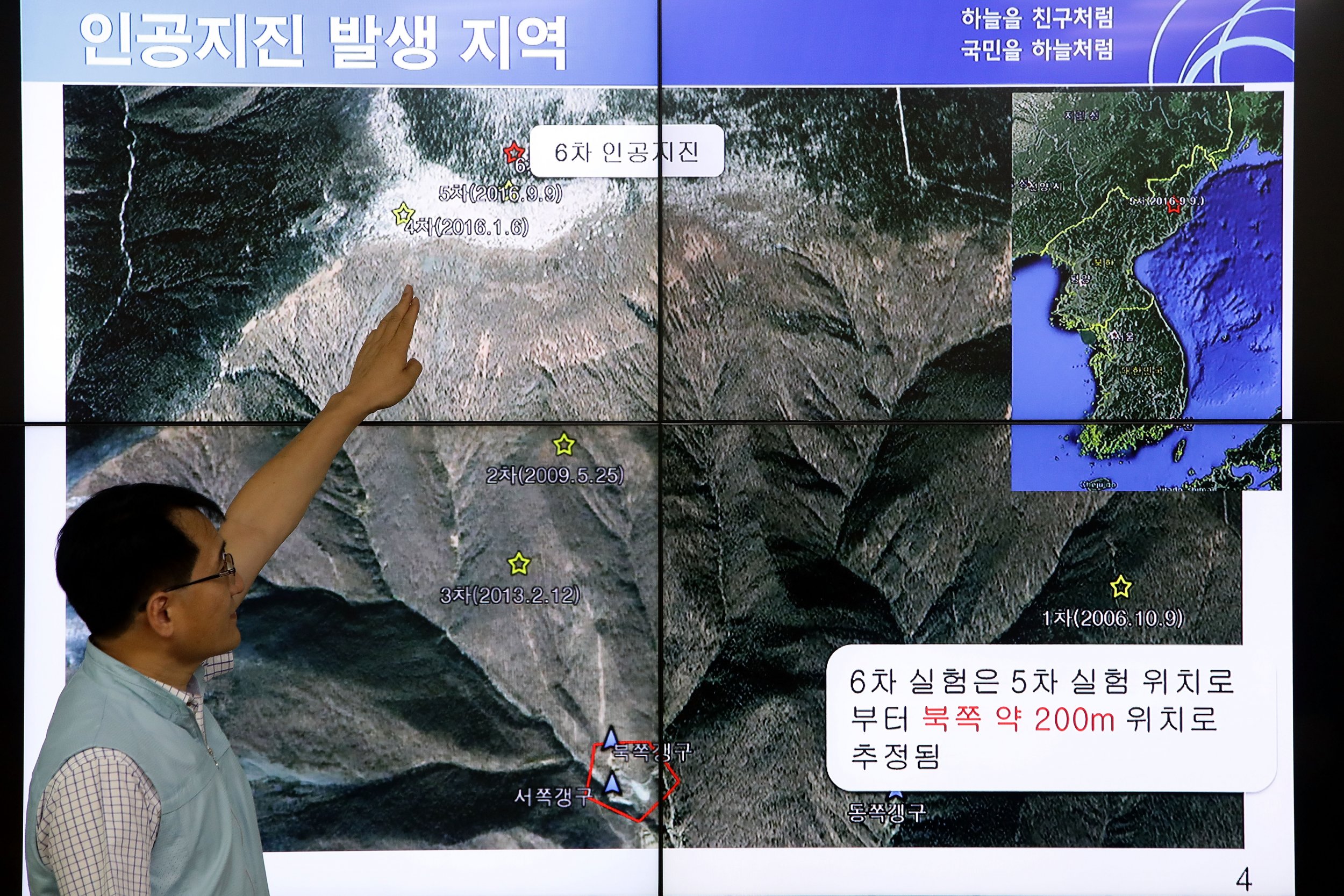 More than 200 people are believed to have died in underground tunnels after a collapse at North Korea's Punggye-ri nuclear facility.
The test site was reportedly badly shaken by the aftermath of the country's sixth nuclear test, a 100-kiloton hydrogen bomb roughly seven times more powerful than the atomic bomb the U.S. dropped on Hiroshima in 1945.
Read more: North Korean soldiers are being treated for radiation exposure after nuclear test
North Korean sources told Japanese television channel Asahi TV that the collapse occurred in October during the construction of an underground tunnel at the facility.
Around 100 workers were stuck underground and a group that was sent to their rescue were also buried after another collapse, causing a total death toll of around 200.
A series of small-scale earthquakes that followed the September 3 test indicated the facility, built south of the Mantapsan mountain, may no longer be stable enough to conduct further tests.
According to experts, the building of new underground tunnels would indicate a willingness to move the test site to another part of the mountain, as the facility is unlikely to be abandoned.
"If North Korea were to attempt to continue testing under this mountain (such as in the area more to the eastern side), then we would expect to see new tunneling in the future near the North Portal, still under Mt. Mantap," researchers Frank Pabian and Jack Liu wrote in a report published earlier this month on the North Korea monitoring website 38 North.
South Korean and Chinese scientists worry that a collapse at the mountain could trigger a radiation leak. South Korea's weather agency chief Nam Jae-Cheol told a meeting of the lawmakers Monday that any future nuclear test at the site could cause a collapse, the Associated Press reported.
One of the Korea Meteorological Administration researchers, Lee Won-Jin, presented an analysis of satellite images indicating landslides occurred near the facility following the September test.
North Korea's next test may not be confined to underground spaces. In September, the country's Foreign Minister Ri Yong Ho told reporters in New York ahead of his speech at the U.N. that his leader Kim Jong Un may be planning to conduct "an unprecedented scale hydrogen bomb" test over the Pacific. A North Korean senior official recently told CNN the threat should be taken "literally."