U.S. Military Says North Korea Is Not Getting Rid of Its Nuclear Weapons After Donald Trump Walked Away From Talks
The head of U.S. Forces Korea has warned that North Korea did not appear to be denuclearizing in the wake of last month's summit, from which President Donald Trump walked away with no deal.
In written testimony submitted Wednesday to the House Armed Services Committee, General Robert Abrams told lawmakers that the "hard work of diplomacy continues to reduce tensions and create the environment necessary for North Korea to choose the path of denuclearization, forge a lasting peace, and create a brighter future for its people." He argued that his forces "sustain readiness for any potential provocation or conflict," though "we support those working toward enduring peace and denuclearization."
Asked by Representative Mac Thornberry of Texas whether North Korea appeared to have reduced its nuclear or missile arsenal, Abrams told the lawmaker that the country's "activity that we've observed is inconsistent with denuclearization." He said he would go into further into detail in a closed session.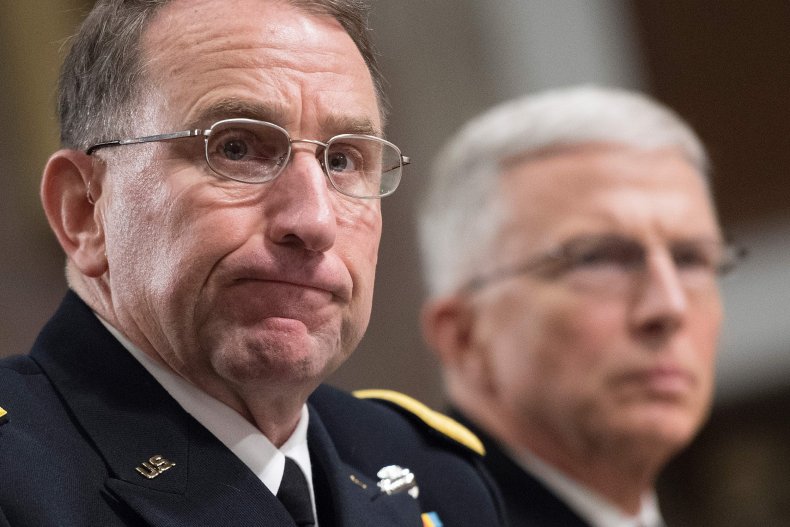 Washington and Pyongyang entered into a historic peace process last year in an attempt to overcome decades of mutual hostility and secure North Korea's denuclearization in exchange for U.S. promises of peace, security and sanctions relief. Trump and North Korean supreme leader Kim Jong Un both offered goodwill gestures ahead of their debut bilateral summit last June in Singpaore, but progress appeared to slow in the public sphere since, leading to a second dialogue last month in the Vietnamese capital of Hanoi.
Amid high expectations for some sort of agreement, Trump and his delegation—which hardliner White House national security adviser John Bolton joined mid-summit—abruptly walked away on the second day of talks. The two nations emerged with conflicting narratives over why the talks failed, each blaming one another, while keeping the door open for another round of negotiations.
U.S. officials appeared to harden their position after the talks, affirming they sought a complete, verifiable and irreversible denuclearization with zero preconditions and laying new sanctions against Chinese companies doing business with North Korea. Trump appeared to lead a reversal, however, as he announced Friday the termination of "additional large scale Sanctions" via Twitter.
"President Trump likes Chairman Kim and he doesn't think these sanctions will be necessary," White House press secretary Sarah Huckabee Sanders told reporters later that same day.
Secretary of State Mike Pompeo reiterated his stance Wednesday that, while the U.S. sought for "diplomatic outreach to continue," it would also ensure the "implementation and enforcement of sanctions until we achieve our objective" in his own testimony to the House Appropriations Committee.
Satellite imagery shared earlier this month appeared to show renewed activity at North Korea's Sohae Satellite Launching Facility, a site that utilizes similar technology to the country's intercontinental ballistic missile program. Last week, South Korean Defense Minister Jeong Kyeong-doo told parliament that describing such developments as "missile-related activities" was a "hasty judgment" in remarks carried by the official Yonhap News Agency.