North Korea emphasized Tuesday that the U.S. was the only potential target of supreme leader Kim Jong Un's growing nuclear and ballistic arsenal, and not its southern rival or other regional powers seeking talks with the secretive, authoritarian state.
In his New Year's Day speech last week, Kim vowed to continue developing weapons of mass destruction and missiles capable of delivering them to targets across the globe. He also emphasized, however, that he would reopen talks with South Korea, the U.S.-backed neighbor with which North Korea has technically remained at war since a deadly, three-year conflict in the early 1950s. As the dialogue officially began Tuesday, North Korean officials said their nuclear weapons were not up for debate, because it was only Seoul's foreign sponsor that had to worry.
Related: Kim Jong Un is becoming North Korea's most powerful leader, and he's not old enough to be U.S. president
"North Korea's weapons are only aimed at the United States, not our brethren, China or Russia," North Korean delegation head Ri Son Gwon said according to Reuters.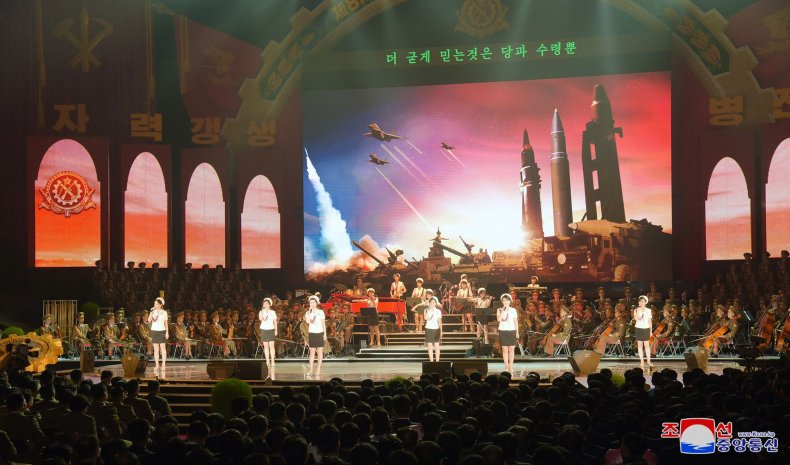 Kim's sudden decision to renew Korean Peninsula peace talks for the first time in two years came after a year of milestones for North Korea's youngest leader. Despite President Donald Trump vowing to prevent any North Korean intercontinental ballistic missile (ICBM) launches as he came into office almost exactly one year ago, Kim managed to oversee two debut launches in July, as well as a hydrogen bomb test in September. North Korea conducted its latest and highest-reaching ICBM test in late November and officially declared itself a nuclear state.
These developments have come amid tightening international sanctions and mounting pressure from the U.S., which has produced mixed messages about diplomacy in the tense region. Trump tweeted Thursday that "talks are a good thing" and even took credit for the initiative, but U.S. ambassador to the United Nations Nikki Haley said the day earlier that the U.S. "won't take any of the talks seriously if they don't do something to ban all nuclear weapons in North Korea."
Secretary of State Rex Tillerson initially said last month the U.S. would meet "without preconditions," but later clarified that North Korea would have to first abandon nuclear weapons and ICBM tests after the White House intervened. North Korea has claimed the right to develop such weapons in order deter a potential U.S. invasion, pointing to similar circumstances in countries such as Iraq and Libya.
China and Russia also backed U.N. Security Council sanctions over Kim's stockpile of weapons of mass destruction, but also opposed the U.S.'s growing presence in the Asia-Pacific and its hardline stance against their mutual neighbor. Both have urged Trump to de-escalate the crisis instead of pursuing military drills, which the Pentagon said it would suspend for the length of the upcoming Winter Olympic Games.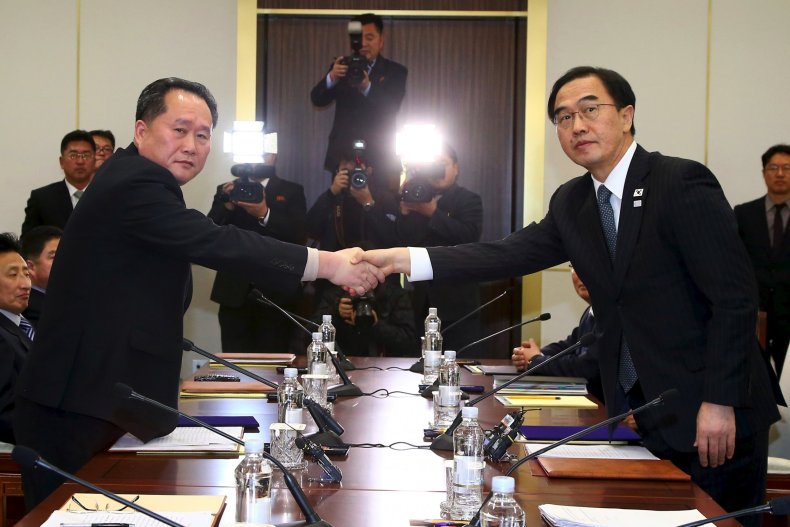 The latest round of inter-Korea talks first centered on the participation of North Korean athletes in next month's Winter Olympics to be held in PyeongChang, South Korea. Last week, North and South Korea reopened their border hotline and, by Tuesday, Pyongyang agreed to reconnect a military hotline, accepting Seoul's offer to enter into joint military talks.
"This meeting takes on significance in terms of restoring and developing inter-Korean ties. The two sides shared the need to upgrade our ties based on mutual respect," South Korean Unification Minister and chief delegate Cho Myoung-gyon told reporters at the truce village in Panmunjom, according to the official Yonhap News Agency.
"South-North ties took their first step. As they have been strained for a long time, there are a lot tasks to do," he added.