North Korea Officials Reportedly Reading 'Fire and Fury' and 'Art of the Deal' to Understand Trump
Ahead of a scheduled summit with President Donald Trump, North Korean officials have apparently been reading a book he'd probably rather they skip over.
Christiane Amanpour, CNN's chief international correspondent, tweeted on Thursday: "Interesting: North Korea officials are reading 'Fire and Fury' and 'The Art of the Deal' to understand President Trump, says Jonathan Powell, who traveled there recently. 'They were very keen to study Donald Trump when I was there in December [and the beginning of this year].'"
Powell served for years as chief of staff for former U.K. Prime Minister Tony Blair.
Fire and Fury was, of course, the book penned by Michael Wolff about Trump's White House that for weeks completely dominated the political conversation. Art of the Deal, meanwhile, is the first book published by Trump and his most famous.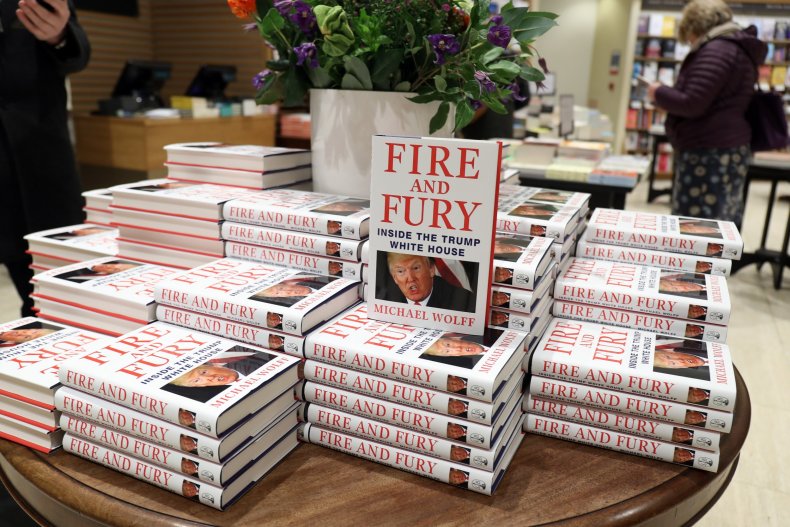 The list of unsavory anecdotes about Trump's White House in Fire and Fury is extensive. Some of Wolff's reporting, however, has been called into question. Among some of the juicier tidbits—which have been listed by Newsweek here— reportedly being read by North Korean officials include:
Trump eats so much McDonald's out of paranoia he might be poisoned elsewhere.
The president called former Deputy Attorney General Sally Yates the c-word.
This is how Trump's daughter Ivanka reportedly characterized his hairdo: "She often described the mechanics behind it to friends: an absolutely clean pate—a contained island after scalp-reduction surgery—surrounded by a furry circle of hair around the sides and front, from which all ends are drawn up to meet in the center and then swept back and secured by a stiffening spray."
And while The Art of the Deal might be the book that helped Trump garner quite a bit of fame, the person who ghostwrote it, Tony Schwartz, is a regular critic of the president.
"Trump and those around him now telling so many bold-faced lies they're literally hard to keep track of," Schwartz tweeted just Wednesday. "Has to be unprecedented in the history of the American presidency."
The planned North Korea–Trump summit is scheduled to take place in Singapore next month, but the North threatened to pull out this week amid joint military drills between South Korea and the U.S.