North Korea's Party Congress is Moment of Truth for Kim and Country
North Korea's ruling Korean Workers' Party has convened its 8th Party Congress, a rare gathering in which all eyes will be on Supreme Leader Kim Jong Un to see the path on which he intends to steer the nation forward.
The last five years were marked by both unprecedented victories and setbacks, the latter of which appear to be dominating the current conversation in Pyongyang.
"2020 was a tough year on North Korea," Jeongmin Kim, Seoul Correspondent at NK News, told Newsweek. "COVID-19 and border closure, trade crashes, multiple floods and typhoons that destroyed the farmlands, failed five-year economic strategy and ongoing sanctions."
As Kim Jong Un oversees his second such meeting at the onset of the 10th year of his rule, experts say that the third-generation heir to the family dynasty leading the Democratic People's Republic of Korea is setting the stage for a new strategy.
This plan is likely designed to alleviate internal pressures while simultaneously attempting to navigate a fragile and frozen peace process with rival South Korea, officially the Republic of Korea, and its ally, the United States.
But all analysts agreed that Kim Jong Un's first priorities were at home as he presided over the session during what he himself called an "important and crucial time in the development of our revolution."
One telling development that set the tone for the 8th Party Congress was Kim Jong Un's emotional admission during an October military parade that his previous strategy delivered at the 7th Party Congress in 2016 had not produced the desired results.
The tearful apology, uncharacteristic of North Korea's authoritarian head of state, leads Jeongmin Kim to believe the road ahead to easing economic woes will not be easy and would likely count on domestic reforms rather than foreign policy achievements for his next five-year formula.
"Kim will likely come up with a new five-year plan based on the assumption that the economic and pandemic situation won't get better right away," she said. "Which means North Korea will likely focus on the so-called 'self-reliance' methods to rejuvenate the economy at least a bit even under border closure, rather than looking for an immediate win, like lifting sanctions through DPRK-U.S. talks, ramping up production goals for industries that need foreign materials, or an extreme focus on the military, which is usually used as leverage in foreign affairs."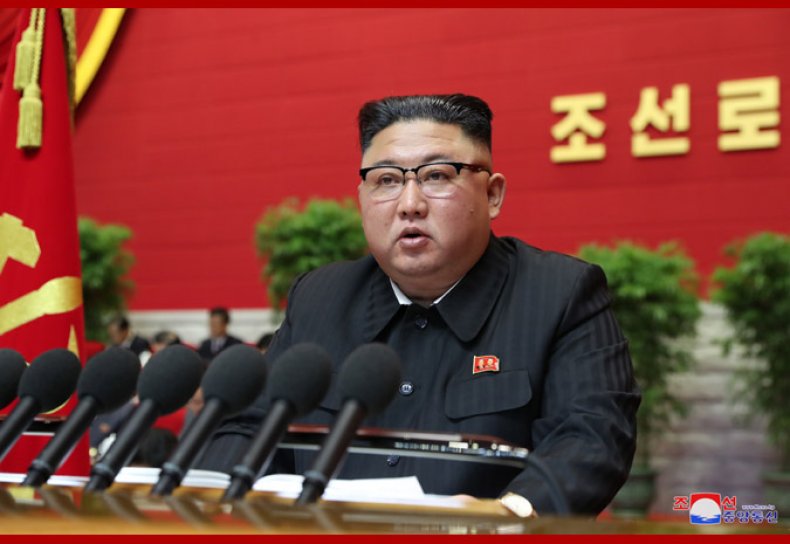 This self-reliance, encoded in the state's Juche ideology, is a driving force for a country that has managed to survive some of the world's harshest international sanctions while developing a formidable nuclear weapons arsenal with missiles capable of striking across the globe.
North Korea's political system has experienced a number of major stress tests over the decades since its post-World War II founding as a communist buffer to U.S.-backed South Korea in the earliest days of the Cold War. Today, Kim Jong Un is tasked with yet again steering his country out of a crisis defined by what he called "unprecedented, worst-ever trials."
Ruediger Frank, a North Korea expert who heads the University of Vienna's Department of East Asian Studies, told Newsweek that "North Korea has two options to deal with an economic crisis: defense, or attack.
"Defense would mean a retreat to conservative state-socialist measures like central planning and state management of the economy, and a reduction of private and semi-private market activities by individuals and enterprises as they were introduced in the last two decades," Frank said. "Attack would imply a more active embrace of what the Chinese called 'reform and opening': a liberalization of the domestic economy, promotion of international economic relations, and in general 'less state' and 'more market.'"
Since succeeding his late father in late 2011, Kim Jong Un has adopted a number of measures to stabilize the North Korean economy, which saw sizable growth in 2016 and a more modest expansion in 2019.
Gone are the days of massive expansion in the mid-20th century, however, as enormous spending on the military, the collapse of the Soviet Union and a deadly 1990s famine all combined to cripple the economy of the country.
Staring down a likely significant economic retraction following the pandemic year, Kim Jong Un appears to be shifting back toward North Korea's strict-command economy roots.
"From what we could see in North Korea in the last months and also from the first documents of the 8th Party Congress," Frank said, "it seems Kim Jong Un has decided in favor of the defensive option."
A conservative and careful approach was also predicted by Michael Madden, a Kim family expert who founded the Stimson Center-affiliated North Korea Leadership Watch blog. He said Kim Jong Un's speech would map out a recovery from COVID-19 lockdowns, some of the earliest imposed in the world in a country that still claims to have had no reported cases.
"We will hear about key industries or economic sectors on which the regime will focus its energy and attention," Madden told Newsweek. "It is highly unlikely this will strike external observers as particularly ambitious. Kim Jong Un is somewhat realistic and practical about these things."
And while there was no denying the hardships of the past year, not all experts agreed that the North Korean ruler was under any sort of exceptional pressure amid a global pandemic that has disrupted trade worldwide.
"In contrast to other Pyongyang watchers," Madden said, "I don't think Kim Jong Un is under any more domestic pressure than political leaders in other countries coping with and possibly struggling with the pandemic's effects."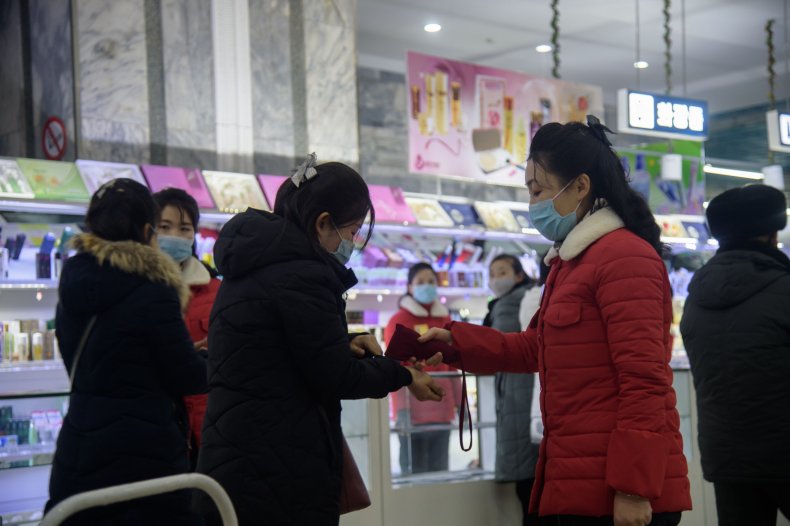 Despite Kim Jong Un's candid acknowledgement of "mistakes" in the implementation of his previous five-year plan in a readout of the 7th Central Committee's first report, he also saw the 8th Party Congress as opportunity for "dynamically advancing the socialist cause under the uplifted banner of great Kimilsungism-Kimjongilism and illuminating the broad avenue toward a fresh victory in the Korean revolution."
The very fact that Kim Jong Un even convened this congress was also noteworthy. Though North Korea's founding protocols dictate such gatherings are to be held every five years, the 7th Congress held in 2016 was the first such meeting in 36 years, a 1980 session called by his grandfather, Kim Il Sung.
Unlike his father, Kim Jong Il, Kim Jong Un has opted for a return to formalities, utilizing official channels and institutions to govern. This trend was also manifested in his delegation of certain key authorities to top officials, including Korean Workers' Party Central Military Commission Vice Chairman Ri Pyong Chol and the party's Military Affairs Director Choe Pu Il for military issues, as well as Cabinet Premier Kim Tok Hun and State Affairs Commission Vice Chairman Pak Pong Ju for economic affairs.
Perhaps most eye-catching of all, however, has been the rise of Kim Jong Un's younger sister, Kim Yo Jong, who serves as first vice-department director of the ruling Korean Workers' Party Central Committee. Having ascended the ranks nearer to her brother's side, she now largely handles state affairs, especially as they relate to South Korea and the U.S.
Though experts and early events at the 8th Party Congress point to an inward focus—"our country first" as Frank describes it, borrowing a common North Korean motto—messages relevant to how Pyongyang would proceed with a stalled peace process with Seoul and Washington were also anticipated.
Madden suggested that observers of the Congress read between the lines of official statements to find indirect hints toward North Korea's next steps as they relate to its views on halted denuclearization-for-peace negotiations. He said rhetoric matching that of the frustration following Kim Jong Un's second summit with President Donald Trump in February and the rancor espoused by Kim Yo Jong as fledgling inter-Korean ties also unraveled last year would indicate "there is no change in the regime's outlook on negotiations with the U.S. and ROK."
"More likely," he argued, "we will see a combination of old and new strategic rhetoric which will serve as the DPRK's opening negotiating position."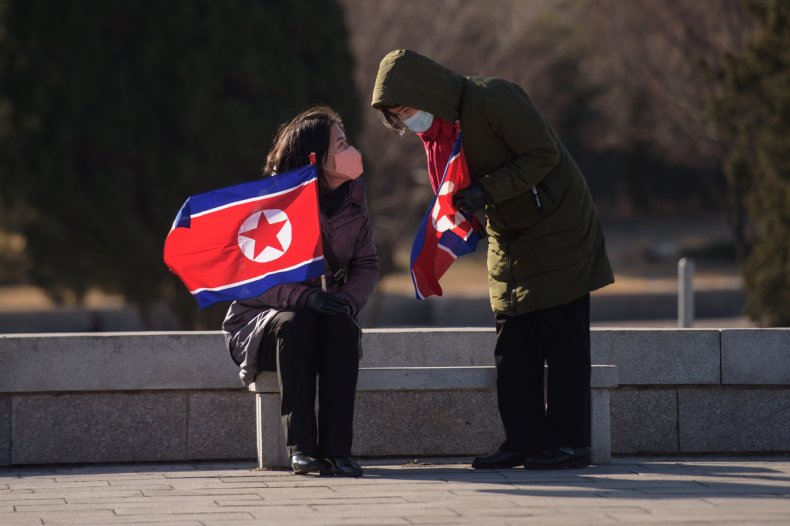 Such a position would serve as the basis for discussions with President-elect Joe Biden, and would likely affect how his incoming administration handles an inherited peace process. South Korea has already expressed a willingness to work with the new administration in order to further negotiations with their historic mutual foe.
"The ROK-US alliance has served as the foundation for peace and prosperity on the Peninsula and in the region," an official from the South Korean Foreign Ministry recently told Newsweek. "The ROK government will continue to work closely with the U.S. government for the denuclearization and the establishment of permanent peace on the Korean Peninsula."
The Trump administration has conveyed similar sentiments in its final weeks, but they have shared the stage with far less friendly statements from Secretary of State Mike Pompeo, who recently bragged that the "regime is weaker" in North Korea thanks to the Trump administration. The U.S. top diplomat has taken to counting the accomplishments of an interrupted peace process such as Kim Jong Un's since-renounced though not yet broken moratorium on testing nuclear weapons and long-range missiles.
Despite the harsh words shared over the past year, North Korea is still officially set toward peace with the U.S. and South Korea, with whom eventual reunification is also a policy goal.
As Kim Jong Un and his top officials anticipate what sort of stance the Biden administration will take toward the Korean Peninsula, Jeongmin Kim said that a radical redirection of North Korea's approach to negotiations is unlikely, though she, nor could anyone, be sure.
"They are waiting," Jeongmin Kim told Newsweek. "Now is not the time to announce a brand new foreign policy line. If they do, that would surprise me—which, of course, they sometimes do."