New Pictures Hanging on West Wing Wall Include Photos of Kim Jong Un and Queen Elizabeth II
Images of world leaders are a common fixture on the walls inside the White House, but the contrast in the latest additions could cause a few people to do a double-take.
It is not unusual that there would be an image of President Donald Trump next to Queen Elizabeth II and Prince Charles at an event in the U.K. during his recent state visit there. That's especially true given Trump's warm words about the monarch, describing the meeting with her as "incredible."
He even said afterward: "I think I can say I really got to know her because I sat with her many times and we had automatic chemistry, you understand that feeling, it's a good feeling."
Another photo shows Trump with French President Emmanuel Macron watching a flyover for the 75th anniversary of the Normandy landings, a significant day in American history. Again, nothing unusual there.
But it is the picture to the left that raises eyebrows. It shows Trump with North Korean dictator Kim Jong Un, who is looking at Trump's feet as he becomes the first U.S. president to set foot in the secretive country last month.
Another photo shows Trump standing with soldiers at the Demilitarized Zone following the G20 summit in Osaka, Japan.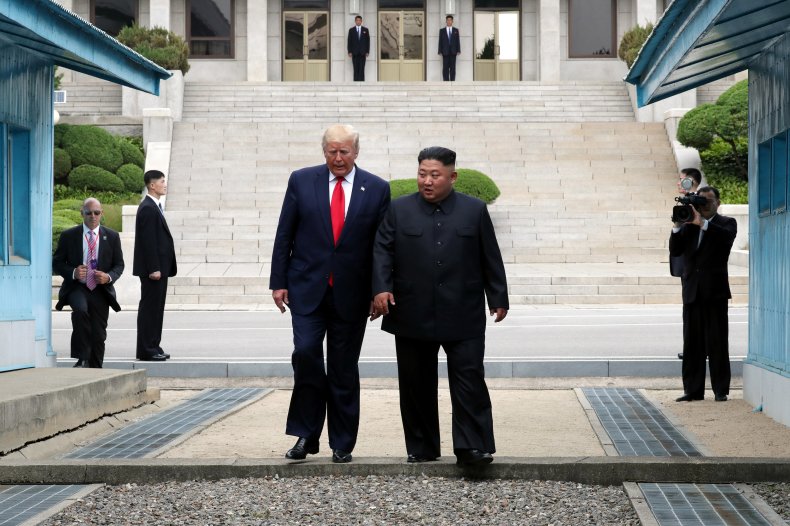 Trump has been very public about his relationship with Kim, whom he once described on Twitter as "my friend."
But there has been a stern response on social media to the new White House pictures, which were tweeted by senior Bloomberg political reporter Jennifer Jacobs.
One person tweeted: "And yet his base thinks he's a true patriot he has a murdering dictator on the wall of the White House that killed a 22-year-old American college student.," referring to Otto Warmbier, who was imprisoned in North Korea and died shortly after his release in 2017.
Another wrote: "A murderous dictator is honored in my White House. @realDonaldTrump is a national disgrace." One meme humorously shows the Kim image with a hamburger in a mousetrap superimposed over it, suggesting that he is trapping the president.
Trump's administration is hoping that there could be a more positive outcome when Pyongyang holds further talks with Washington over ending the secretive state's nuclear weapons program.
Secretary of State Mike Pompeo told The Sean Hannity Show that talks could resume "sometime in July."
"I hope the North Koreans will come to the table with ideas that they didn't have the first time," Pompeo said in the radio interview, referring to the collapse in talks in February.
"The president's mission hasn't changed: to fully and finally denuclearize North Korea in a way that we can verify. That's the mission set for these negotiations," Reuters reported him as saying.