North Korea Promises Not to Use Nuclear Weapons Against the South
North Korea has promised not to use nuclear or conventional weapons against its southern neighbor, Associated Press has reported.
Pyongyang also said it would no longer need nuclear weapons if all military threats against the country are resolved and it receives a security guarantee.
The comments were reportedly made to a 10-member South Korean delegation, led by South Korea's presidential national security director, Chung Eui-yong. They visited the North to meet with leader Kim Jong Un.
The delegation has now returned to Seoul to report to South Korean President Moon Jae-in on its progress.
The two Koreas have agreed to hold summit talks in late April and will set up telephone hotlines to connect the leaders of the two countries.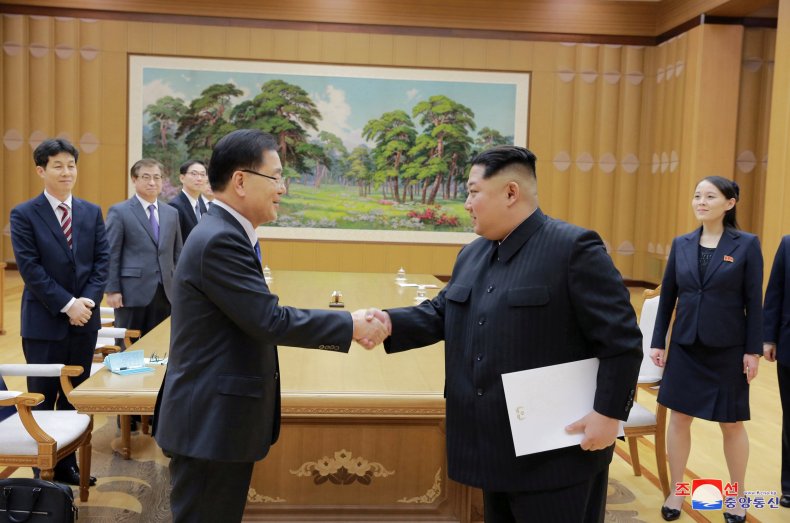 Chung told a media briefing that the North Korean leadership was willing to open "heart-to-heart" talks with the U.S. over denuclearization and the normalization of ties.
The U.S. has previously said it is open to talks with North Korea but has stressed that the issue of denuclearization must be addressed first. Chung said that the North has now agreed to impose a moratorium on tests of nuclear weapons and missiles if it holds talks with the U.S.
The meeting was the first between Kim and South Korean officials since the dictator succeeded his father, Kim Jong Il, in 2011. It is the first time that South Korean envoys have visited Pyongyang since 2007.
North Korea's official state broadcaster, the Korean Central News Agency (KCNA), said Tuesday that it is his "firm will to vigorously advance" inter-Korean ties and pursue reunification, Reuters reported.
KCNA said that the meeting involved "an exchange of in-depth views on the issues for easing the acute military tensions on the Korean Peninsula and activating the versatile dialogue, contact, cooperation and exchange."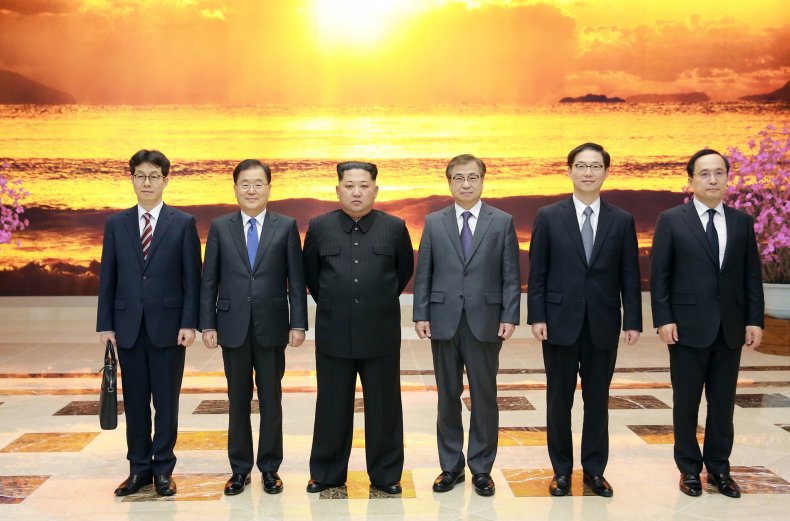 The recent Winter Olympics in Pyeongchang, South Korea, represented a thaw in North-South relations after several months of tension over the North's nuclear weapons development program and the resulting international sanctions. The North has not conducted any military or missile tests since November.
The North sent an Olympic team and a high-level diplomatic delegation to the event. During the games, Kim Jong Un's sister and close adviser, Kim Yo Jong, met with Moon and invited him to visit Pyongyang.