North Korea Executes Official in Charge of Nuclear Test Site: Report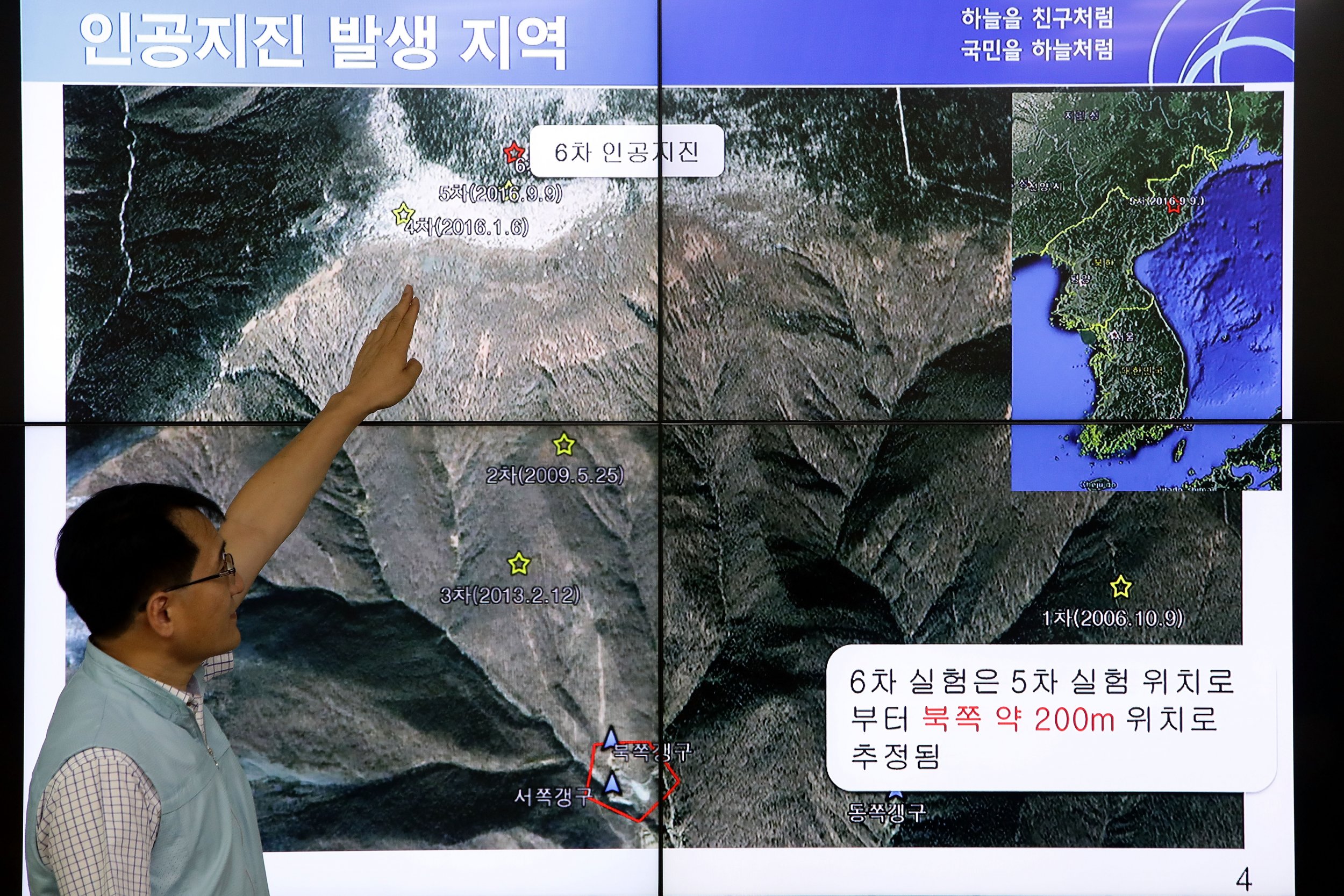 Updated | North Korea has dismissed the official responsible for the Punggye-ri nuclear test site and executed him, Japanese newspaper Asahi Shimbun reported, citing unconfirmed reports from an unidentified North Korean defector.
Park In Young—the name's spelling may be subject to changes, depending on the translation and transcriptions—was the chief of North Korea's Bureau 131, a division of the ruling party's Central Committee charged with the supervision of military facilities such as the Punggye-ri underground nuclear test facility and the Sohae Satellite Launching Station.
The motive for the alleged execution remains unclear. Asahi's report mentions two potential reasons. One could be a delay in the execution of North Korea's sixth and most powerful nuclear test to date, which happened on September 3 but was originally planned for the spring and was postponed due to delays in a tunnel construction.
Read more: Why was Kim Jong Un alone in paying tribute to his late father?
Another reason may be that Park was held responsible for the collapse of a tunnel that, according to the Asahi TV channel sources, occurred in October and caused the death of around 200 people—a report North Korea vehemently denied.
The North Korean regime rarely makes executions of high-ranking officials public—one notable exception was that of Kim's uncle Jang Song Thaek, who was branded a "traitor" in the state-controlled media report announcing his execution on December 12, 2013, reportedly following the decision of a "special military tribunal" of the country's Ministry of State Security.
The Asahi Shimbun also previously reported that North Korean soldiers and their families were treated in a military hospital for radiation exposure following the September hydrogen bomb test at the facility.
The hydrogen bomb test provoked a 6.3-magnitude earthquake that, according to reports mentioned in South Korean newspaper Chosun Ilbo, destroyed building facilities in a nearby village, including a school with more than 100 children inside it, as the regime gave no warning of the test.
Geologists have warned that a series of small-scale earthquakes recorded in the area following the September test indicate the facility may have become too unstable to conduct a new test without risking a massive collapse and radioactive leaks.
South Korean intelligence officers told lawmakers at a closed-door briefing in November a new nuclear test is unlikely, but it could nonetheless occur should Kim desire it, as one of the tunnels at the site seems ready for use.
News of Park's alleged execution follows reports of punishment of North Korea's second most powerful official after leader Kim Jong Un. General Hwang Pyong So of the General Political Bureau has vanished from public view, missing significant party meetings and celebrations, sparking speculation that he had been executed.
At the November briefing, South Korea's intelligence agency said Hwang and his deputy were punished for "impure" attitudes. A lawmaker speaking to the press after the briefing said he could not comment on the details of the punishment because it was confidential information.
Last week, South Korean publication Korea JoongAng Daily quoted an unidentified source saying that Hwang was purged from the party for taking bribes and his deputy was sent to a prison camp.
This article was updated to include background on the North Korean regime's reluctance to make public the executions of officials.