Paralympics 2018: Contested Islands on Flag Kept the Two Koreas From Marching Together
Despite the historic announcement Thursday that President Donald Trump and North Korean leader Kim Jong Un plan to meet and discuss nuclear weapons, not everything is always rosy in North Korea's new détente with the outside world.
After marching together for the beginning of the Winter Olympics, North and South Korea marched separately at the start of the Paralympics. The separation follows a dispute about some tiny islands on their unified flag.
During the Winter Olympics, the two Koreas marched under a unified flag that displayed Korea with a set of islands in the Sea of Japan, which are currently the subject of a territorial dispute. The islands, called Dokdo in Korea and Takeshima in Japan, are claimed by both countries.
Japan complained and South Korea agreed to take the islands off the flag, while North Korea insisted that the islands stay on, according to Reuters.
"[North Korea] does not accept the fact that Dokdo cannot be marked due to political issues held in Korea," read a statement from the Korea Paralympic Committee.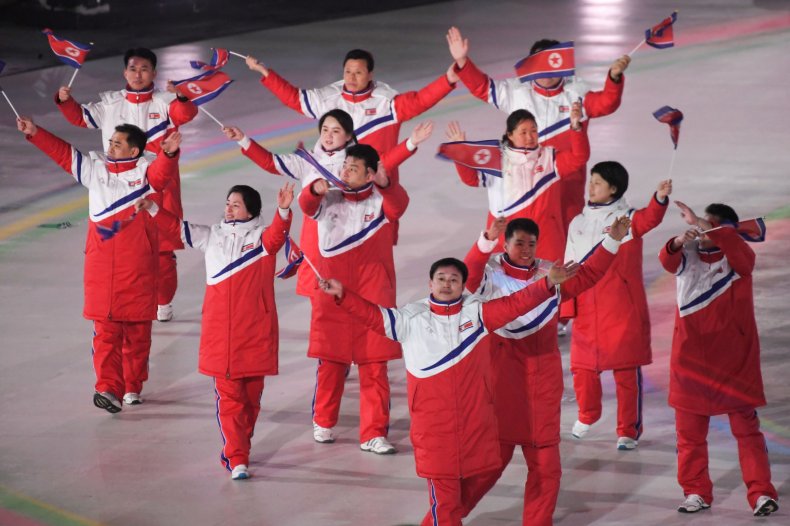 North Korea's participation in the Winter Olympics in Pyeongchang, South Korea was seen as a giant leap forward in diplomacy for the two countries, which have been on rocky ground since the end of the Korean War. The Koreas fielded a joint women's hockey team and North Korea sent high-ranking diplomats to the Games, including Kim's own sister, Kim Yo Jong.
"A small step to peace that started out a joint inter-Korean women's ice hockey team has been growing rapidly like a snowball," South Korean President Moon Jae-in said, according to USA Today.
In Pictures: Highlights of the Pyeongchang 2018 Winter Paralympic Games Opening Ceremony​
Andrew Parsons, president of the International Paralympic Committee (IPC), said that despite this latest hiccup, the countries have pushed diplomacy forward.
"The International Olympic Committee made great progress in opening up dialogue between the two nations ahead of last month's Olympic Winter Games and I think having North Korea participate in [the Paralympics] is a great step forward for the Paralympic Movement," Parsons said in a statement. "During today's discussions, it was clear that … North Korea respects and values the IPC's vision and mission. Going forward, it has committed to working further with the IPC to improve the lives of people with an impairment in North Korea."
This is North Korea's debut at the Winter Paralympic games.
South Korean diplomats visited North Korea earlier in the week, before heading to Washington D.C. to debrief the White House. It was there that Trump accepted an invitation to meet Kim passed along by the South Koreans. If the meeting takes place, Trump will be the first U.S. president to meet a North Korean leader.