North Korea Is Rapidly Building Its First Operational Ballistic Missile Submarine, Satellite Imagery Shows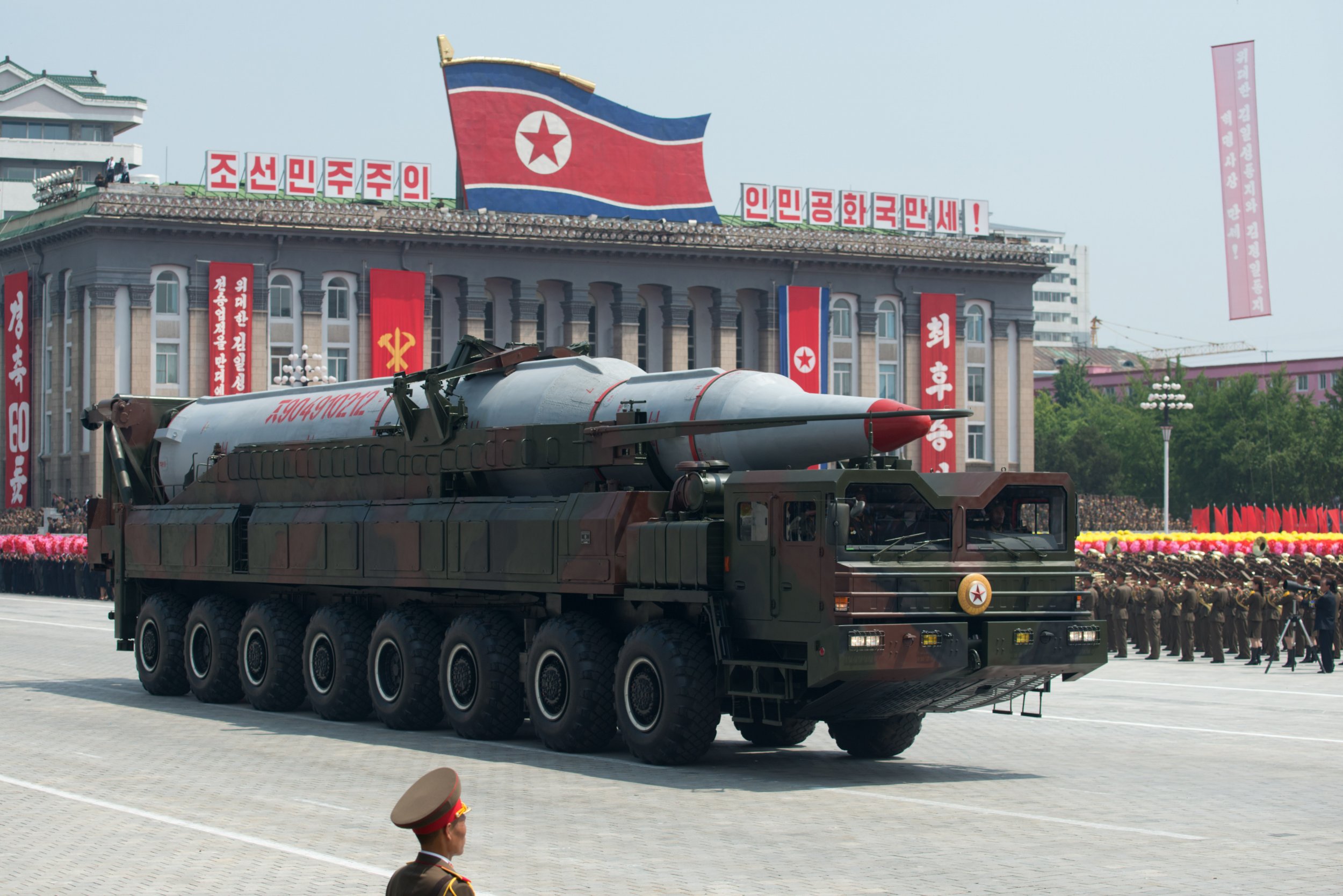 North Korea is intent on constructing and deploying its first operational ballistic missile submarine.
According to the website 38 North—a program from the U.S Korea Institute at Johns Hopkins School of Advanced International Studies—satellite imagery of the Sinpo South Shipyard on the country's east coast, taken on November 5, shows the movement of parts and components, including sections of a submarine's pressure hull in the yards adjacent to construction halls, which suggests that the SINPO-C ballistic missile submarine might be under construction.
Speculations of the ballistic submarine construction have been under scrutiny by U.S. intelligence in recent weeks, according to a report by The Diplomat. Based on U.S. intelligence estimates, the "submarine's submerged displacement is thought to be in excess of 2,000 tons with a beam measurement of 11 meters." If completed, the SINPO-C will be the largest vessel ever constructed for the North Korean Navy since the Najin­-class frigates, The Diplomat adds.
The SINPO-C appears to be a follow-on to a current SINPO-class experimental ballistic missile submarine, 38 North states. Also named Gorae-class by South Korean intelligence, the SINPO-class submarine has experienced improvements earlier this year, with the introduction of a new launch tube. Last summer, North Korea conducted submarine-launched ballistic missile ejection tests near the Sinpo shipyard, The Diplomat reports.
Throughout this year, gantry and tower cranes have been carrying massive circular objects—with diameters as long as 7.1 meters—around the Sinpo South Shipyard, which has been the primary manufacturer of large submarines for Pyongyang, 38 North reports. The commercial satellite images also show what appears to be a launch canister support or a launch canister, which might also indicate that North Korea seeks to carry out ballistic missile tests that began last July. But as 38 North reports, ejection tests are expected in the future for submarine-launched ballistic missiles Pukguksong-1, a possible Pukguksong-3 and other missiles.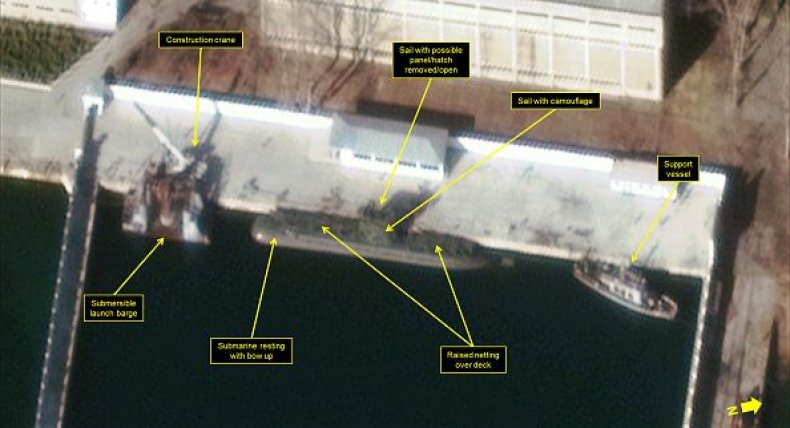 Moreover, the images show the SINPO-class submarine and submersible missile test stand barge remain docked at the same locations in the secure boat basin as observed in the last four months, according to the website's analysis. Also, the construction of a new maintenance hall of the Sinpo Peninsula, which started in 2012, is moving slowly.
U.S. officials have monitored North Korea's submarine activities over the past months. According to CNN, a North Korean Sang-O submarine operated under the Yellow Sea—located between mainland China and the Korean Peninsula—while two Romeo submarines were detected near Japanese waters in July. Experts cited by CNN said in August that if North Korea had fired an intercontinental ballistic missile on a standard trajectory, it could have hit major U.S. cities such as Los Angeles, Chicago or Denver.