North Korea Returns Man Who 'Illegally' Crossed Border, South Praises 'Positive' Move During Peace Talks
North Korea has repatriated a South Korean national who reportedly attempted to cross into the secretive, authoritarian state last month without permission.
The individual was reportedly identified by North Korea simply as a 34-year-old male with the surname Seo, according to Reuters, and identified as Suh in Korean media. His presence was made known to South Korea via a message Monday from North Korea's Red Cross.
The South Korean Unification Ministry told reporters Tuesday that it viewed the man's return as "positive from a humanitarian perspective," despite him "illegally" crossing the border, according to South Korea's official Yonhap News Agency, which—along with The Korea Herald—cited an informed source as saying Seo entered North Korea through China.
The ministry echoed Pyongyang's stated intention for the rare gesture as carried by the Korean Central News Agency, the official mouthpiece for the government of North Korea, whose official diplomatic title is the Democratic People's Republic of Korea (DPRK).
"A South Korean citizen illegally entered the territory of the DPRK before being intercepted by its relevant institution on July 22," the Korean Central News Agency reported Tuesday. "The DPRK side sent the trespasser back to the south side upon the principle of humanitarianism."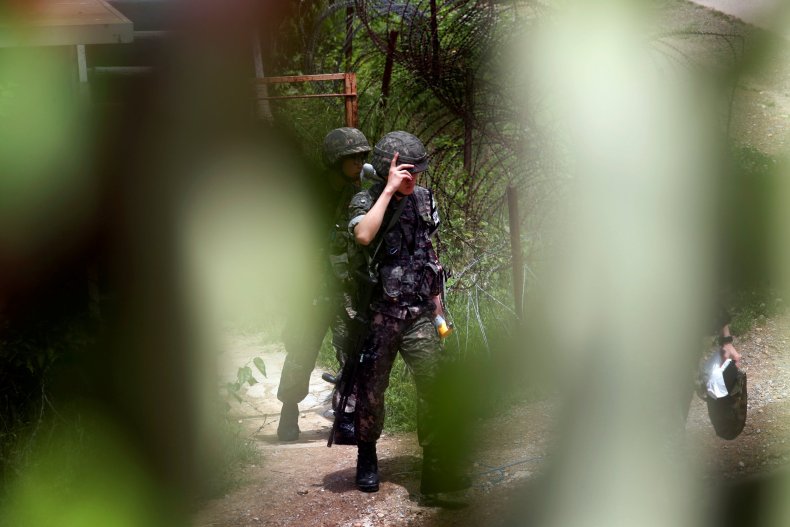 The handoff occurred during a landmark warming of relations between the longtime rivals, which fought one another in a 1950s Cold War-fueled conflict that saw the U.S. support South Korea against North Korea and its Soviet and Chinese allies. Since April, North Korean supreme leader Kim Jong Un has met directly with South Korean President Moon Jae-in twice and has even vowed to put his nuclear weapons on the negotiating table during a June summit with President Donald Trump in Singapore.
While a number of U.S. and international officials have expressed doubt toward the legitimacy of Kim's offer, recent satellite imagery has shown North Korea's continued dismantling of key satellite launch, perhaps even exceeding commitments made during the Singapore summit. The two Koreas have begun re-establishing military relations as well, hoping it would "build trust" between the rivals.
Still, both Koreas have accused one another of abducting citizens from each country. Shortly before issuing the notice of the South Korean man's release, the Korean Central News Agency on Tuesday highlighted an earlier article by South Korean news site OhMyNews in which the author accused Seoul of having previously failed to look into the controversial case of a North Korean restaurant manager and his 12 female employees who have said they were tricked into defecting to South Korea in 2016, a claim that has prompted action from South Korea's highest human rights body.
The Korean Central Media Agency claimed the article argued that "the case is one of the major evils to be liquidated." South Korea reportedly offers North Koreans up to $860,000 to defect and tens of thousands have obliged over the years. Hundreds of whom may have returned, however, South Korea officially recognizes only 13 such instances of so-called "double defectors."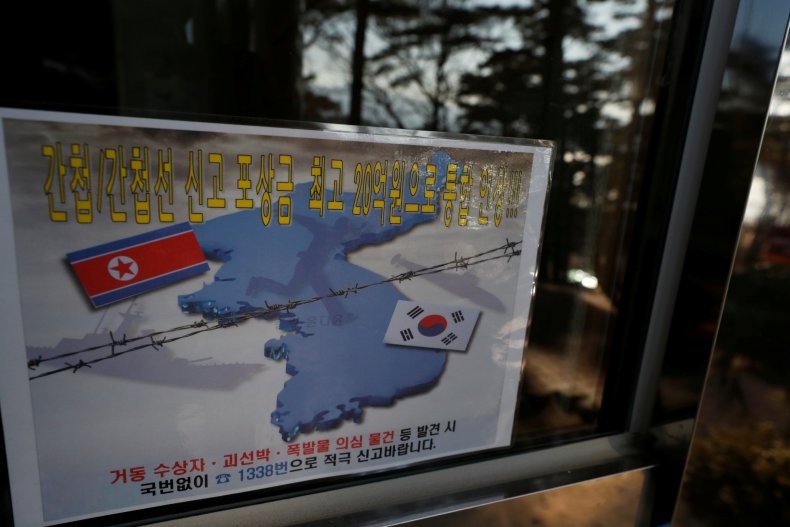 South Korean defections to North Korea were much less common. South Korea has also accused North Korea of kidnapping thousands of its citizens over the decades and has officially demanded the release of six people believed to currently be detained across the border. In May, North Korea released three U.S. citizens imprisoned there amid progress in talks with the Trump administration and has also repatriated the remains of U.S. soldiers killed during the Korean War.
As part of the ongoing peace talks, the Koreas have pledged to replace their 65-year armistice with a formal peace treaty, something for which the U.S. has also advocated. North and South Korea both officially maintain a policy of reunification but still bar their citizens from crossing the border under penalty of law.