'Inevitable' North Korean 'Rockets' Will Strike The United States, Foreign Minister Tells UN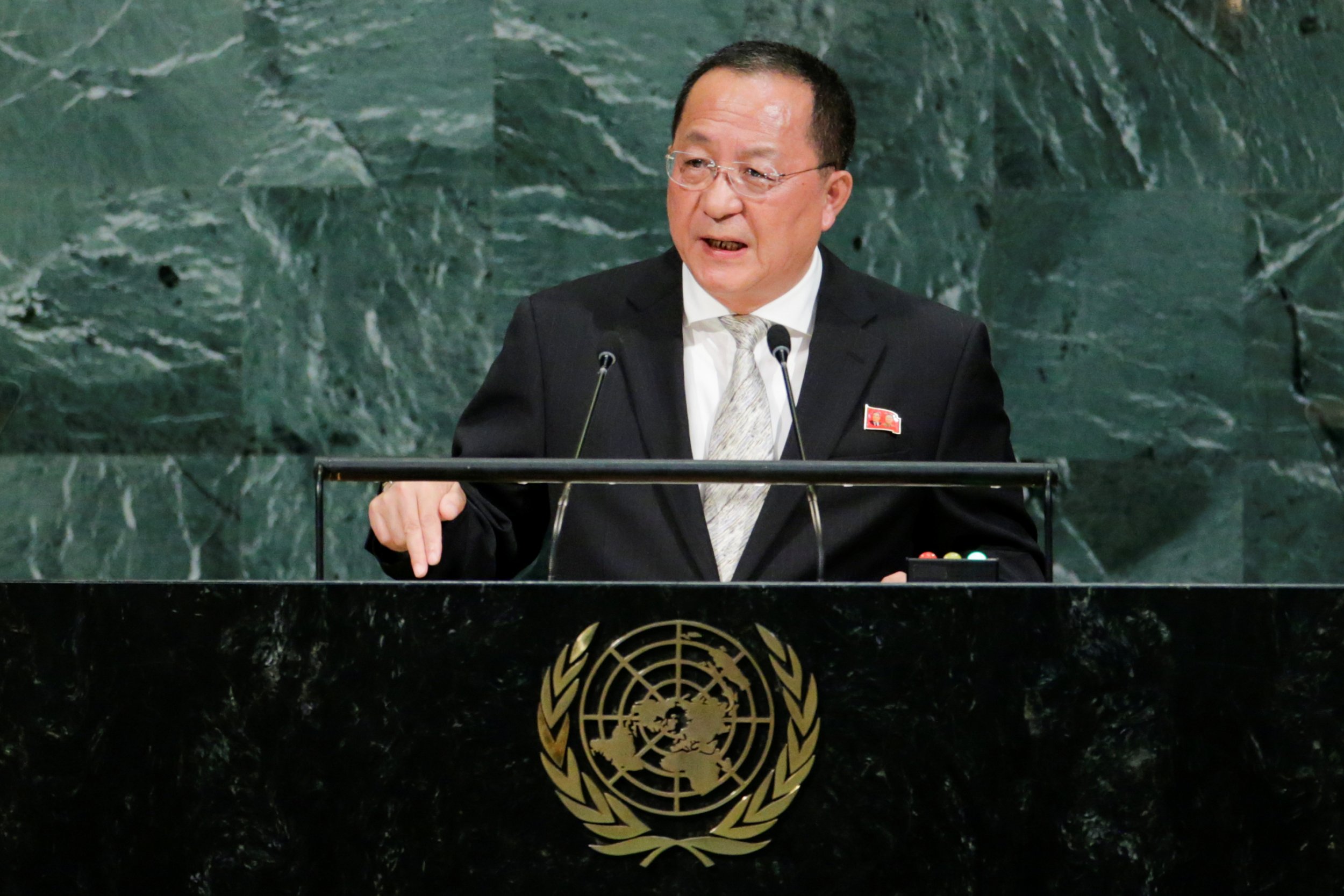 One of North Korea's top officials further escalated tensions and threats with the United States.
Due to President Donald Trump calling the North's leader Kim Jong Un "rocket man," the country's foreign minister told the United Nations Saturday Trump made an attack by the North on the U.S. mainland "inevitable," according to Reuters.
"Through such a prolonged and arduous struggle, now we are finally only a few steps away from the final gate of completion of the state nuclear force," Ri Yong Ho said.
Ri also stated that more sanctions against the North would not deter it.
"It is only a forlorn hope to consider any chance that the DPRK (North Korea) would be shaken an inch or change its stance due to the harsher sanctions by the hostile forces," he said.
Democratic People's Republic of Korea, or DPRK, is how the North officially refers to itself.
Ri's comments came a day after he told the international body the North could conduct hydrogen bomb test over the Pacific Ocean, which would be the country's seventh nuclear test.
US Air Force bombers flew east of the North Saturday as a "demonstration of US resolve," Pentagon officials said according to The Guardian.
The North has long maintained the U.S. military, along with its allies South Korea and Japan, have been plotting a preemptive attack to overthrow Kim's government.
Kim wondered Friday, in a rare statement broadcast over the North's state-run television, what kind of response Trump could have expected "when he allowed such eccentric words to trip off his tongue," according to CNN. He also said Trump was displaying "mentally deranged behavior" and call the president a "dotard."
Trump repeated his nickname of "rocket man" towards Kim and said the U.S. would "destroy North Korea" while speaking at the UN Tuesday, and also thanked China and Russia for joining the rest of the UN Security Council to unanimously pass sanctions against Pyongyang.
The Trump administration announced even stronger sanctions against the North Thursday, targeting foreign financial institutions who would do any business with Kim's totalitarian regime.
On Twitter, Trump followed up Friday by calling Kim a "mad man who doesn't mind starving or killing is own people," and that Kim would be "tested like never before."