North Korea Says 'Danger of War Is Increasing' Because of U.S. Weapons Being Sold Around the World
North Korea blasted the U.S. over a recent report showing it to be by far the world's largest arms exporter, potentially fueling new tensions as supreme leader Kim Jong Un prepares to meet President Donald Trump.
A commentary published Monday by official ruling Korean Workers' Party Central Committee newspaper Rodong Sinmun highlighted the findings of a Stockholm International Peace Research Institute (SIPRI) study earlier this month. Already leading the world in weapons sales, the U.S. reportedly increased its exports by 25 percent between the 2008-2012 and 2013-2017 periods, accounting for 34 percent of the world's sales.
Related: U.S. War With North Korea and Iran More Likely With John Bolton Running National Security
"More than 70 years have passed since the end of the world war and scores of years elapsed since the end of the Cold War. But, the danger of war is increasing and another cold war is imminent rather than peace on this planet," the commentary read, according to the official Korean Central News Agency.
"It is due to the U.S., the top class war merchant that spawns war and massacre in different parts of the world through large-scale arms sale, going against the desire of mankind for peace and stability," the commentary continued. "The warmonger is not in a position to talk about peace."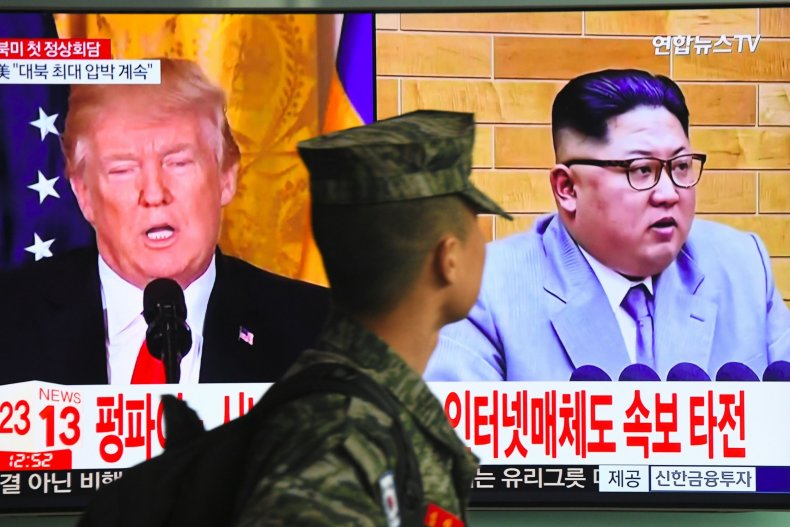 For once, peace was exactly what was being discussed on the restive Korean Peninsula, where the Cold War is still very much alive. North Korea and U.S.-backed South Korea have never formally ended a war that killed well over 1 million Koreans and tens of thousands of Chinese and U.S. troops in the early 1950s. After a year of breakthroughs for his nuclear and missile programs, Kim surprised the world this year with diplomatic moves such as sending his own sister across the border, meeting with high-level South Korean officials and, most recently, reportedly agreeing to meet Trump face-to-face.
Trump said he would meet the North Korean ruler by May, making him the first sitting U.S. president to ever do so. While Pyongyang and its tightly controlled media outlets have so far kept silent over the upcoming summit, a KCNA article alluded to a "sign of change" in relations with Washington. Officially, North Korea continued to defend its nuclear weapons as necessary for defending against a potential U.S. attack and pointed to U.S. involvement in the Middle East as an example.
The recent SIPRI report found that more than half of U.S. arms sales were in the Middle East, where Washington has had a hand in a number of major conflicts.
"By law and longstanding policy, the United States exports defense equipment when they contribute to the ability of our partners to defend themselves against threats and regional security. Partners buy these arms to meet legitimate defense needs, and because American companies make the best equipment on the planet," a State Department spokesperson told Newsweek in an email statement responding to the SIPRI report.
Over the years, North Korea has closely followed the examples of Iraq and Libya, whose leaderships abandoned nuclear weapons, only to be later attacked by the U.S. and its allies.
Echoing a suggestion he previously made in 2004, prospective National Security Adviser John Bolton suggested last week in an interview with Radio Free Asia that in dealing with North Korea, the U.S. should follow the same model by which late Libyan leader Muammar el-Qaddafi agreed to give up nuclear weapons in exchange for better relations with the West. Like Iraqi President Saddam Hussein eight years prior, Qaddafi was detained and killed after being forced out of power in 2011. That same year, Kim succeeded his late father.
All three generations of North Korea's Kim dynasty have been deeply critical of U.S. foreign policy, and in his seven years in power the youngest Kim has witnessed the fall of a number of authoritarian governments, even as the heads of neighboring Russia and China consolidated control over their own countries.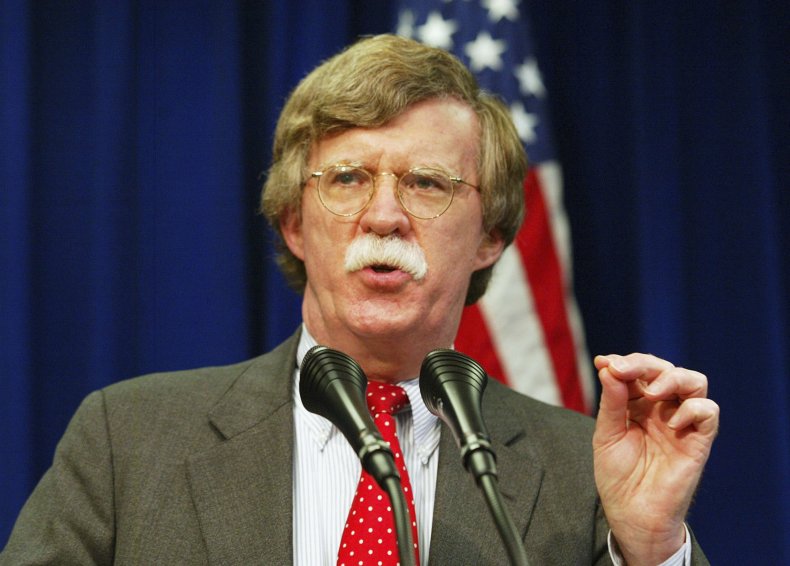 Bolton's support for U.S. wars in the Middle East and preemptive airstrikes against North Korea and Iran have raised concerns over Trump's intentions in choosing him ahead of two important nuclear-related events in May: the meeting with Kim and a deadline for renegotiating the Iran deal.
Widely seen as more hawkish than outgoing security chief H.R. McMaster, Bolton was the second hard-liner to be appointed in a recent White House shuffle. Former Secretary of State Rex Tillerson reportedly found out via Trump's Twitter that he was out of a job earlier this month and was to be replaced by CIA Director Mike Pompeo, who has also advocated for a more aggressive stance on North Korea and Iran.
Tillerson's ouster came after mounting criticism from both major political parties and seemingly conflicting positions coming out of the White House and the State Department. When asked whether Pyongyang's recent statements could have an effect on the upcoming meeting between Trump and Kim, a State Department spokesperson declined to speculate in an email statement sent to Newsweek.
"I don't have anything for you on this," the spokesperson said.